Yatra Online, Inc. and Terrapin 3 Acquisition Corporation, announced that they have entered into a definitive agreement to combine in a transaction that values Yatra at an enterprise value of $218 million. Yatra is one of the top OTAs in India with more than 4 million customers.  Terrapin 3 Acquisition Corporation is a special purpose acquisition company formed for the purpose of effecting a merger or acquisition. Yatra will be the surviving company in the transaction and will be listed on NASDAQ under "YTRA" following completion of the deal. The combined entity will be led by experienced chief executive and co-founder Dhruv Shringi.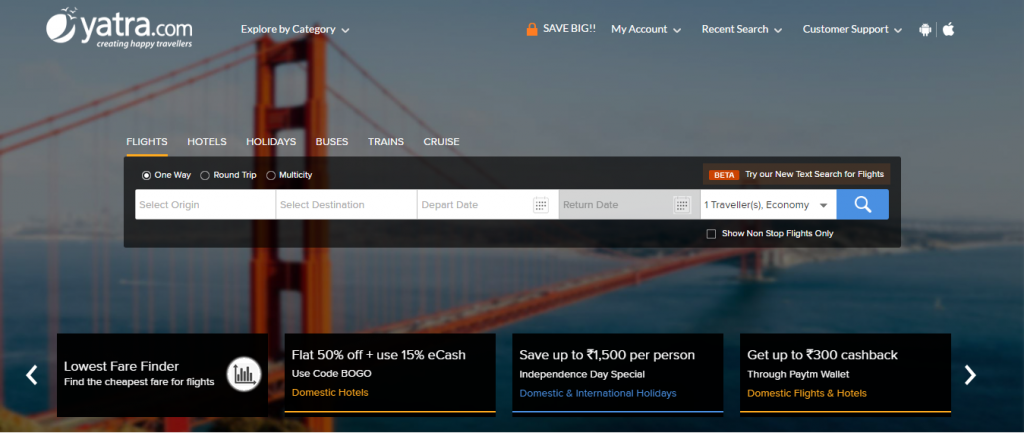 Despite the long presence of the major OTAs in the Indian market, there has been only one IPO by MakeMyTrip. Yatra customers booked more than 2.8 million air travel reservations and hotel stays with total transaction value worth more than $900 million (at current exchange rates) during their fiscal year ended March 2016, which was up by 25% from the prior year (at constant currency rates) with 74% repeat customers.
"We are excited to partner with TRTL in a transaction that we believe will enable Yatra to continue its growth as a new public company," said Mr. Shringi. "This transaction gives us substantial additional resources to support our growth and the continued improvement of our integrated online and mobile platforms. We look forward to expanding our already extensive network of domestic and international partnerships with hotels, airlines, car services, and tour package promoters, as well as further strengthening our brand presence and technology platform."

Nathan Leight, Chairman of the board of TRTL, said, "We created TRTL with the express purpose of partnering with a company that would benefit from a public listing, could utilize our cash resources for growth and generate long-term returns for our shareholders.  Yatra has the broadest brand recognition of any online travel agent in India.  The infrastructure required to compete in India as an online travel agent represents a significant barrier to market entry.  With its high level of brand recognition, large hotel network, significant investment in technology, and deep management experience in this sector, we believe Yatra has created tremendous competitive advantages.  Not only is India one of the fastest growing economies in the world, business and leisure travel are among the fastest growing parts of its economy.  Adding to that India's tremendous socio-economic trends toward urbanization and the rapid adoption of e-commerce and smartphone use by a population with increasing amounts of disposable income, we are excited about Yatra's prospects.  We believe our combination will provide substantial new resources to position the company for accelerated future growth."
Details of transaction
TRTL raised $212.75 million in its IPO which is now held in a trust account. MIHI LLC, an affiliate of Macquarie Capital ("MIHI") has committed to purchase an additional $20 million of TRTL equity as part of the transaction. Under the terms of the proposed transaction, it is estimated that the current shareholders of Yatra will continue to own at least 35% of the issued and outstanding shares in the combined company. The first $100 million of cash (including MIHI's $20 million forward purchase) will be allocated entirely to the combined company's balance sheet and to pay transaction expenses.  Any amount greater than $100 million available from TRTL will then be allocated 80% to current Yatra shareholders and 20% as cash to the combined company's balance sheet.  Cash payments to current Yatra shareholders will be capped at $80 million.
In addition, existing shareholders of Yatra may receive additional consideration of up to $35 million upon the achievement of certain financial objectives during the 18 months after closing.
In order to facilitate the transaction, TRTL's sponsors have agreed to reduce by half the number of founder shares that they would have otherwise had at closing and MIHI has agreed commensurately to reduce the amount of its forward purchase of TRTL shares, made at the time of TRTL's initial public offering, from $40 million to $20 million.
The boards of directors of both TRTL and Yatra have approved the proposed transaction. Completion of the transaction, which is expected in October 2016, is subject to approval by TRTL stockholders and other customary closing conditions.
Deutsche Bank Securities Inc. is acting as TRTL's capital markets advisor.  Greenberg Traurig, LLP and Ellenoff Grossman & Schole LLP are representing TRTL. Goodwin Procter LLP is representing Yatra.
Effect on Indian online travel market
Chetan Kapoor, Research Analyst – Asia Pacific, Phocuswright has been actively tracking the online travel market in the region and during our interview with him, he suggested that we will see major brands take this route. Commenting on this new development, he shares:
As the Indian online travel market matures, the OTA landscape has evolved into a battle of incumbents versus the upstarts. Consumer acquisition tactics such as intense price wars and cashbacks from well-funded startups has driven the incumbents to refill their coffers over the last few months in order to remain competitive, invest in technology and product diversification, and maintain their market leadership positions.
Through the merger with Terrapin 3, Yatra.com not only gets access to capital but also hits the road towards an IPO without the uncertainty of list pricing. Upon listing, Yatra will be the second major Indian OTA to go public, opening up more avenues for future fund raising and potentially unlocking shareholder value.
According to Phocuswright, the Indian online travel market will be $10.3 billion in gross bookings in 2016, with OTAs accounting for less than half of it.
As the global online travel growth begins to cool off, consolidation has emerged as a major theme in online travel. Major publicly-traded companies are acquiring or siding with one another to wane off competition, expand and boost shareholder value:
Priceline acquired KAYAK & OpenTable, and invested in Ctrip;
Expedia scooped Wotif and HomeAway;
com invested in Tuniu
Baidu invested in Ctrip as part of a share-swap deal for the latter to acquire Qunar;
Earlier this year, Ctrip also invested $180 million in India's MakeMyTrip, with an option of purchasing more shares to take its stake up to 26.6% in the company. Ctrip has championed consolidation in the Chinese online travel market by recently acquiring its long-time competitors Qunar and eLong. It has also invested in several online travel intermediaries, airlines and hotel suppliers to maintain its competitive edge.