The Inside View
RateGain paid $16.1 million for the acquisition, with an upfront payment of $14.6 million and a deferred payment of $1.5 million to be paid in one year.  
ADARA has raised a total of $67.1 million in funding over six rounds, with World Innovation Lab (WiL) and QuestMark Partners as the lead investors. As of September 14, 2015, ADARA had a post-money valuation of $100 million to $500 million. Source: Crunchbase 
ADARA is the fourth acquisition of RateGain after Myhotelshop in September 2021, BCV in June 2019, and DHISCO in August 2018.
Though the dipping revenues over the course of the last three years of the pandemic made this decision by Adara an inevitable move for sustenance and growth. Source: Tracxn

Deal Differentiators
Commenting on the acquisition Bhanu Chopra, Chairman and Founder, RateGain said, "We are delighted to welcome the Adara team to the RateGain family. Adara's key differentiator is its access to permissioned travel-intent data from the World's top travel and hospitality players as well as the destination marketing organisations and relying less on traditional methods of tracking consumer intent. Their focus on innovation and delivering customer excellence has me convinced that together we will help the industry with reliable end-to-end intent and real-time pricing insights making it simpler for them to identify guests, acquire and retain them."
As per the investor presentation by RateGain, Adara will bolster both the DaaS and Martech business lines of RateGain while providing a strong moat for the business with 70+ data partners and expanding the footprint across all industry segments. Adara comes in with a strong profile, further bolstering the expansion and dominance of RateGain in the travel and hospitality industries.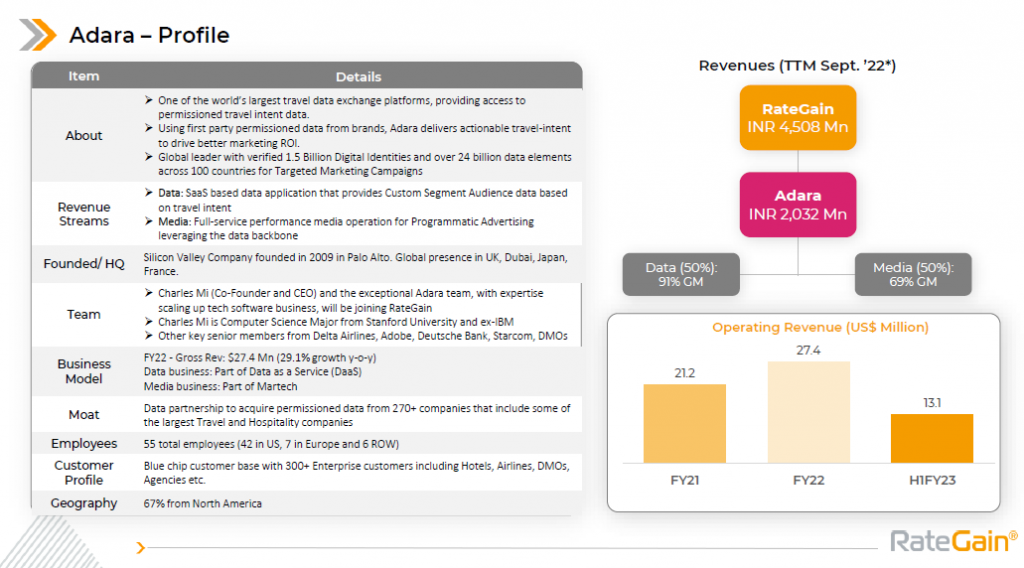 The Bigger Picture
A platform like this is necessary today for the industry to react to shifting customer expectations.
Travellers are increasingly turning to digital channels for inspiration, research, booking, and engagement, making it more expensive for brands to attract them as customers. 

As a result of rising costs and the desire for more distinctive experiences, customers are looking to test out various brands that can offer them more value through individualised experiences and offers, but brands that don't offer these perks are losing out to competitors who do.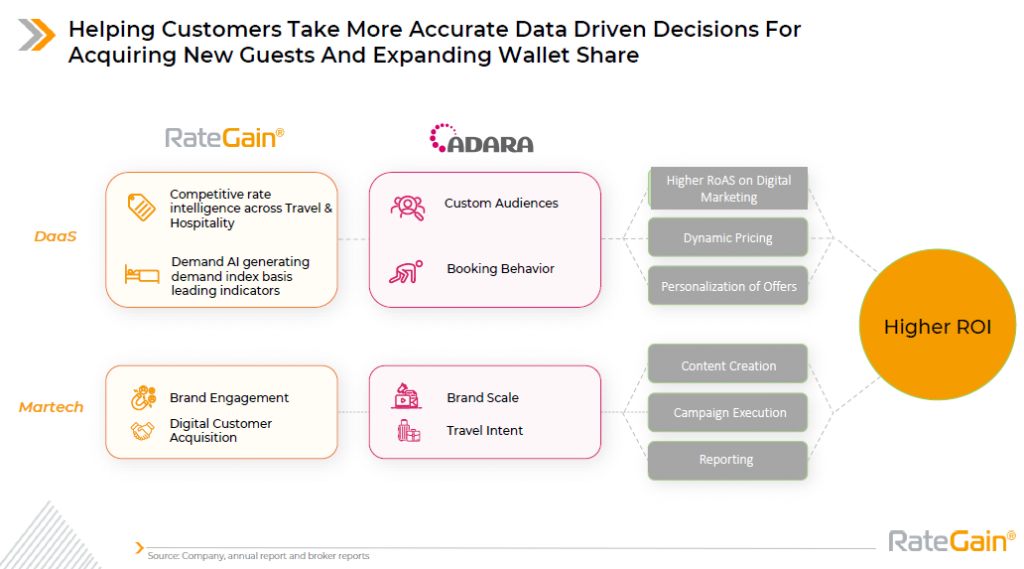 Our Take on the News
Even though leaving when you're at the top of your game makes sense in this situation, the marketing landscape is drastically changing, making a data-driven strategy, the use of artificial intelligence to study consumer purchase behaviour, their interaction in the online world, technology enablement for seamless platform transitions, and curating experiential offerings all essential.
The timing of this transaction is unquestionably ideal, aiding the recovery of the tourism and hospitality sectors. Watching how this takeover develops and creates value in the near future will be intriguing.