Yatra.com, one of the leading Indian OTAs will reportedly issue a small equity stake to Reliance Industries Ltd as a part of a business arrangement. As reported by Techcircle, the objective of this deal is to drive new users to Yatra. The deal is linked to providing Yatra mobile app preinstalled on the recently introduced Lyf branded 4G handsets. The OTA is looking to grow multifold with this arrangement and the transaction could be cashless.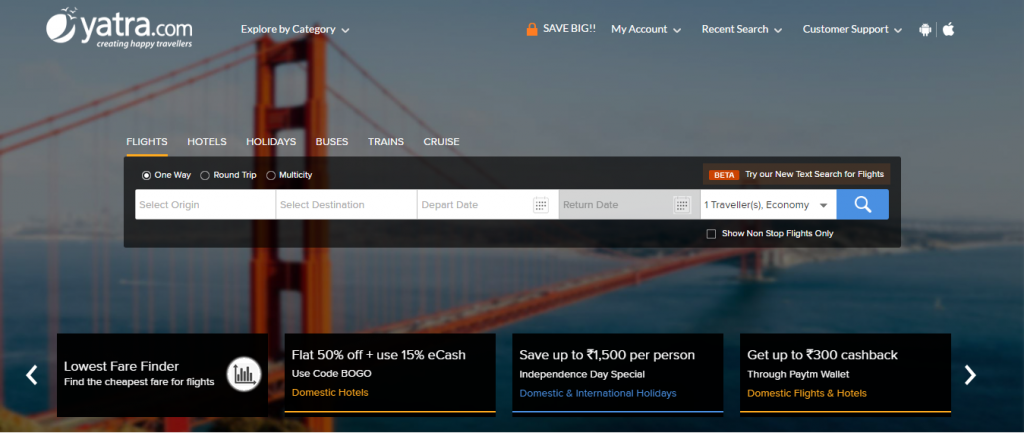 According to the report, Yatra has 7 million downloads for its app with 4.4 million active users and with this partnership, it is looking to add another 35 million users over the next three years. Reliance sold 3 million units of their Lyf branded handsets in the last quarter and is expected to continue selling in good numbers with the help of its recently introduced telecom service.
Earlier Yatra.com announced a reverse merger with US based special purpose acquisition company Terrapin 3 Acquisition Corp in a deal valuing it at USD 218 million. The deal would allow Yatra to be public listed on NASDAQ to boost shareholder value. NASDAQ listed OTA MakeMyTrip recently announced its merger with Goibibo to cut down on the competition in the online travel space. With the Reliance deal, Yatra is looking to stay competitive against the combined entity by reaching new customers.
Yatra has also recently introduced in city activities with an objective to expand it foothold in the holiday package space and increase the number of offerings. It offers close to 1,000 experiences across 57 cities in India and over 39,000 experiences across 1,545 other cities worldwide.
It is worth mentioning that Reliance Industries is already a strategic investor in Yatra through Network 18 Media & Investments Ltd. In another association between handset maker and internet companies, Indian mobile handset maker, Micromax invested in travel search company ixigo last year.
Source: Techcircle