Soon after the budget hotel aggregator OYO Rooms made news with the partnership with Lookup, we have an update of another interesting alliance. VenuePick, a platform that helps people find venues for weddings, birthdays, corporate events and other occasions, has announced partnership with OYO Rooms.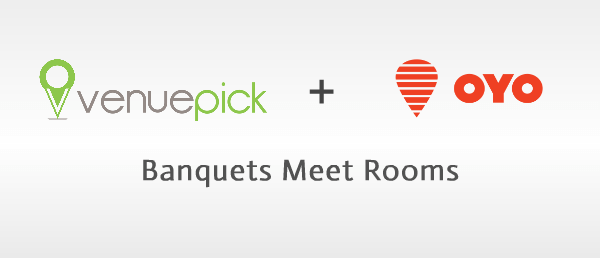 This is quite an interesting partnership and could be very significant for both the brands. Whether it is a corporate event or marriage, there are a large number of outstation guests and hosts have to arrange for their lodging. After this partnership, VenuePick will continue to serve its usual market but will also help the clients locate budget friendly OYO Rooms in Delhi NCR. The room booking will take place on OYO Rooms platform only. The clients will be able to place room requirements at VenuePick and will be directed to OYO Rooms for the booking.
It is not just VenuePick's clients who stand to gain out of this partnership. OYO Rooms caters to many corporate clients and now they can help them find conference centres and other venues by utilising VenuePick.
According to Sandeep Kaistha, Founder and CEO of Venuepick, "The partnership between OYO Rooms and Venuepick is a step in the right direction as it greatly benefits our clients. Most weddings or major corporate events have outstation guests and what's better than getting our clients, banquets as well as rooms for those guests with relative ease."
TravHQ Take
OYO Rooms has not only been actively expanding across geographies but also bringing in many firsts in the hotel industry. The partnership with Lookup was an impressive idea and we must admit, it wasn't something we saw coming. This partnership with VenuePick is another great move by the budget hotel aggregator, something that can be beneficial for both the brands. What do you think of this move by VenuePick and OYO Rooms?