As travel marketers, we use the phrase 'viral marketing campaign' all the time. We often try to desperately push the brand or product and achieve big numbers. With the increasing number of travel startups, more brands are rubbing shoulders to take a bite out of the limited attention of the audience. On social media, it is a small window for them to leave an impression.
During 'The Singapore Dialogue: Innovation in Travel' organised by TiE and Singapore Tourism Board earlier this month, these travel marketing campaigns were the topic of an interesting discussion. The panel included Terrence Voon, Director, Marketing Activation, Singapore Tourism Board, Ajay Jain, Founder, Kunzum.com and TiE Delhi-NCR Travel SIG – Chair and Taranjeet Singh, Country Business Head – India, Twitter India. Some interesting stories and lot of insights were shared during the discussion. Here are some snippets from the conversation.
#1- You don't always need to start the conversation
Brands often try to tell people about their products or brand and initiate conversations around it. They will host chats around themselves and invite people to talk. This might work to some extent for some major brand but not everyone will have this luxury. Brands should keep track of what the conversations on the platform are around and plan campaigns around the topics that people can connect with. Taranjeet shared the example of how the #saluteselfie campaign by Reliance gained huge traction because the timing was perfect to join the Independence Day conversation on Twitter.
#2- Customers don't care about your product
"Customers don't care about your product, your profits, your brand or your success" said Terrence Voon. It is important that your marketing strategy has a very clear objective. It should inform people about something new, educate them about a topic or entertain them, make them laugh. If that is not the case, you need to get back to the drawing board and rethink the strategy.
#3- Get local
It is important to have different strategy for different markets. Terrence shared the story of how Singapore Tourism made news among the people of Philippines. The people there really love music so they got a local rock band on-board to play for the promotional video. The video got millions of views and the song was picked up by local radio stations. Its success inspired more content around it like behind the scenes video.
#4- Trending hashtag is insignificant
Taranjeet shared how Brand Managers often go to Twitter because they want their hashtag to trend. According to him that is absolutely pointless and hardly makes a difference if you can't get your message through. Even if brands rope in accounts with strong following to tweet about them, they are not connecting with the target audience but just working to be in the list of trends.
They should try to focus on leveraging the trends like Lufthansa did during FIFA World Cup 2014. Emirates was the official airline partner but with just one simple tweet, Lufthansa was the one who grabbed all the eyeballs.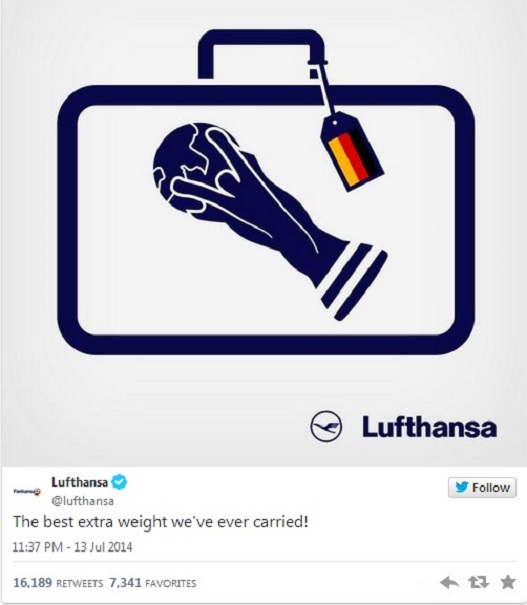 #5- No marketer can ever plan a viral campaign
"There is nothing like a viral marketing campaign. It is an end result, a consequence of people on the platform engaging with the content. No marketer can ever plan the end result", said Taranjeet when asked about suggestions to plan a viral campaign and we couldn't agree more. According to him, brand strategists should take a step back and define the objectives of campaign clearly. Twitter should be used more as a listening tool. They should observe the usage pattern of various words/hashtags to plan out the campaign. When questioned about influencer marketing for campaigns, he said that it is good for temporary spikes at times but hasn't got a significant advantage in the long run.
You can find more stories from this event here or other past events here.