The budget hotel aggregator ZO Rooms has been going through a tough phase after failing to fetch another round of funding. News has been floating around that it will be acquired by OYO Rooms, the largest player in this segment but there has been no clear update from either companies on this.
While it is still unclear if the company will be acquired by the rival OYO Rooms, we have learned in another update that ZO Rooms has gradually started laying off employees. The budget hotel brand has already been losing partner hotel properties to its close rival and various property managers claimed that there has been a significant drop in number of room nights sold since OYO Rooms and ZO Rooms were unlisted from leading OTAs.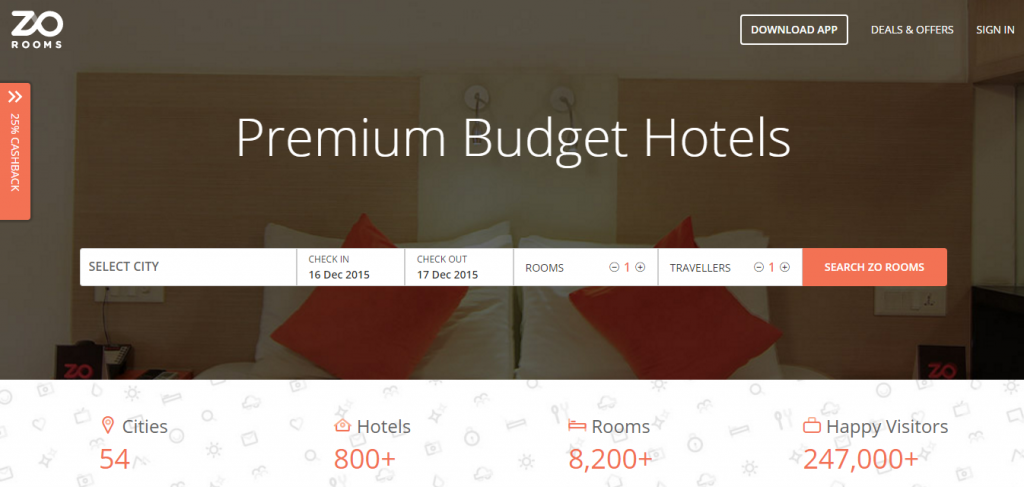 Many of their hotel partners have also started working with multiple hotel aggregators (including OYO Rooms, which wasn't the case earlier) because ZO Rooms wasn't able to bring much bookings. OYO Rooms, with its discounted prices and stronger reach has been offering them better proposition. This is also indicated by the fact that most such properties are marked as 'sold out' for most times on the ZO Rooms website. Even though it has been reported widely, we think there might be slim chances of an acquisition by OYO as a large number of hotel partners will be eager to work with OYO after declining sales with ZO Rooms and being new, they don't have anything like a strong base of loyal customers.
The budget hotel space has seen lot of action recently with the entry of many new players like Wudstay, Vista Rooms, Treebo Hotels and others. Gauging the opportunities in this space, major OTAs like Goibibo and Yatra.com also introduced their budget hotel brands and intensified the competition. But the prime competition for ZO Rooms has been Softbank backed OYO Rooms which has been leading the segment. (Read: Will budget hotel startups eat the OTA pie?)
One of the factors that have driven ZO Rooms to this stage is the change in approach by Tiger Global. Last month it was reported by The Economic Times that Tiger Global Management has decided to tone down its aggressive approach in terms of investments and not support companies which have high burn rate. Earlier they created a mania among internet companies by pouring in huge amounts but all that is going to change now. This came only a few months after a very active Q1'15 in which Tiger Global invested in 8 new companies. This could be because many deep pocketed investors have entered the Indian market and made the discount war a race to the bottom. It will be interesting to see how Tiger Global deploys its funds in the region going forward.
Just like most players in this segment, ZO Rooms was heavily incentivising the customers to book with them by bearing losses and offering room nights at much discounted prices. Not only that but according to some property managers, they were heavily dependent on offering minimum room night guarantee in form of inventory buyout for months which further added to the high operating costs.
Some of the employees have told that the workforce is being reduced from almost all the teams, though, instead of terminating the services, the management is suggesting the employees to resign as the company is short on funds and won't be able to pay them. The founders are individually reaching out to the employees being removed from the team. It is worth a mention that they are also offering to help the employees land another job by reaching out to their network.
It is yet to be seen what turn this episode takes. We will update you as we learn of any other development. Do you think we will see more heavily funded travel startups go down the spiral?
Update (Dec 17, 2015): According to a news report by Economic Times, OYO Rooms has agreed to acquire ZO Rooms in an all stock deal. The founders and investors will get 7 percent stakes in OYO Rooms once the deal is through.