Remember the very first iPhones? We were very happy using our Nokias and Blackberrys and didn't really think that they could possibly get better. Then came in the iPhone which completely redefined our expectations from a mobile device. It was a truly disruptive product and marked the beginning of smartphones as we know them today.
Likewise, there have been many game changing innovations in the travel industry. However, the travellers' luggage has largely been unchanged barring few micro-enhancements. Apart from better materials and fancy designs, we haven't seen something really eye-catchy in this space.
This might be a thing of the past, as multiple companies are now working towards changing our luggage to further simplify travel for us. We have picked two interesting products that started off as Indiegogo and Kickstarter projects and surpassed their goals by miles.
If you are looking for a connected luggage, this could be a great choice. It leverages smart technology and design very well to make it suitable for tech savvy travellers without compromising on functionality of a conventional suitcase.
GPS Tracker
Has your luggage ever been misplaced or delayed by the airlines? With Bluesmart, you can easily keep a track of your luggage with its built in GPS. Bluesmart has partnered with telecom operators to add a SIM card that will allow your mobile phone to communicate with it. The price of SIM is included in the cost of suitcase so there is no monthly fee for you to pay. Thanks to the GPS, it also keeps track of how far the bag has travelled. They have also joined hands with Uber to deliver your bag just in case it arrives late after your flight.
Proximity alerts & Digital lock
Similar to the keyless entry system that you find in modern cars, the luggage can lock itself as soon as you move away from it. You can also manually lock it using the Bluesmart app that is available on iOS and Android. You will also be notified via text message so that you don't accidently end up leaving your bag at the airport lounge or in your cab.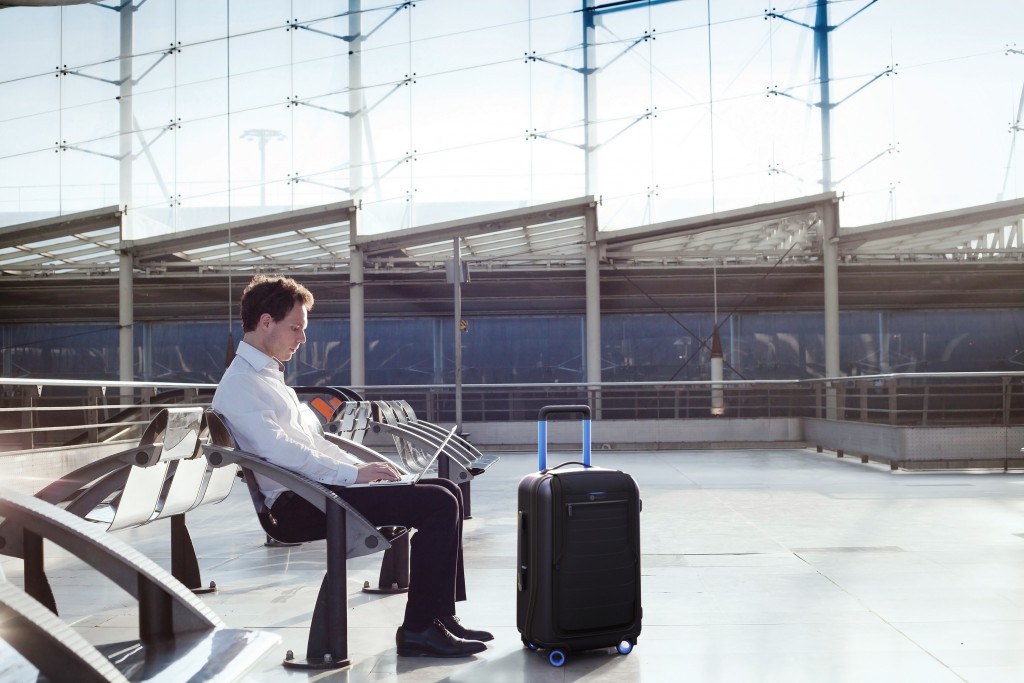 Weight scale
It also comes with weight sensors built into the handle and it weighs your bag when you lift it up. This helps you to ensure that you are not carrying more than what is allowed on your flight. According to Bluesmart, the system is around 90 percent accurate and they are further fine tuning it.
Power for your gadgets
Now that the bag is meant for tech savvy travellers, Bluesmart expects you to travel with multiple gadgets. That is why it comes with a rechargable battery of 10,000 mAh that can be used to charge your devices. This battery also powers the suitcase itself and it can last 6 months on a single charge.
Smart design
High quality polycarbonate and aluminium has been used in making the Bluesmart so that it remains light without compromising on strength. It also comes with special pocket to hold devices like iPad and laptop.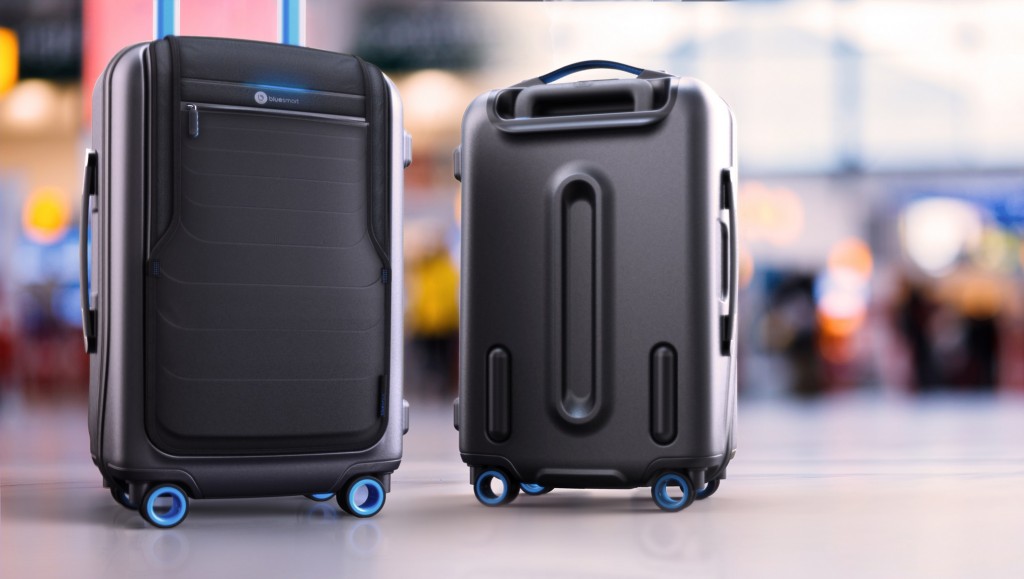 The Bluesmart is available at an exclusive preorder price of $395 (India is not on the list yet) if you order now. It is expected to retail for around $100 higher than the current price in future.
While Bluesmart tries to simplify travel with itechnologies, Trunkster adds fresh design to the equation. It dumps the conventional zippers that you find on bags and replaces it with a rolltop for easy access.
Zipper free design
Trunkster comes with a rolltop or sliding door. This is very far away from the conventional zipper design that has become the industry norm. They claim that it is very durable and the bag is impact and drop resistant. It is great since luggage is badly handled during flight. Eliminating the zippers also makes it less vulnerable to thefts as the hard rolltop door will make it difficult to break into.
Removable power bank
Similar to Bluesmart, the Trunkster can also power your gadgets. It comes with a power bank of 10,400 mAh that can be removed and used separately as well. You are not limited by the capacity of power bank as you can simply replace it with any other power bank if you need more power.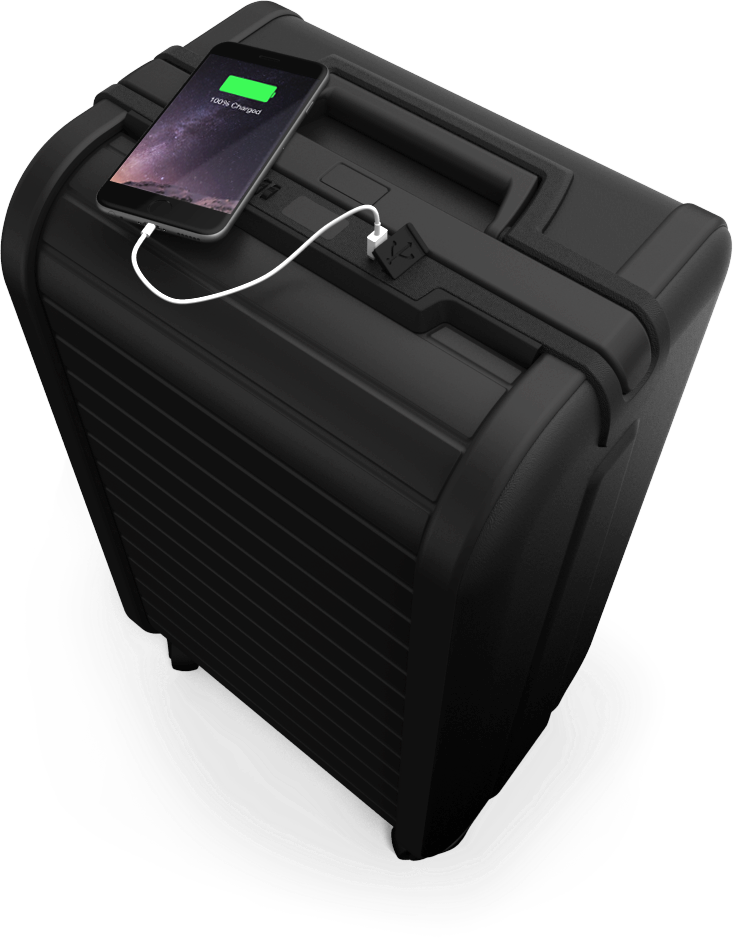 Weight tracker
Built into the wide grab handle are the weight sensors. So you can simply pick up the bag to see how much it weighs. It is surely going to save you from the extra baggage fees that you end up paying for carrying over the allowed limit.
Full width handles
Conventional telescopic handles usually eat up space from the bag and at times get into the way of packing. The Trunkster comes with full width handle that gives more control and doesn't interfere with the packing space inside the bag.
Optional GPS
If you choose to pay another $40 over the price of bag, you can have a GPS device that can be added to it. It will allow you to track your luggage wherever it is around the globe. Similar to the Bluesmart, it complies with the airline regulations. In case of Trunkster, the GPS device is removable so you can choose to remove it when you don't need it or maybe lend it to your friend for using with his bag.
The 22" carry on Trunkster is available for preorder at $325 ($105 peorder priority shipping charges for India). The GPS unit is available for another $40.
Both these bags come with some really fresh features that haven't been seen in travel luggage until now. While the Bluesmart would be a good option for someone who travels with a lot of gadgets, the Trunkster presents a strong case for itself with the tough waterproof design and slightly lower price. The crowdfunding success of these projects is a clear indicator that there is a potentially growing demand for such products. This is just the beginning and we will see more such products in near future to help the connected traveller.