With the increasing number of tech savvy travellers, we have recently seen a rise in the number of smart luggage options. Earlier we came across Bluesmart, which comes brimmed with technology, and Trunkster, a travel companion that brings innovation in terms of design. (Read: Meet the iPhones of travel luggage) Now another carry-on bag is making news all over and is raising funds on Kickstarter. This new carry-on is called G-RO and comes with a design suitable for a tech savvy traveller and can take up lot more abuse than the conventional carry-on bags.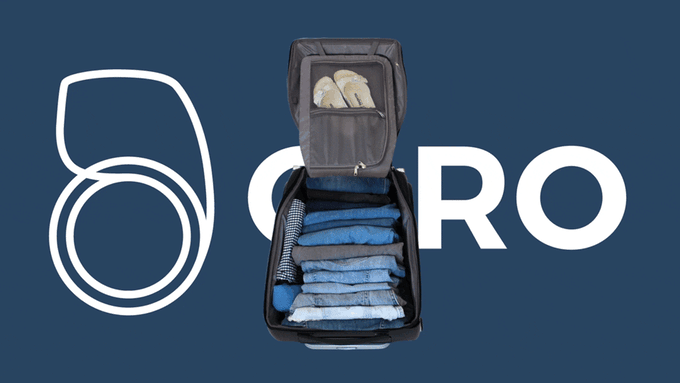 Backers have already pledged over USD 1.6 million for this carry-on. This is the most funded luggage on Kickstarter beating Trunkster by a significant margin already. Add Indiegogo to the mix and Bluesmart still takes the crown of most funded crowdfunded project with USD 2.2 million raised but it might change in the 16 more days G-RO has got to raise funds.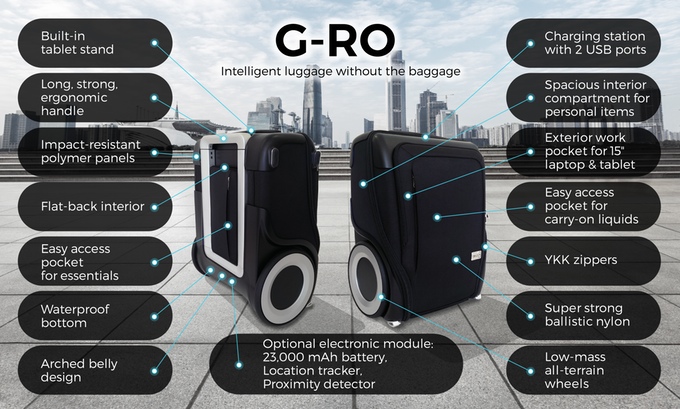 G-RO has been designed keeping the modern traveller in mind. It sits within the size limits for airline carry-on luggage and uses the space inside efficiently. It has pockets on the exterior to carry devices like laptop and tablet easily. Just above that you will find the charging station so you can simply plug in your devices and put them in the respective pockets. The top of the bag also doubles up as a stand for laptop or tablet, something that might be useful in the airport waiting area. Inside they have added special pockets that you can use for your personal items.
The most prominent pieces in this bag are the wheels. Conventional bags come with small wheels that are fitted using multiple rivets. The G-RO however comes with large wheels that aren't mounted at the centre. Instead they are large discs. Large wheels make it easier to pull the bag on rough surfaces and as the centre of gravity is closer to the wheels, it is much less effort. To further ease things for the traveller, it has got a handle significantly longer than the industry standards. To prevent the bottom from scraping on bad surfaces, the belly is arched and has been made of waterproof materials to keep the items in bag safe.
For added security, one can choose to get USD 99 optional electronic module which includes a 23,000 mAh battery, location tracker and proximity detector. This battery pack powers the USB ports included at the top of this bag.
You can find more details about G-RO on the Kickstarter page here. They are raising funds for another 16 days and you can pledge to get your hands on it early. Shipping is estimated to start around August next year.