When travelling to a new place, we often ask people in our network for help. Help on where to go, where to stay, where to eat, how to travel and everything else. Anyone who has travelled to, or has lived at your travel destination would definitely have good recommendations. These could be recommendations that you might not find on discovery platforms. This also saves a lot of time as you don't have to start researching from scratch and put efforts trying to put together a suitable itinerary.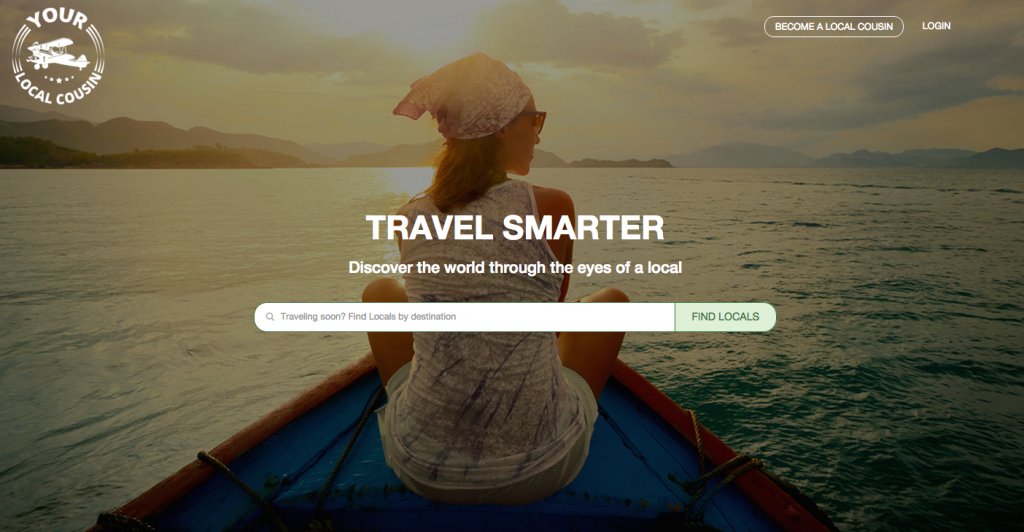 Your Local Cousin tries to expand the network of the people you can go to by offering a platform to connect with local experts in different regions. These local experts will give you suitable recommendations about the destinations and help you put together a sensible plan. We spoke with Kunal Jain, co-founder of Your Local Cousin to learn more. Here is an excerpt from the conversation:
When did you start YLC?
We launched our MVP using a basic Godaddy service in February 2015.
You seem to be a virtual team, with your cousin Aarti managing the operations from US. How does it work?
Besides Aarti our CTO is also based in New York. When we first started, we thought it would be difficult to operate the business given the team is split across time zones. However, we have used this to our advantage and were able to build our network not only in the US but also in India and other parts of the world.  This also allows us to respond to requests immediately and has given us access to travel / startup events anywhere in the world. The team constantly communicates over Skype, WhatsApp and meets at least twice a year.
What is the core business model of YLC?
We live in the age of information overload making trip planning a very time consuming process, leaving travellers with mostly the 'top 10 attractions' in a city and impersonal experiences. With Your Local Cousin, travellers can get a local perspective on where to find the best beaches in Maui (Hawaii), where to shop for authentic bakhlava in Istanbul or which off the beaten path villages to visit on a road-trip from Barcelona to Nice. They can choose to text, message or speak with an actual local and spend just $15 for 30 minute Skype calls, $10 for text messaging as well as itineraries for $25 – $60 and maps for $10.  Locals earn 70% of revenue for their efforts.
What sort of growth traction you've seen till now since launching?
Since launch, we have been in free trial for the first city and have successfully connected hundreds of travellers over the past few months. This is after spending minimal marketing dollars. Because our locals provide such unbiased, quality recommendations, which are harder to come by on TripAdvisor or Lonely Planet, most of our travellers come to us through word of mouth. We've had several users pay us despite being in free trial and are now getting repeat business. Our month-on-month growth is 20% in terms of travellers and we have more than 500 locals across 80 countries (as of November end).
YLC seems to be targeting a relatively broad geography of target travellers.  Are you looking at narrowing down on geography in the near future?
We are open to ideas and have not yet finalized whether we will narrow down geographic locations. Our focus on a large geographical region has given us press in places we never imagined we would reach.  Over the past few months we have been featured in Travel + Leisure (USA), Chicago Tribune, SvD newspaper (Sweden), Tabla Magazine (Singapore), Sabemos Digital (Spain), El Universal (Mexico) as well as interviews on 89.1 (Dubai radio station) and 94.3 (Delhi).  We continue to discover press from across the globe that mentions Your Local Cousin.
Take us through the selection process of your guides. How do you ensure that travellers stay safe during the experience if there's any in-destination interaction?
We have a strict vetting process where we Skype with our locals (video calls), scan them on social networks and also LinkedIn. Our locals are informed that our service is not for meeting up in person however, should they chose to do so, the risk and responsibility is entirely their own. Same goes for the travellers. In the future, we may include a plan where travellers can meet locals.
Share your experience of talking to investors for YLC. Are you actively looking at fund raising?
We are bootstrapped till now as we wanted to find our product and market fit. Now that we've had traction and feedback with our users, we're launching a new and scalable website: www.yourlocalcousin.co by the end of January, 2016 and are anticipating several investor meetings.
What's the next milestone for YLC?
To pay ourselves a 'stipend' :). Jokes apart, we're definitely getting aggressive on funding as we have some great ideas that we'd like to implement that not only require $ but most importantly requires valuable insights from seasoned entrepreneurs.
Your Local Cousin was also among the finalists at WIT Bootcamp last year in Singapore. You can find more details about them on their website.