We all have been there. Trying to book train tickets only to be disappointed by the long waiting list. The problem takes a different scale if the distance is very long as the probability of a confirm ticket drops significantly. It is possible that there are cancellations along the route but you will end up with an unconfirmed ticket. This isn't because there is no seat available but because there is no single seat available for the entire length of your journey.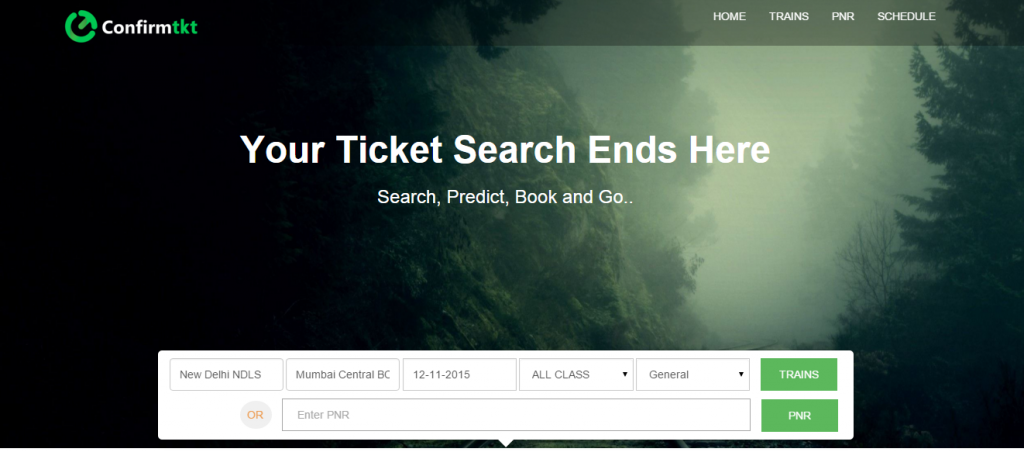 Confirmtkt tries to capitalise on this and helps the travellers in finding a confirm train ticket. Similar to services like Ixigo and Trainman, it utilises IRCTC booking data to tell you how likely it is to get a confirmed ticket. The system learns from its past experiences which helps improve the predictions in future. It takes factors like seasonality, travel class, holidays and reservation quota into account for the prediction.
If the probability of getting a confirmed ticket is high, the notification service of Confirmtkt will send you an email when your ticket gets confirmed. But the real trick starts if the probability of a confirmed ticket is low. In that case, it can suggest you alternate ways to get confirm ticket. So if you can't find a ticket from A to B, you can book two tickets from A to X and X to B. All you have to do is switch your seat at X station according to the second booking.
Using the service is quite simple. Enter source, enter destination, select date and it will list down the options for you along with the probability of confirmation for each train. This also comes along with the option to get alternatives in the same train. It doesn't offer the option to book at this point but the developers might add the feature later when they have gained strong traction. Apart from the desktop website, Confirmtkt can also be accessed through the mobile apps. So the next time you are unsure about a waitlisted ticket, Confirmtkt might give you the assurance.