Taking another step in its constant endeavours to catalyse the growth in India's online travel industry, FICCI recently announced the launch of Travel Tech Launchpad. The objective is to provide a platform that encourages innovation and growth for travel startups. It will be hosted as part of Digital Travel, Hospitality and Innovation Summit which will offer startups to learn from and network with the experts in the industry. Leading investors have extended their hand to support the platform and share their meaningful inputs to the travel startups showcasing their products. The event is scheduled for March 23, 2017 and here are the industry experts and seasoned investors who will be judging and advising the startup pitches: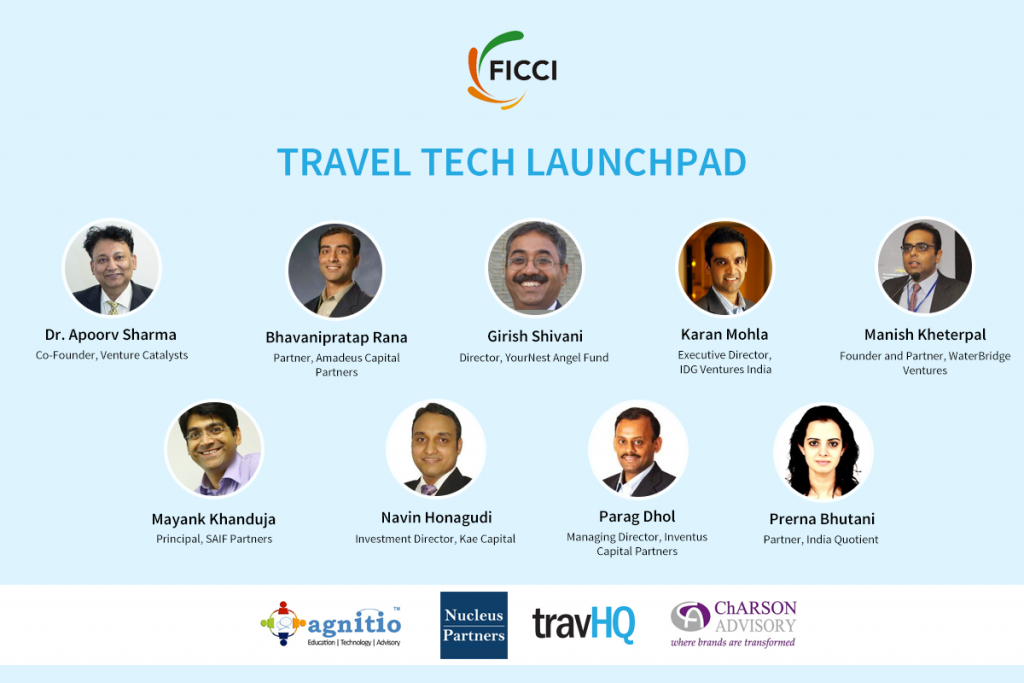 Dr. Apoorv Sharma
Dr. Apoorv Sharma is the Co-Founder of Venture Catalysts, India's first seed investment and innovation platform. He holds a PhD in Incubation and has been involved in early stage investment since 2002. He established almost 10 incubators and accelerators. He was also actively associated in establishing various angel networks across India. Having led and mentored more than 50 early stage investments including OYO Rooms, Confirmtkt among others, he is always on the lookout for the next big idea.
Bhavanipratap Rana
Bhavanipratap is Partner at Amadeus Capital Partners and is responsible for sourcing, making and managing investments in India and Southeast Asia. He is a seasoned venture investor carrying experience of working across different geographies including US, India and Europe helping technology startups in their growth. Prior to Amadeus Capital Partners, he has worked as Investment Director with Intel Capital.
Girish Shivani
Girish Shivani is the Director at YourNest Angel Fund and carries close to two decades of diverse experience in IT consulting, Telecom, Media and Financial Services. YourNest is an investor in Wings Travel which acquired Bookmycab last year. Along with this, YourNest has also got portfolio companies providing marketing solutions and AI technologies. Girish has also worked with some of the leading names like Teradata and Bennett Coleman.
Karan Mohla
Karan Mohla is Executive Director at IDG Ventures India and is leading the India sector strategy in mobile and internet space. He has successfully completed 20 M&A and Capital Market transaction in US and India across sectors including technology, media, telecom, education, cleantech and infrastructure. He also led IDG Ventures India investment in leading OTA Yatra.com.
Manish Kheterpal
Manish Kheterpal is the Founder and Partner at WaterBridge Ventures. WaterBridge Ventures released a USD 15 million fund last year to invest in early stage startups and has got portfolio companies in education domain. A private equity veteran, Manish is interested in startups having technology at their core and carries strong experience of working at senior positions with Providence Equity Partners and Actis Capital LLP prior to starting WaterBridge Ventures.
Mayank Khanduja
Mayank Khanduja is Principal at SAIF Partners and has been investing in young, dynamic tech and mobile startups in India. Travel is among his key interest areas and he is an investor in some of the fast growing travel startups like Travel Triangle, Treebo Hotels and Auto Ninja among other companies. He has also worked with McKinsey and Co. India for five years.
Navin Honagudi
Navin Honagudi is the Investment Director at Kae Capital and invests in early stage companies bringing innovative solutions to fill market gaps. He has invested in areas such as Mobile Internet, Online marketplace, Local Services, SaaS, SMB Tech, Payments and B2B opportunities. Prior to Kae Capital, Navin has been associated with Reliance Ventures and has led investments in PayTM among other companies.
Parag Dhol
Parag Dhol is Managing Director at Inventus Capital Partners and actively works with startups in both India and Silicon Valley. Inventus Capital Partners currently has 27 portfolio companies including transportation companies MoveInSync and Savaari among many other startups in different industries. They were also an investor in Redbus before it was acquired by Naspers. Prior to Inventus Capital Partners, Parag was Associate Director with Intel Capital.
Prerna Bhutani
Prerna Bhutani is Partner at India Quotient identifying ideas and companies that don't seem popular but hold huge potential. India Quotient has got investment across some popular ecommerce and transportation companies. Prior to India Quotient, Prerna has started and scaled her own businesses and leverages her learnings to help the portfolio companies.
The registrations for Travel Startup Launchpad are open for just few more days and the initiative is supported by brands like Agnitio Consulting LLP, Nucleus Partners and Charson Advisory. Travel Tech Launchpad will be hosted as a part of FICCI Digital Travel, Hospitality and Innovation Summit which is scheduled to be held on March 22 and 23, 2017 in New Delhi. You can find more details here.