We are coming back with Startup Knockdown and this time it is going to be bigger than ever. The Startup Knockdown+ will put more opportunities on the table for participating startups. The previous events successfully put promising startups like FXKart and Confirmtkt in the spotlight and gave many others the chance to get inputs from industry experts to fine tune their product and gain new opportunities. The panel of judges included leaders from brands like Google, Amadeus, Cox & Kings, Unicorn India Ventures and more.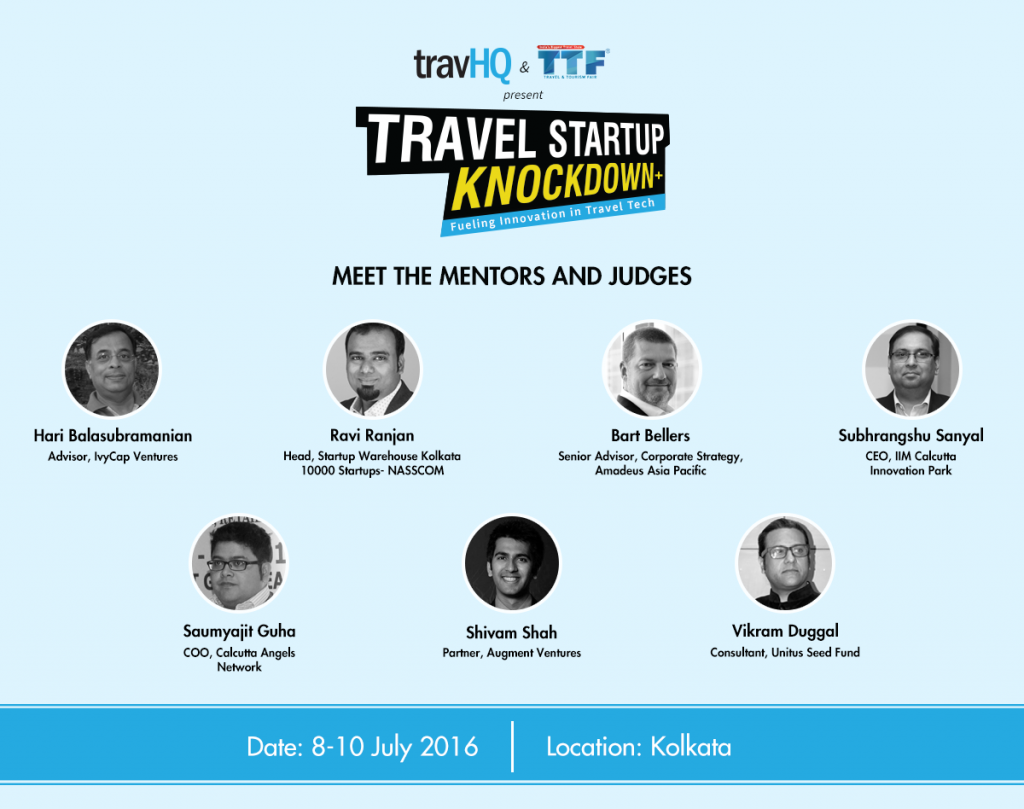 This time, not only will the expert panel judge the pitching startups but also engage with them before the event during multiple workshops. Introducing the judges and mentors for the upcoming event:
Saumyajit Guha, Calcutta Angels Network
Saumyajit has 15 years of experience with proficiency in Business Incubation & Entrepreneurship Ecosystem Development, Market Research & Analysis, Process Migration, Operations and Business Analysis. He has worked with Startup Incubator at IIT Kharagpur as Head, Business Development. He has also worked IIM Calcutta and was instrumental in establishing a DST approved incubator- IIM Calcutta Innovation Park. He has also worked in other roles as IT Project Campaign Manager and as Business Analyst. Currently he leads Calcutta Angels Network, an angel investment network in Kolkata, as the COO.
Ravi Ranjan, Startup Warehouse Kolkata- 10000 Startups
Ravi manages Startup Warehouse Kolkata which is a part of 10000 startups, an initiative by NASSCOM. The program is supported by Google, Microsoft, Facebook, IBM, Amazon & Kotak Bank He has an experience of over a decade spanning diverse sectors and he has helped many professionals and students start their entrepreneurial journey. He started his journey as a media professional, heading to events industry and then eventually getting into the startup ecosystem of India. Before NASSCOM, he was a part of Cross Border Angels, Indian Angel Network and Ennovent.
Bart Bellers, Amadeus Asia Pacific
Bart is an experienced business executive and passionate out-of-the-box thinker who has successfully led commercial and innovation initiatives at the leading edge of technology. His credo is: "Think Different" and "Just Do It". Bart is Senior Advisor, Corporate Strategy at Amadeus Asia Pacific and his role are to lead new business opportunities and seed innovative initiatives in the region. He has been with Amadeus for over 12 years and held management positions in e-Travel, Customer Delivery, Business Development & Innovation. Prior to Amadeus, Bart built up a strong digital, technology and commercial background in the ICT industry and has worked for several start-ups focusing on the development of e-business solutions.
Subhrangshu Sanyal, IIM Calcutta Innovation Park
Subhrangshu is a passionate startup evangelist and is the CEO of IIM Calcutta Innovation Park where is he working on creating a comprehensive ecosystem to fuel innovation and promote entrepreneurship. He carries rich experience in process and systems consulting in banking and financial services domain. He was also involved in end to end implementation of several large strategic projects for global organisations and also had a stint with a tech startup.
Shivam Shah, Augment Ventures
Shivam Shah is a partner at Augment Ventures. A fund that invests in early stage start-ups. He is also the co-founder and CEO of www.CaptainKYSO.com, an e-commerce apparel venture, that sells wearable art, and co-founder of www.cremecup.in, India's first, Online Bakery. Completing his masters in finance, from Simon School of Business, Shivam turned down a lucrative job offer in M&A at an MNC to come back to India, to pursue his entrepreneurial dreams.
Vikram Duggal, Unitus Seed Fund
Vikram represents the US based Unitus Seed Fund and works with startups as an Investor, Mentor and Advisor to help them achieve ambitious growth plans. He comes with over 17 years of experience heading sales & marketing functions for major brands across different verticals like Retail, Media, Durables, IT and Banking. He has been instrumental in successfully launching t2, revamping Turtle (menswear), marketing launches of radio stations, implementing large scale on ground activations and scaling up operations of young businesses. He is also a guest faculty at various B-schools across India.
Hari Balasubramanian, IAN, IvyCap Ventures, Sol Primero
Hari is an investor, advisor and mentor and helps entrepreneurs give a surge to their startups. Post his stint as an entrepreneur for over 27 years as founder of Ontrack Systems Limited, he has made angel investments in multiple startups across different domains. He is an advisor to IvyCap Ventures to support entrepreneurs from premier institutions of India and to Sol Primero, an early stage venture fund. He is also a member of Indian Angel Network where he contributes in deal sourcing, due diligence and mentoring of startups. Previously he has also been associated with organisations like TiE, COMPASS, NASSCOM and CIITA.
Are you a travel startup? You can register for the upcoming event at startupknockdown.travhq.com.
Follow the links to check highlights of the previous events: Startup Knockdown Mumbai | Startup Knockdown Delhi