During the recently concluded Phocuswright India, 10 innovators took the stage and each one of them had the potential to change the way we travel. Over the past few years, Asia-Pacific region has been home to many such innovative startups and last year, Amadeus introduced Amadeus Next to help the growth of these young startups. Through Amadeus Next, they collaborate with these startups to evolve new ideas in travel by leveraging Amadeus' technology expertise and customer reach.
Simon Akeroyd, VP, Corporate Strategy and Business Development at Amadeus Asia Pacific has been driving the Amadeus Next initiative ever since it came into existence. We got a chance to speak with him during Phocuswright India to learn more about 'Next' and the potential it holds. Here is an edited excerpt from the conversation:
How do you think the startup ecosystem in APAC differs from that of the west?
The startups in this region and other parts of the world are in very different stages. In US and Europe, there are more barriers for them due to the dependency on legacy systems. However, in Asia, we have seen that many startups start from scratch as there isn't so much historical legacy system to build on top of. I see the young companies in Asia-Pacific being able to grow much faster than in other regions.
Talking about the trends, many of the initiatives that we see in Asia are similar to the ones we see elsewhere. It is just that the chances of successful execution are higher here than the other regions.
What was the idea behind Amadeus Next?
The intention is to improve the way we, as Amadeus, work with smaller companies. In the case of Amadeus Next, these smaller companies are travel startups but we have some other initiatives as well which are with more mature companies.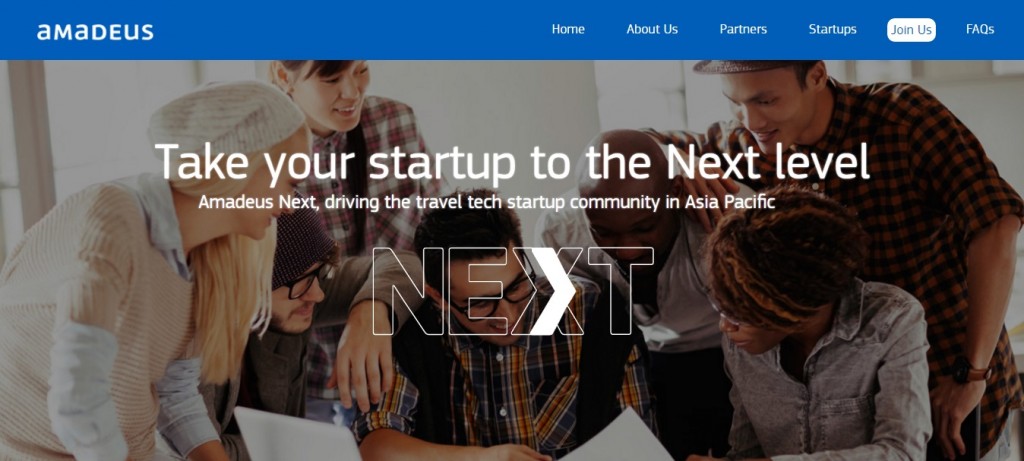 We feel that Amadeus is across the entire travel chain and we power travel, something that we are really proud of. We have to be able to participate where activities are happening in the travel space. To achieve that, we have to shift from being an internally focussed IT company and open up to innovations and enhance them. That is why we started Amadeus Next.
Why the focus on APAC region?
We decided to focus on APAC partly because of some of the reasons I mentioned earlier, being able to move quickly and being responsive. Another reason is that we noticed the innovators in Asia are hungry and excited for being able to make a change and for us that is a very positive factor.
Operating Amadeus Next like a startup, what have been the learnings so far?
We have learned a lot since we launched Amadeus Next last year. When we launched and decided to work with startups, we thought the biggest challenge would be money. We were under the impression that they would all expect us to help them raise funds, however, we learned that it is not about the funding. Obviously it isn't easy for startups to attract investors and raise funds but that wasn't their prime focus. Their focus was on getting access to customers and improving their technology. So, quite quickly, we learned that for startups, it is more about how we can open up our technology for them and bring our customers to them.
There are also some takeaways for Amadeus among which the big one is "Get out of the building". In large corporations, there is a tendency to spend a lot of time debating amongst a closed group about what is right, what people want and you end up wasting a lot of time that way. For Amadeus, the learning is to get out of the building, ask the consumers and stop debating internally if they want blue or red. So one of the benefits of the program is that we improve as a company and learn to be closer to the market.
What is next for Amadeus Next?
There are two major trends that we see in the travel space. The first one, sharing economy is already impacting us significantly and is shifting towards access economy. During the Travel Innovation Summit, Myles cars talked about reducing redundant inventory for cars. In Amadeus Next we have Orahi, which is a carpooling service and I think that kind of shared economy, which is already here and is growing very fast, is going to be a major interest area for us.
On the other side of it, there is the Internet of Things, pretty important but less well defined than the first one. We don't know yet where it will end up. The impact of wearables on travel is very hard to guess. We are good at some parts of Internet of Things but there is still a lot to be learned in that space and it will be a massive change for us.
Audio Compass won the Amadeus Next award during Travel Innovation Summit at Phocuswright India. You can find more details about Amadeus Next and the startups that are a part of it at next.amadeus.com.