We have recently seen a rise in number of self-drive car rental services in India. Zoomcar, Myles, MiCar and recently introduced Voler offer wide range of cars across segments for rental trips. They are an excellent choice for people who don't need a car everyday but need one for specific occasion such as when travelling with friends. Then there is a category of enthusiasts who rent premium cars for weekend fun and sheer experience.
Zoomcar's recent emailer talks about their special plans for daily office commuters. To be honest we never saw this coming. We always thought Zoomcar was for those weekend outdoor trips and business executives who go to a different city. There are many countries where people are not buying cars and relying heavily on similar services but does it really make sense in India at this point? A debate broke out in our office immediately with opinions pouring in.
What is on table?
Zoomcar is offering cars starting at INR 2,400 for a week of 4 days (or INR 3,000 for 5 days). For that you get a Ford Figo for 4 days and 120 free kms. That gives you 30 kms for a day or 15 for one side travel to your work which is fair enough. For those who travel more for work, the same car is available with twice the free distance for INR 3,360. The car can be picked at 8 PM on Sunday and dropped off at the same time on Thursday.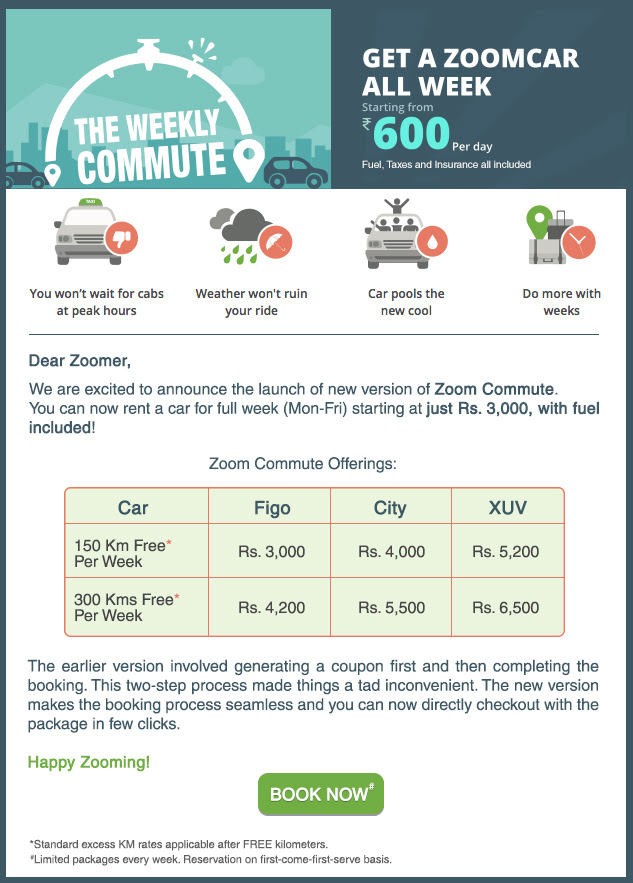 The problem?
While the idea is attractive and prices justified, we couldn't help but compare it to alternatives like taking a cab. The cab aggregators like Uber and Ola offer very low prices per kilometre and are readily available in metro cities where Zoomcar operates. While there are many who are not a fan of being driven around, it is probably the best idea on a weekday in rush hour traffic. Office hours in morning and evening are the only times when you wouldn't want to be behind the steering wheel.
Of course the next thing we jumped at was the price. For an Uber ride of approx 14-15 kms, you will pay around INR 180 assuming the ride takes close to 40 minutes. The cars are comparable to Ford Figo and you can just sit back without having to struggle with the annoying traffic. Even after this, it turns out to be cheaper than Zoom Commute which is approximately INR 300 for the same one way ride.
Another factor is liability. While Zoomcar cuts down on many liabilities of owning a car, you are still responsible to some extent for safekeeping of the car. You will have to make sure you have a parking space both at work and your home, and we know about the parking mess in Tier1 cities of India.
There are many common routes which translate to longer distances than the upper limit of Zoom Commute. For instance, if you commute on the Delhi-Gurgaon/Delhi-Noida route, it is a given that you will exceed that daily limit and end up paying more per kilometre. It is appropriate for short distances, but there they are competing in a price war against on-demand taxi booking services.
TravHQ take
While Zoomcar is trying to promote their services among daily office goers, we do think they should adhere to the segment of travellers. Zoomcar is an excellent service and we will continue to look towards them whenever we need a big car for our weekend trips. However, the Zoom Commute just doesn't justify itself very well. It would have made sense if there was a serious price advantage but as long as cab services are operating at such low costs to fight off the competition, it will be a tough battle for the likes of Zoomcar.
We appreciate that Zoomcar is putting in efforts to get more people to try such services and reduce the number of underutilised cars. You can find the cars and plans on their website here. Afterall it isn't a bad idea to ditch your everyday drive for a week and go to work in a mighty SUV.