Last week, a Dublin-based hotel banned bloggers and other influencers after a 22-year-old influencer broke down in tears when she was refused free accommodation.
UK-based social-media influencer Elle Darby emailed Charleville Lodge in Dublin to seek a free five-night accommodation in exchange for bringing attention to the boutique hotel. The hotel not just posted the email, but also provided a scathing response, ultimately refusing the proposal. This created quite a controversy, and both the influencer and the hotel received a lot of hate, which ultimately led the hotel to post a follow-up, banning all bloggers from their business.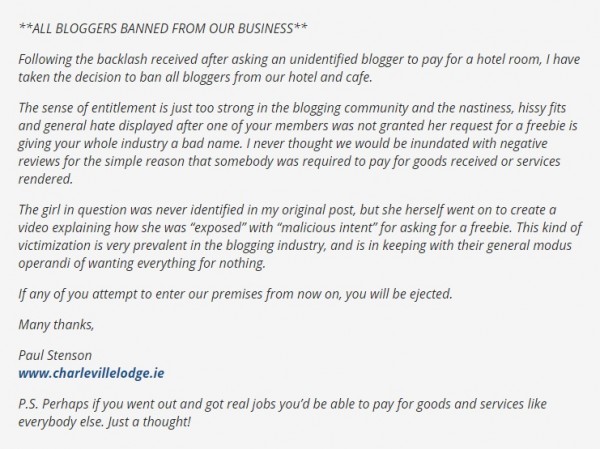 The process of work in cases like these used to be very simple: the brand sent a free item to a blogger, and the blogger posted about it on their social media platform or blog. Depending on how influential they are, the business would earn new followers and in some cases, potential sales. This, however, was the mode of business many years ago.
Initially, there were two to three top bloggers in the country. Many aspiring bloggers followed suit and the numbers soon rose exponentially. Then came along the wave of content sharing apps like Twitter, Instagram and Snapchat, making competition stiffer and reducing the odds of getting noticed among the thousands of 'influencers' in the crowded space. What is then, an aspiring influencer supposed to do now?
For brands wanting to raise awareness about a particular product or feature, bloggers and social media influencers have undoubtedly become a more sought-after and affordable alternative than celebrities, for instance. For the bigger brands, it is quite easy to send free products as gifts and write them off as marketing expense. For many others, like in the case of Charleville Lodge, who already have '186k followers on two Facebook pages, an estimated 80k on Snapchat, 32k on Instagram and 12k on Twitter', and a host of viral campaigns to their credit, it doesn't even make much sense for them to get an influencer on board for promotions.
However, for today's young brands and boutique startups, the same cannot be said. As soon as they launch, random bloggers start emailing them, asking for sponsorships and free items, offering to pay back with likes and shares on social media. What many influencers don't understand is that likes won't pay the tremendous costs that startups have to incur on positioning themselves in the already-crowded travel market. There is no doubt that the right influencer will give them followers, but most of the times, likes don't necessarily result in sales, which is a prerequisite for any brand starting out and trying to sustain itself.
So, does that make it completely wrong for influencers to approach brands proactively for freebies? The answer is no. Just like brands, influencers are free to market themselves in any way they please or deem fit. When it comes to barter, influencers shouldn't stop trying, although they must understand that it is not the only way to market themselves and that brands are not obligated to return the favour.
There are many brands out there who would be more than willing to sponsor posts, so it would be wise to do a thorough research and get back to the brand with a favourable pitch that would ensure both parties mutually benefit from the collaboration, both on social media and financially. Influencer marketing definitely presents one of the most rewarding opportunities for brands to leverage the power of word-of-mouth at scale, but as the old adage goes – money doesn't grow on trees.