It pays to be a loyal customer and in the end you won't mind being a member of JetPrivilege, if the airline keeps making subtle innovations such as the recently introduced JetScreen, the new wireless streaming in-flight entertainment service. This services also demonstrates that Jet Airways does have a plan or two for the smartphone savvy millennials in the country.
The recently introduced service allows customers to stream video content, movies, shows and much more on their personal Wi-Fi enabled smartphone devices. The content consists of Bollywood/Hollywood and regional movies, games etc. The remote streaming also has standard in-flight entertainment features such as 3D flight tracking and access information etc.
The features of this service seem to be the tip of the ice-berg as Jet Airways sees this as the initial step before offering "fully-fledged, broadband-enabled Wi-Fi connectivity", which will give passengers the ability to browse the internet, send and receive email, access connecting flight information and more.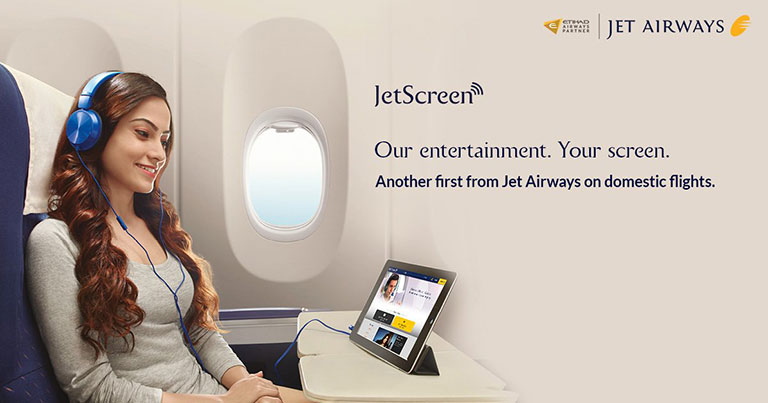 What's available? 
Standard in-flight entertainment features (3D tracking, movies, games etc.)
Over 220 hours of content to begin with
BYOD Model (Bring Your Own Device Model)
Accessible via AirPlane mode
What seems to be missing?
Cost implications are not clear
Availability on limited routes as of now
To access streaming content on personal devices, flyers need to download the free 'Airtime Player' app which is available on the App Store and Play Store. Once they have boarded the flight, all they need to do is connect to "JetScreen" Wi-Fi in airplane mode.
Gaurang Shetty, whole-time Director, Jet Airways, says, "Inflight entertainment is a key element of Jet Airways' full-service experience. Our selection of the best entertainment content across genres is aimed at enriching the inflight experience of our guests. Streaming of content on personal devices has become extremely popular globally, and we are confident that this initiative, will appeal to all our guests especially the millennials who prefer to access content on the move."
For more details on how to experience, JetScreen visit this link.