In our journey of over one year, we have been extensively tracking travel startups from India, Singapore and Hong Kong among other countries of SEA. However grass-root innovation in the travel & tourism sector across emerging economies such as Laos, Vietnam, Thailand etc. has been equally impressive as well. The development in these regions comes in at an interesting time – When the governments of these respective nations are making constant endeavours to promote the tourism economy and improve the destination's image among international travellers.
At this juncture, we would like to start a new content series 'The Asian Travelpreneur – Conversations with Asian Travel Startup Founders' with the aim of bringing to limelight, travel industry innovators from across Asia who have been making a dent in their home-country's entrepreneurial ecosystem. We are kicking it off with a conversation with Prakash Neupane, tech entrepreneur from Nepal, who co-founded the Award Winning Company Nepflights.com. Here is an edited excerpt from the conversation: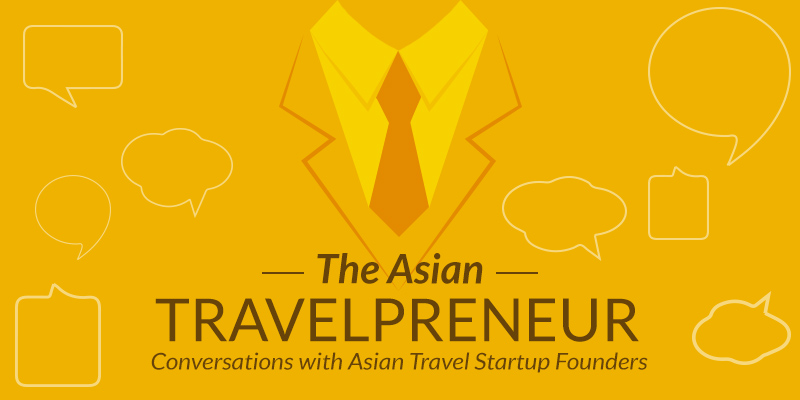 You have built NepFlights. How old is the venture and what problem are you solving for Nepali travellers? 
2.5 years ago, when I used to travel to different countries to participate in various events and meetings I found strange that more people knew Mt. Everest and Birth Place of Gautam Buddha than the country Nepal itself. It gave me the impression that there is huge potential to get people interested in visiting Nepal if we can show people what Nepal has to offer. We have lots of unexplored natural beauty, adventures, culture, tradition, food, festival, lifestyle and people themselves. So when I came back home, I talked to my team and started exploring the options to build an online platform to showcase Nepal. The reality was much different from what we assumed initially as there was complete lack of information online. So we started from scratch, first by enabling realtime domestic flight booking online. We have now reached a point where we are ready to launch International flights, rentals, buses, holiday package booking. NepFlights.com is now the online platform for booking travel services for Nepal.
We solved the problem of travellers by providing easy access to flight information and booking options. Before Nepflights.com, people had two ways to book domestic flights in Nepal. Either they could visit their nearby travel agency to seek flight details or they could email the travel agency seeking the details. Both these processes were time consuming and uncertain and we managed to address these issues with our venture.
This also allowed us to solve the problem of B2B market. In Nepal more than 2000 agencies didn't have access to airlines system and had to reach out to other agencies to get prices and book. NepFlights.com has helped them get all airlines on single platform for free.
What does your team look like and what sort of traction you're getting on Nepflights?
The team is a combination of travel experience and technology expertise. One of the core team members has more than 15 years of experience of travel industry and others have expertise of building the solutions that can transform traditional tourism industry into innovative technical solution which perfectly help to build the platform to sell travel service. We were able to bring most of the travel service online by convincing the offline players to adapt to the change. We connect more than 2000 offline agencies to provide direct access to flight booking, We have partnerships with 2-3 international brands to extend our service and serve more than 5000 customers. Also, we were recently awarded for Best ICT Startup Award 2016 of Nepal and Top 100 Asian Company from Red Herring.
How big is the OTA market in Nepal? 
Currently there are not many major examples of OTAs in Nepal and we are trying to set one with our venture. There are few international platforms which collaborate with local companies here and help sell directly to their customers. Over the last 2-3 years, we have seen some initiatives that have got potential but they will still need some time to get a firm hold in the market. We have also seen airlines changing their model and promoting online booking.
How is the travel market in Nepal growing?
Nepal has long been attracting heavy spending tourists, looking for trekking, expedition and adventure activities. Europe and United States have been the source markets for ages. But things have been changing constantly over the past 5-6 years. More people are now looking for city tours, eco-tours, culture tours, food and shopping. India, China, SAARC and East Asia are now seen as the growing markets for travel providers in Nepal.
Investments are also growing in luxury tourism, especially in accommodation industry. Industry is investing primarily on wildlife activity, adventure activity and government has started to develop and promote sustainable tourism and community tourism.
Outbound tourism is also growing significantly every year, with people travelling mostly to Thailand, Singapore, Malaysia, Philippines and some European countries.
What are the travel aspirations of a typical Nepalese millennial.
I see two tribes of travellers if we talk about Nepalese millennials, Social Capital Seeker and Simplicity Searcher. By nature, Nepalese millennial are always busy along the same regular routine (study, job, business) and are very competitive with-in circle. Simplify Searcher millennial want to travel to utilise their vacation in between their schedule. They want to either go for the luxury and short trip or long trekking, depending on the season and vacation duration. They look for suggestion from OTA, Travel Agencies, friends and family.
Social Capital Seekers are looking for value that travel can create, They put effort in extensive research and go through the experience of similar mind set. These kind of travellers seek support from community wherever they can. They are looking to explore new things and at times even create some buzz. Along with this, you will often find them leveraging social media channels and their blogs to document and share their experiences.
Nepal is sandwiched between India & China, two of the most disruptive markets in travel-commerce and venture funding. Does it provide strategic advantage to Nepal in any way?
Not yet, but it will eventually. We see lots of investments and startups growing in India and China. Because of large value that these two counties can make, lots of investment opportunities help the industry in these two countries grow rapidly. But Nepal seems different, I don't think Nepal will be a similar market anytime soon. However, there can be significant advantages if:
Nepal can start building product/service along with China or India,
Nepal starts putting strong focus on tourism value which only Nepal can add
But it is not limited, We see lots of similar startup in Nepal like China and India, The idea, learning and implementation challenges are good reference to build upon. It also shows what the global demand is and how startups in Nepal can build solutions.
All over Asia, tourism boards are embracing digital platforms to change the way they communicate with travellers. How is NTB (Nepal Tourism Board) gearing up for this? 
Yes, NTB is already taking this seriously and is leveraging digital platforms wherever required. Especially after the recent earthquake, NTB endorses NepalNow.org (Online platform to share realtime status and travellers' stories) to help provide right and updated information after earthquake directly to the tourists who are considering Nepal. Nepal Tourism Board is closely observing and learning from digital initiatives of Singapore, Malaysia and Sri Lanka.
Nepal Tourism Board is already started to build Digital Marketing Strategies with different national and international Digital Experts and there will be very strong Digital Marketing Program coming very soon.
Lastly, what are your views on entrepreneurship in Nepal? Is the ecosystem (VCs, accelerators) supportive for travel startups? What's the ground reality like?
There has been a very encouraging environment for entrepreneurship for the past few years in Nepal. We saw lots of new startup trying to solve local problems and some with global. We often see people meeting and sharing ideas with each other, supporting each other. There are multiple entrepreneurship events hosted every week where people get knowledge, network and explore other opportunities. However, due to the lack of proper supporting ecosystem, most of startups are not growing enough. There are only few accelerator (with no specific focus) which are not enough to fulfil the demand, no incubators, and very few VC or investment opportunities. So most of the startups have been started by bootstrapping, and using personal network for mentorship. There is also a good side to it as people do prepare well before starting up. They meet other entrepreneurs and industry leaders, do ground research and validate their idea, which helps at least to bring very serious entrepreneurs. Last year, few startups raised good amount of funding from local business houses and I believe this trends will grow further.
About Prakash Neupane
Prakash is the tech entrepreneur from Nepal, who confounded the Award Winning Company Nepflights.com: online platform for booking travel service of destination Nepal. He believes Nepal has lot of potential in tourism industry to bring millions of tourists to the country. Before starting Nepflights, he was working the with national and international organisations to create social impact using ICT .
He is handling the technical and strategic development of NepalNow.org, Government program to build online platform to share realtime status and traveller's stories after earthquake in 2015. Currently, he is associated with Nepal Tourism Board for their Digital Marketing Strategy.