Omate, a Chinese company based in Hong Kong and Shenzhen, kicked up a storm on crowd funding sites when it unexpectedly raised $100,000 within 12 hours and more than $1,032,000 overall for its TrueSmart smartwatch few years back. This time the brand is hoping to run a similar successful campaign for its new product called Omate Rise.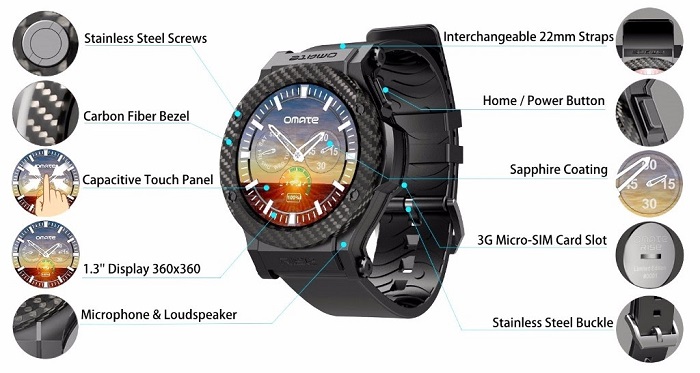 Feature-wise, Omate Rise is a tough, circular, 3G-connected smartwatch. It has a 1.3-inch touchscreen TFT display with 360 x 360 resolution, a strong sapphire coating on the display to protect from bumps and bruises and supports interchangeable straps. It runs on the full version of Android 5.1 Lollipop with Omate's OUI 4.0 on top. Omate Rise has a dual-core 1.2GHz MediaTek MT2601 processor backed by 512MB of RAM. It also has 4GB of on-board storage and a 580mAh battery. It has multiple essential features like microphone, bluetooth, GPS, loud speaker and 6-axis accelerometer. Omate Rise is the world's first 1 ATM water-resistant watch.
Omate has teamed up with Indiegogo to launch the new product and run the world's first 48-hour crowdfunding campaign. This campaign will start on 7th December from 10 AM (EST) New York Time.
Why is it a 48-hour crowdfunding campaign?
Omate believes this to be a one-of-a-kind event. By providing such an awesome deal during the 48-hour window, Omate wants to thank its loyal community that has been interacting with them over the last two years.
Elaborating on the launch of this product and their partnership with Indiegogo, Laurent Le Pen, the founder & CEO at Omate, stated:
"We are so excited to unveil the Omate Rise as the flagship product of our 2016 Wearable Tech Platform. We are delighted to team up with Indiegogo for this World's First 48hour crowdfunding campaign. It's a rendezvous with our community of users made of pioneers and innovators who share the same vision as Omate.
Special offers during the campaign:
The first 500 early backers will be getting the watch for about $200 a piece, followed by the next 500 at $210, and $220 for everyone later. Super Early Birds Backers will also get a free BLE Heart Rate Monitor chest belt powered by Nordic Semiconductor ($49 MSRP).

A travel-friendly device:
Omate Rise is a slim light-weight watch weighing approximately 80 grams. This device will be a comfortable wear for the travellers. Since it has a strong sapphire coating on the display, the adventurers do not need to worry about Omate Rise while cycling, hiking and other outdoor activities. The watch is certified for 1 ATM, giving it an ability to withstand pressure up to 10 metres. It is water-resistant and can be used safely under rains. Avid travellers can track their fitness, call, receive text messages, emails, social media notifications and run apps while on the go with the help of this smartwatch. They don't need to pair it with their smartphones or be connected to WiFi.
Since Omate Rise has a GPS system, the travellers can know about their locations and mark their movements. The travellers won't have to frequently bother about running out of battery. It's 580mAh battery provides 2 days of normal usage and up to 5 days on standby. This makes the Omate Rise an extremely travel-friendly device.
Omate Rise is an interesting piece of tech to look out for. If you plan to get your hand on this watch, back the device by registering here and help it reach a goal of $30,000. Will you be participating in this campaign?