Trip planning can be a long & exhaustive process. Unless you are a backpacker who is looking to make plans on the go, people prefer having everything sorted before they leave the comfort of home. That is why people, especially the ones travelling with family or in groups, either look up information from different sources and book through multiple vendors or book packages offered by travel companies. The first option is tiresome while the second one doesn't offer flexibility.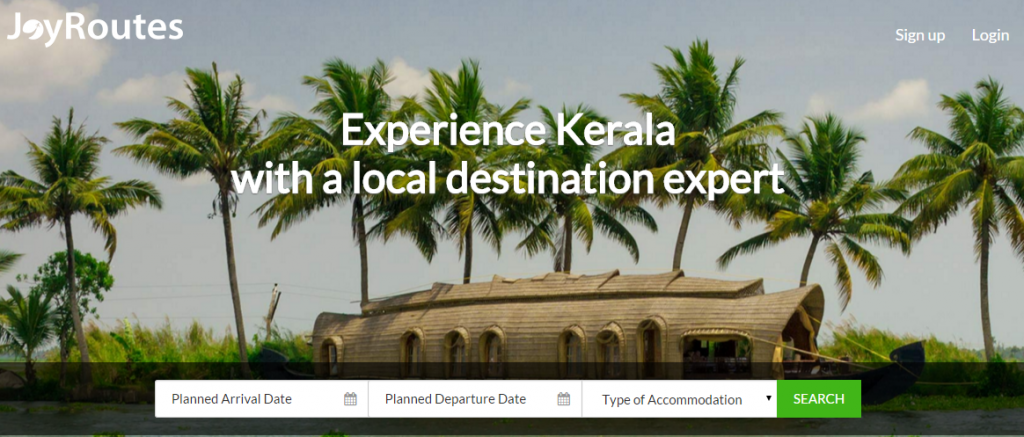 This is where, a new startup JoyRoutes enters with a solution. It allows you to put all the hassles behind and book a package which includes hand picked accommodations & experiences and offers the freedom to customise the holiday package in real time. This way you can include the experiences you like, skip the ones you don't, without having to look up vendors or wait for confirmation from them. The packages are offered by destination experts who tailor the package according to what you customise.
The website
JoyRoutes has got an impressive website which catches your attention with stunning visuals. There is a very important lesson for other travel startups here. Many of them aren't able to strike the right balance between design & functionality and are often caught up adding Android app, iOS app and more in the list rather than perfecting one thing at a time.
Booking a holiday
Once you choose the start date, end date and type of accommodation for your Kerala trip, you are offered with options of packages for the duration. Each one shows the key highlights of the package so that you can easily pick one to customise. Once you choose to customise the package, you will find the bio of the destination expert on right side, which, in most cases, would inspire you to book.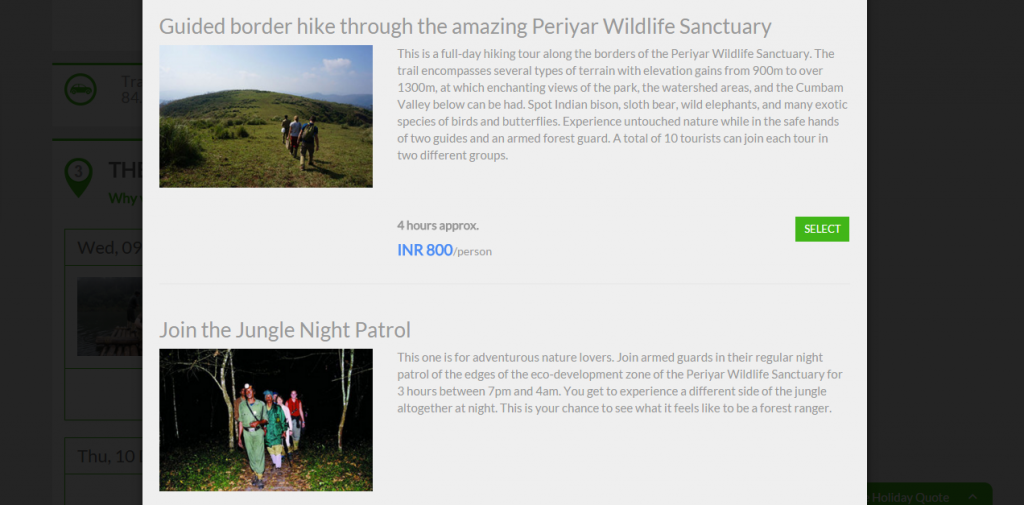 The customisation page offers two tabs. On the first one you will see a detailed breakdown of your trip with the locations, activities and stay for each day listed. Tap on add activity on any day and you will be presented with the activities you can choose at your location for the day. Some of these activities are free while others can be added for their respective costs. Similarly you can change the hotel according to your taste.
Once you are done customising, you can take a look at your complete itinerary in the second tab along with all the inclusions and exclusions. Tapping on the Book button will send the itinerary to the local expert who will then connect with you to help you further.
TravHQ Take
Like we said, pre-cooked packages don't satisfy many customers. You can't offer something that will suit everyone and that is why we like how JoyRoutes makes it easy to customise the base package. There are other startups that offer tour packages with the help of local experts but in most cases the users don't get full control over the itinerary in the initial stage. They will put the user in touch with the agents who will then customise it and get back. This pretty much takes us back to the problem we had in the first place. Reliability is also an issue and JoyRoutes is trying to solve that by bringing highly experienced agents onboard which should result in satisfied customers.
JoyRoutes is definitely worth a try if you are planning a trip to Kerala anytime soon. You can book with them through their website.