Trips are always door-to-door. Since almost nobody has an airport or a major train station directly in front on their house, any such door-to-door journey has to involve multiple transport means, it needs to be multi-modal. Traditionally, planning and undertaking such door-to-door journey has been a complicated, exhausting endeavour.
This is about to change! Thanks to recent advances in journey planning technology (powered by AI), door-to-door journey planning is now possible in regions like India, where there are no central authorities to manage information about the public transport options. DistancesBetween has launched a beta version of a door-to-door planner and it is bringing seamless door-to-door travel to India.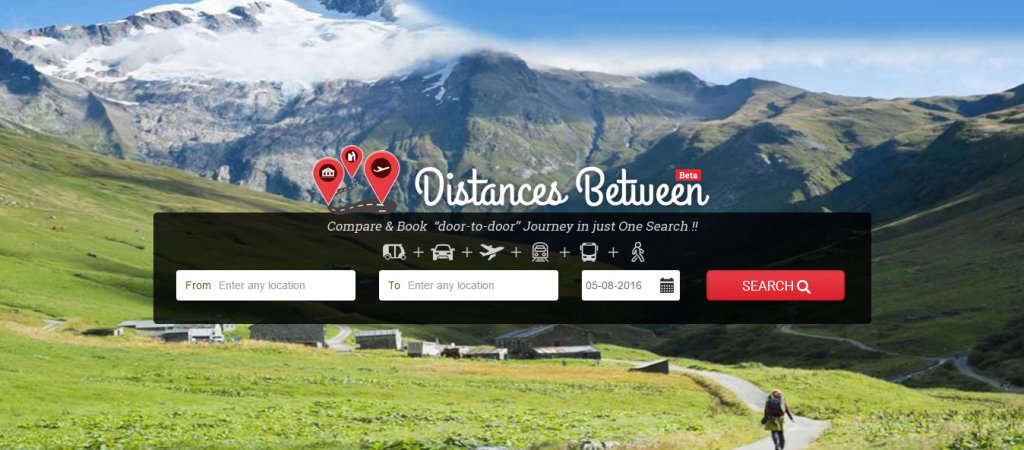 Perhaps even more importantly, door-to-door intermodal journey planning enables for the traveller to move from planning individual legs of the trip to planning and booking the end-to-end trip easily. Goes without saying that it not only saves time and effort but also offers cost advantages.
The problem it addresses is much bigger than it appears at first glance. You know your options when you are travelling along a familiar route but the questions start to stack up when you are looking to travel to a new destination. The urban transportation options are many and if you add travel costs and time into the equation, there are just too many factors to account for to find the best optimised route instantly. For instance, it is possible that for shorter routes, a combination of train+auto would be both cost and time effective when compared to cab+flight as airports are usually located away from city centre and require longer transfer times. DistancesBetween accounts for these factors while serving you your options so that you are able to discover the best route for your journey and have a more accurate estimate of your journey time which would allow you to plan your day ahead accordingly. On top of that, the ability to book right there means that you don't have to switch back and forth between different booking services while aligning the bookings with each other.
The founders bring immense industry and startup experience with them. Bharat Malik heads the team and he was a member of the founding team at Yatra. Sachin Mathur handles the technology behind the product and SatyaVeer Singh spearheads the marketing efforts.
DistancesBetween doesn't rely on pre-set combinations. Instead, it uses AI so that it can offer a solution for even the most complicated of routes and it keeps on improving with time. The product is still in beta and the system continues to learn as more users discover and fine tune their routes. Behind it is a team of data researchers and some of the best brains researching on Multi Modal transportation systems.

There are some tools like Goeuro or Rome2Rio that are similar to DistancesBetween in what they offer. However, most of them are available for other countries and can't be implemented in a region like India where the unpredictability associated with urban transportation is extremely high.
DistancesBetween is one of its kind tool in India and its relevance in the market is highlighted by the fact that 2.5 Million travellers have used the platform to discover and plan their trip since June 2016 when the team launched the product. Bharat shares that they have started booking facility in association with Yatra. The flight data is pulled real-time to include prices and travel time so that the results are as accurate as they can be. Similarly, the train data includes availability status so that tapping on the book button doesn't end into disappointment.
He also shares that the beta we see at this moment is only a fraction of what is in pipeline. To make the user experience absolutely seamless, they are working on a mobile version. This would allow them to integrate some mobile first services like location based points of interest, hotels, emergency services, real time schedules and services like Jugnoo for Auto rickshaws or Uber for cabs. Another addition that we will see in near future is intuitive alerts and notifications that would assist in re-planning on the go.
DistancesBetween, with its strong technological solution, is a part of the Amadeus Next community. You can try planning your next trip on their website DistancesBetween.com or maybe just take it for a spin and see if it serves any travel options better than the ones you would have picked. And if you face any challenges, the team is readily available on chat right there to help you out.