Thailand is a popular tourist destination but it's rapidly turning into a dynamic business spot. It has a low cost of living, offers a variety of food at low rates, provides many co-working spaces and is well connected with 6 International airports with low-cost carriers.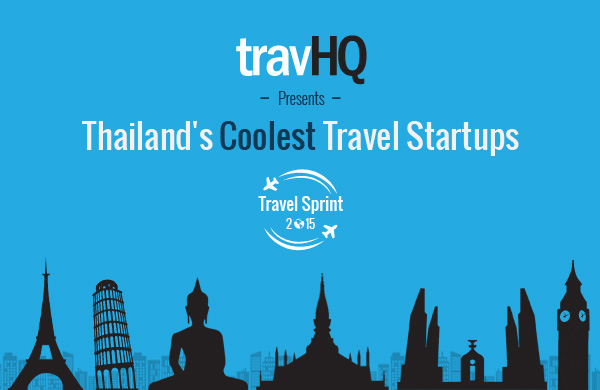 Observing the vast travel market opportunities in Thailand, many travel startups have come into existence in the past few years. We have listed a few of them below:
#1 JetRadar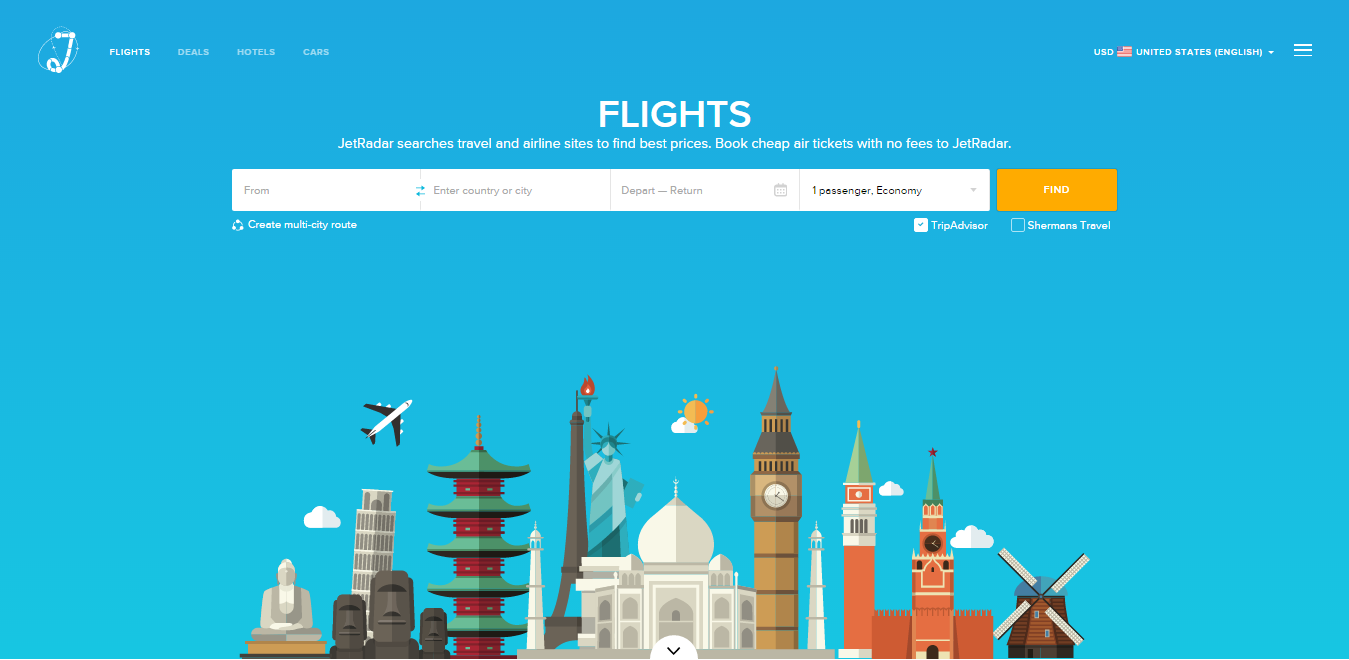 Founded by Konstantin Kalinov in 2012, JetRadar is a multi-lingual travel search engine for flights, hotels and cars. It helps travellers spend more on stunning experiences and less on airfare prices. As a business, it is associated with 535 airline and 35 travel agencies worldwide. It is active in 14 international markets including Germany, USA and Australia. The speciality of JetRadar is that it has a useful filter called 'ECO-Rank'. With the help of it, the flights are ranked according to the aviation emissions, traffic forecasts and aircraft range. Travellers who believe in protecting the environment can use this brand for an ecologically friendly flight to their destinations.
Languages: English, Deutsch, Spanish, French, Italian and Russian.
#2 Coin ⇆ Back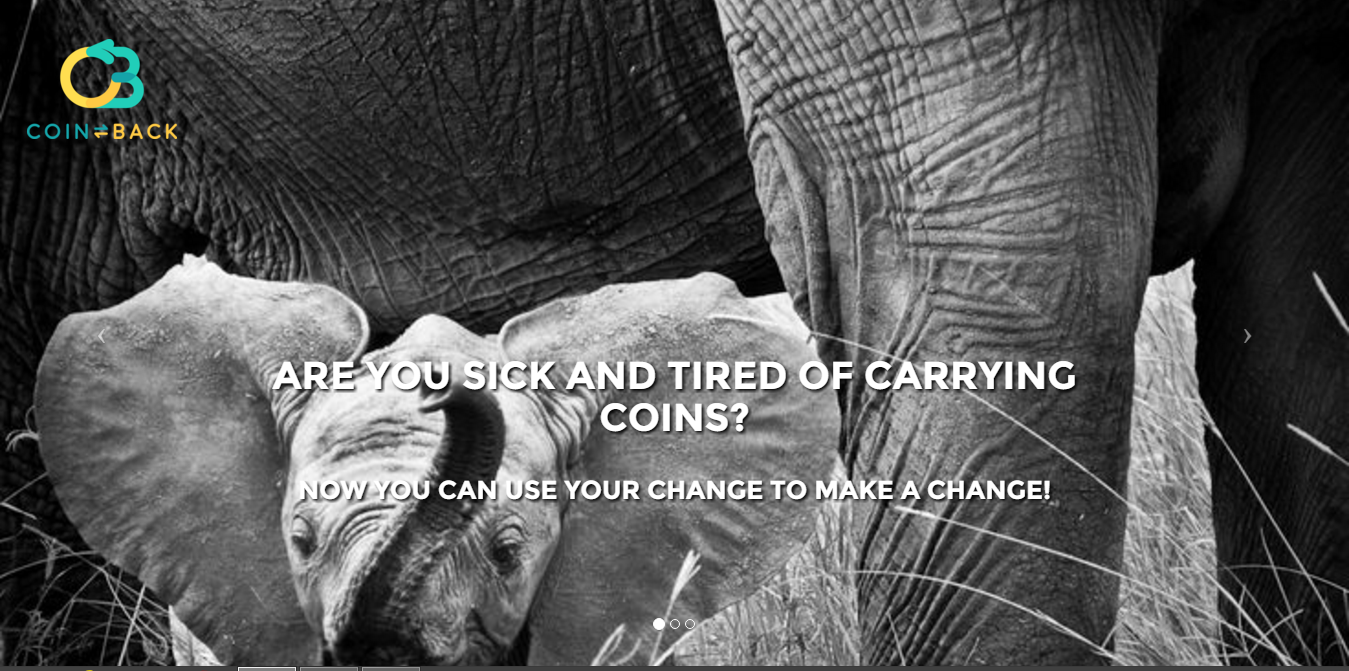 Founded by Naoe Miyata and Jasnam Sachathep in 2014, Coin ⇌ Back is a travel brand that is truly one of a kind! The brand has come up with an innovative solution for getting rid of left-over coins and simultaneously making donations. The brand places kiosks in convenient places such as departure halls of the airports, hotels, malls and other public areas. The interested travellers will be requested to insert their coins in the kiosks. After carefully following a 3-step process, they will be able to contribute their money for some noble cause. They will be able to keep a track of their donations through the official website and social media channels. For more details on how to make the donation, click here.
Languages: English
#3 Tourkrub
Founded by Jakapan Leeathiwat, Xinming Zhao and Poomphat Techapoopon in 2013, Tourkrub helps travellers find the best travel packages as per their requirements. It is specially designed for travel agents and tour operators as it is a great marketing and easily manageable tool available at an extremely low-cost. The travellers can do a filter search and book the best deals on this travel platform.
Languages: Thai
#4 Wongnai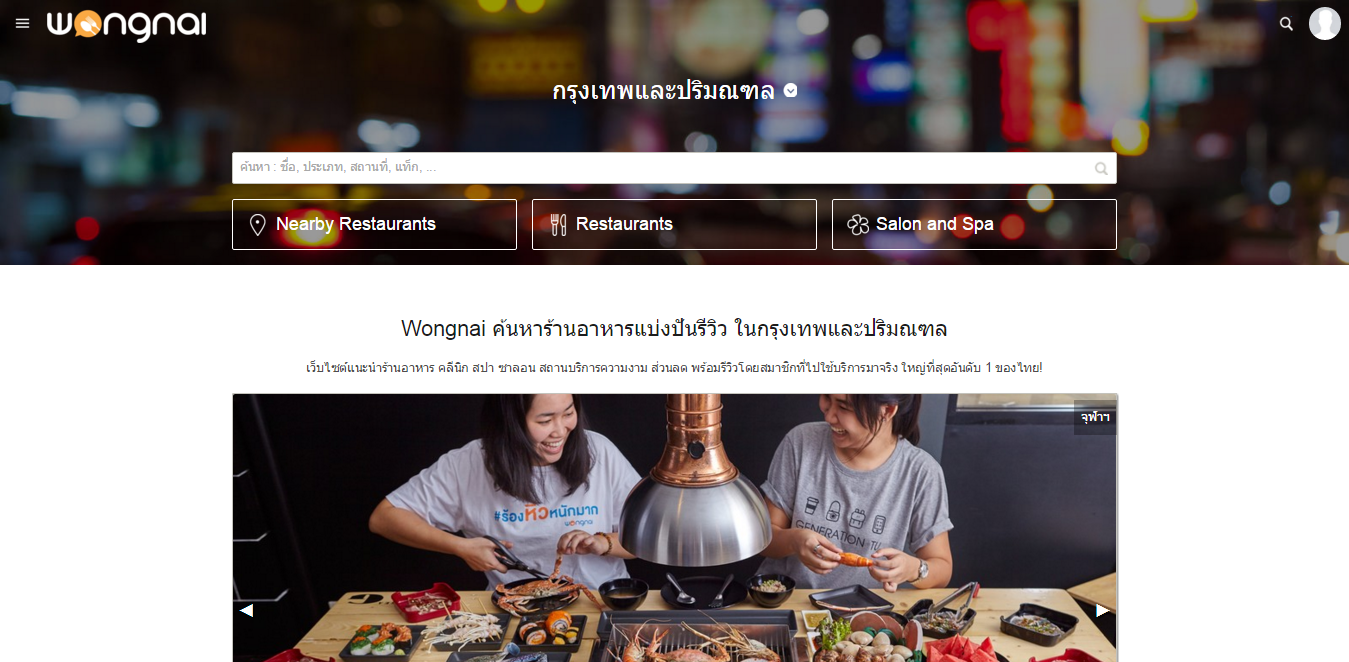 Founded by Yod Chinsupakul in 2011, Wongnai is often called as Thailand's 'Yelp'. It lists a number of amazing restaurants by categories, locations and markets. Travellers who do not have much idea about the best restaurants of the cities can use its 'Guide' category. It is one of the leading food review sites in Thailand with thousands of members.
Languages: Thai
 #5 TakeMeTour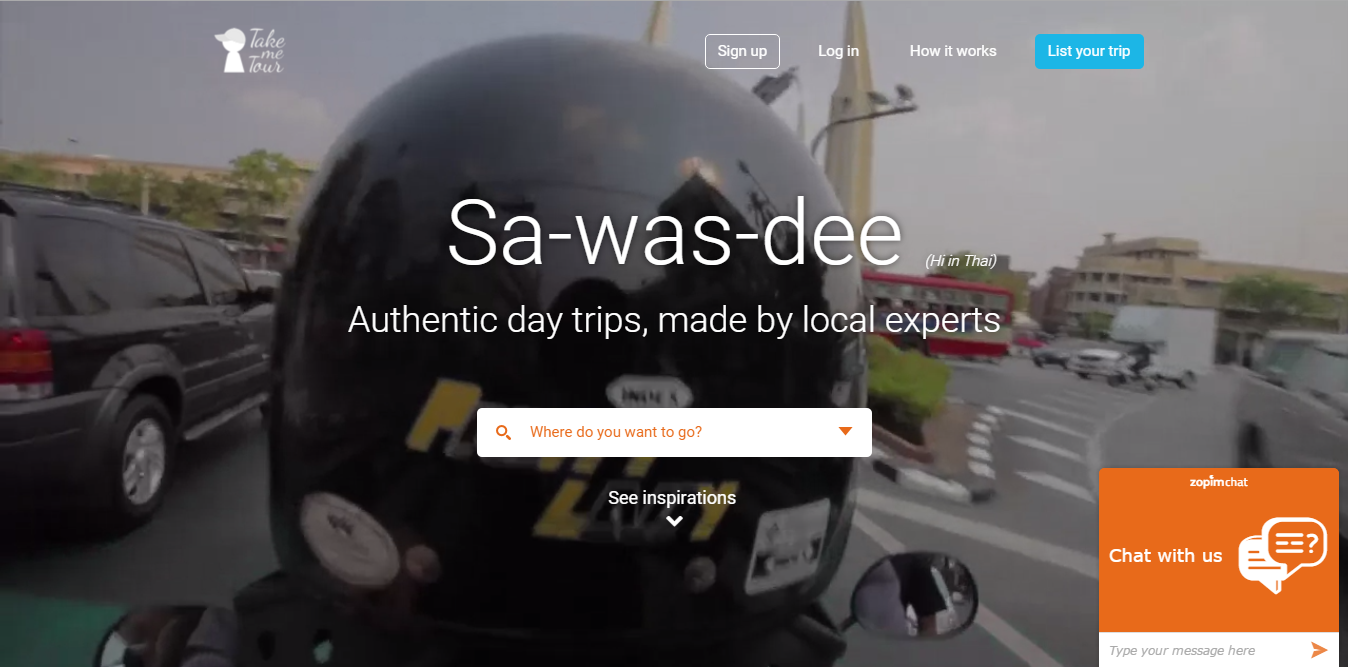 Founded by Taro and Noppon last year, TakeMeTour offers hundreds of one day trips which help you experience the authentic taste of Thailand with locals. It is one of the largest marketplace in Thailand, having around 5125 active local experts associated with them. For the convenience of travellers, reviews and stories are shared on the website that further helps travellers pick the day trips of their choice. For more details, click here.
Languages: English
#6 Tripnii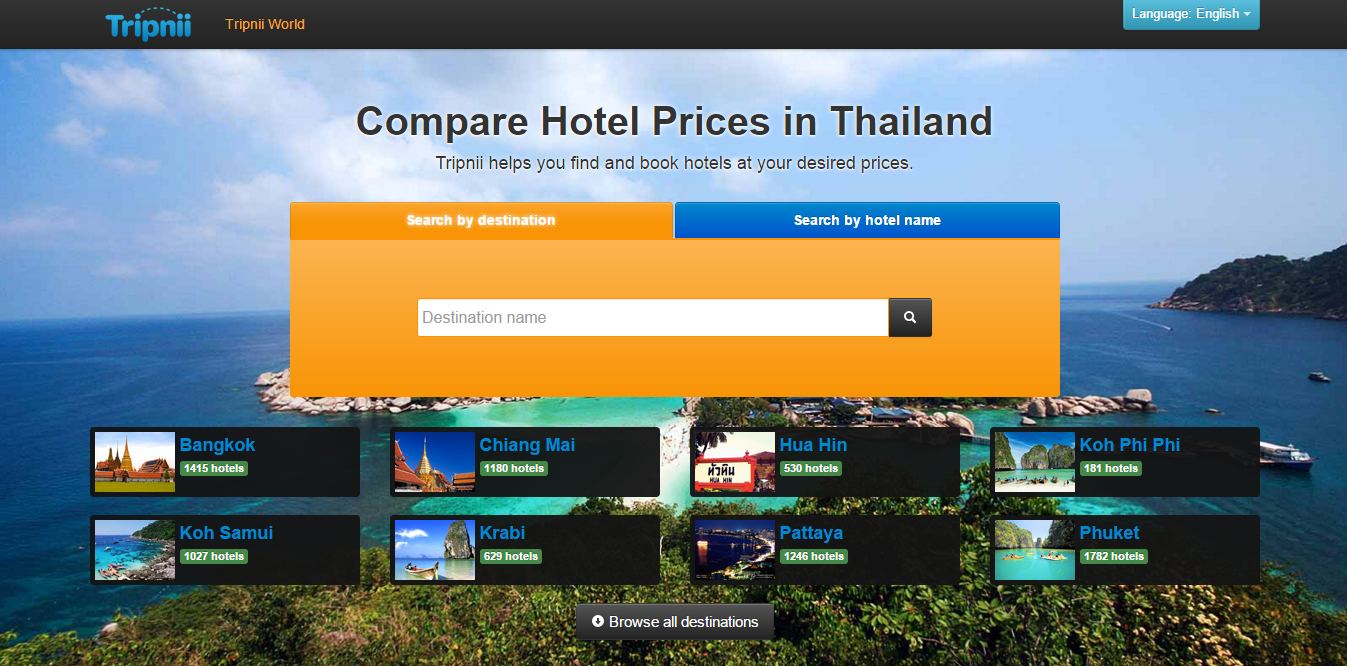 Founded in 2012, Tripnii is a hotel aggregator that allows travellers to find and book hotels in Thailand at their desired prices. The travellers can easily select what they want and book hotels at best rates without surfing on multiple websites. It has hotels of several popular tourist destinations like Bangkok, Hua Hin and Pattaya listed on the website.
Languages: English, Thai
#7 Ithaka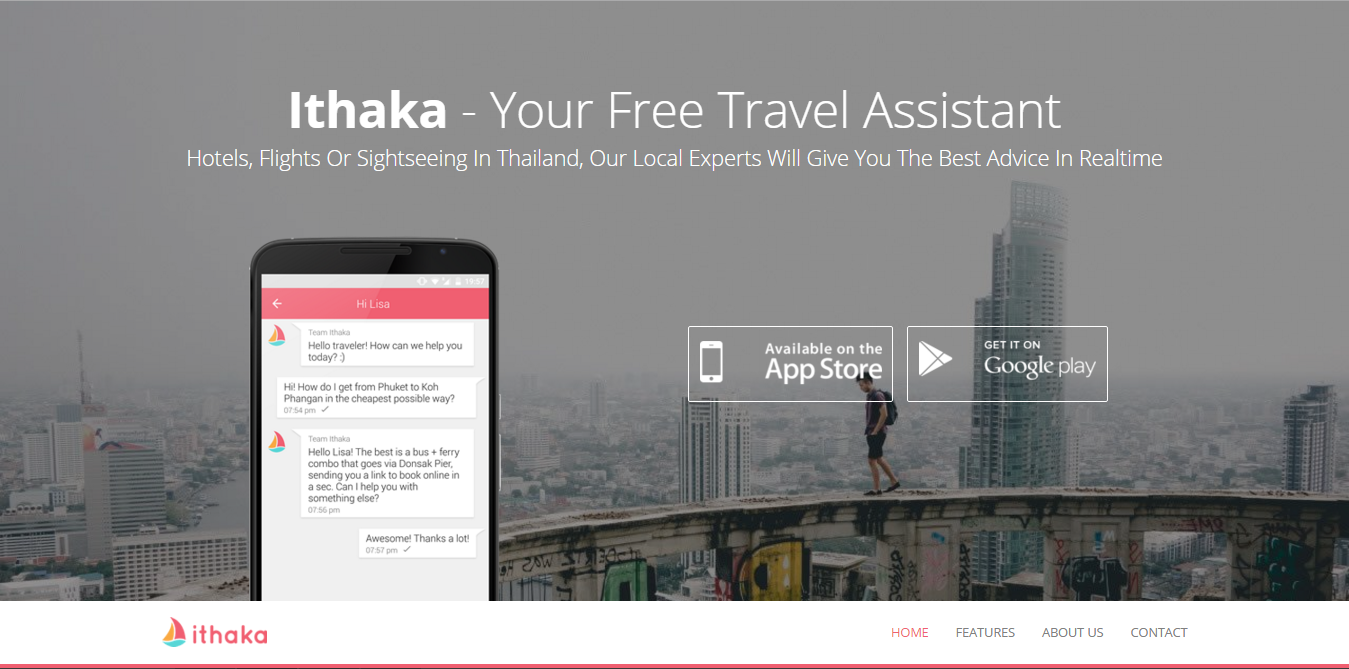 Founded by Ameya Sahasrabudhe and Rahul Singh in this year, Ithaka aims to be a free personal travel assistant that enables travellers to explore the beauty of Thailand and provides the best advice in real time with the help of the local experts. It serves two groups of travellers: a) The travellers planning a trip to Thailand b) Travellers already in Thailand and looking for expert advice. Currently, it is razor-focused on providing a world-class experience for the country. For more details, read our article here.
Languages: English
Are there any other innovative travel startups that you would like us to feature in our article? Do share with us.
Also Read: Travel sprint: Our pick of Japan's 10 coolest travel startups
Travel sprint:Our pick of Honk Kong's 10 coolest travel startups