The budget hotel aggregator OYO Rooms is making a lot of news these days. New logo, new TV commercials, new media agency, new booking partners and now an exclusive brand of hotels.
OYO Rooms has launched OYO WE, a brand to cater to women travellers in our country. WE stands for Women's Exclusive and these new hotels have got special facilities for women travellers.

According to OYO, a large number of their frequent independent travellers are women travellers and the OYO WE brand will allow them to cater these travellers better. For starters, female travellers can now book OYO WE in Gurgaon. Perhaps, OYO is not the first one in the industry to enter this category. There are other hotels that have been focusing on this area such as ITC with Eva rooms, Lemon Tree with women only wings and The Leela with special programmes for lady travellers but here OYO WE (Women exclusive) hotels are entire properties exclusive for the women travellers.
The OYO WE hotels will have features like on call cab, beauty services, automated door locks, library with women magazines, hair dryer and full length mirrors.
They have recently hired Deepika Gupta who was earlier setting up jewellery business for Amazon in India & is now building a dedicated team for this project. According to reports, there is a plan to have 15 properties under OYO WE spread across 10 cities by the end of this year. Apart from new properties, some of them will be their existing properties revamped to fit in OYO WE.
What do female travellers think about this move?
We went to some avid travel bloggers for their opinions on this move by OYO Rooms. Here is what they had to say.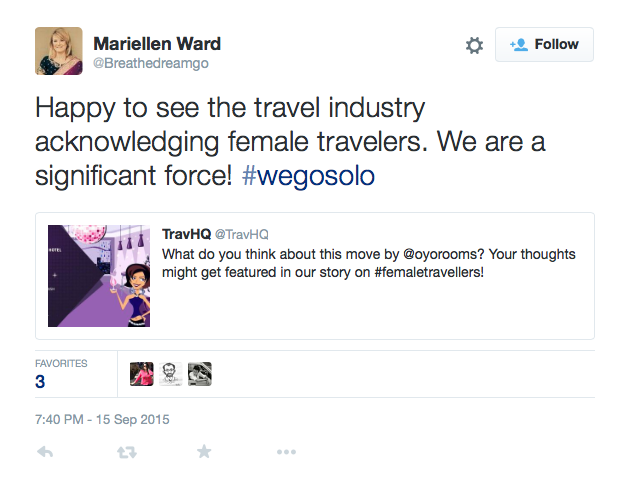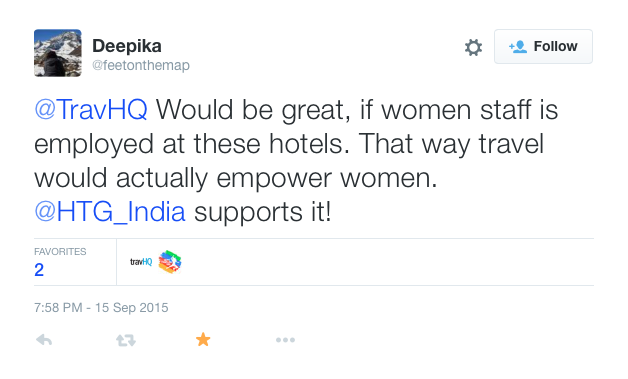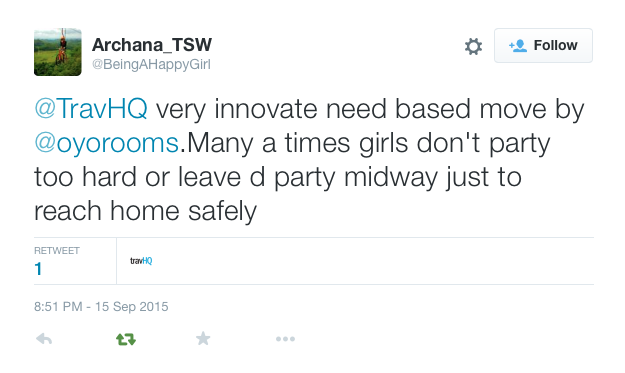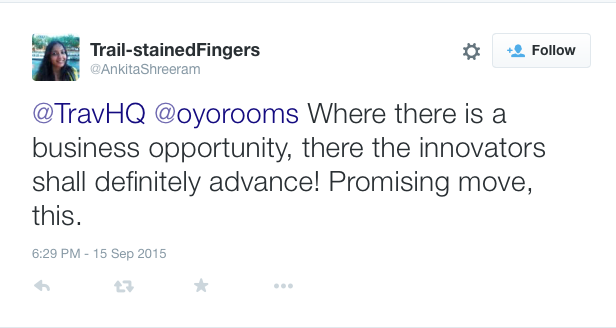 Almost all of them agree that it is a smart move by OYO Rooms. While their travel stories look very fancy on their blogs and Twitter, we are sure it isn't easy being a women traveller in India. This move by OYO gives an assurance on the safety element of stay.
TravHQ Take
The fact that there are security concerns across many cities in our country, this effort by OYO Rooms is surely going to go a long way to reassure the growing tribe of female travellers. We have often seen our colleagues call up hotel help desks for suggestions on the location of a hotel from a safety perspective. While OYO has made a superb move here, we think that the entire hotel industry need to rethink their strategy on how they will cater to the female travellers. For now, both international and domestic travellers have a fresh lease of hope