Around the same time last year, Facebook looked at Periscope for inspiration and came up with Facebook Live. The feature turned out to be a big hit for the social platform and travel brands have been using it to make users a part of the action. For instance, Sydney will be live broadcasting the famous New Year fireworks on Facebook. Moving a step further (towards YouTube live broadcast), Facebook is now introducing Live 360. So in future, you can use your 360 cameras not only to record videos but also broadcast them live on the platform.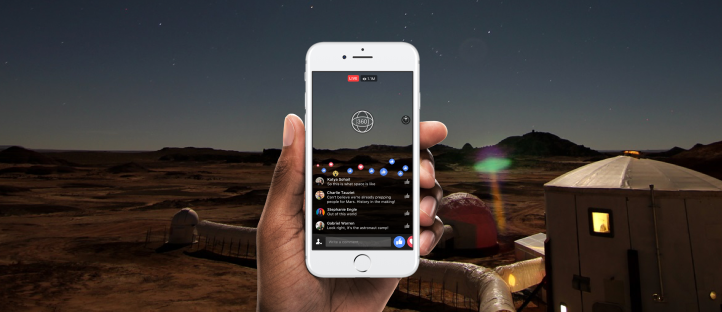 The feature will debut in association with National Geographic with a special live 360 degree video. The video will go live at 3 PM ET from the Mars Desert Research facility in Utah. Eight scientists will emerge from pods inside which they have been living for past 80 days. This was done to simulate life on Mars and give them an idea of being isolated from other humans for extended time periods.
Live videos have taken higher priority in News Feed and Live 360 felt like a natural extension to what they are doing. However, these live broadcasts can't be viewed in a VR headset right now. They will be available in the feed like standard 360 content. The replays can be watched on headsets though. While standard 360 videos have been supported for a while, they weren't adopted very well due to the obvious hardware barriers in creating 360 videos. It is likely that the Live 360 will also continue to be limited to brands for a long while because it won't be simple tap and broadcast like standard live.
The feature would still be less complicated to set up for an average user when compared to YouTube 360 live but will trade off some of the functionality. The feature will start rolling out to other publisher pages soon followed by accounts. Live's API will include the option of Facebook Live 360 in future.
On the other side, Facebook is also rolling out the live videos on Instagram to all its users in US. Unlike Facebook or YouTube, the broadcasts aren't available for viewing later.
While brands are experimenting with 360 live content, a large fraction of them have been limited to big names jumping on a new development. Facebook's entry here might change that as brands might see better results on their efforts on the social platform.
You can check out the first live 360 on National Geographic's Facebook page.