Remember the days when after school, you would wait for the evening for your grandfather to take you out for a walk? Now British Airways is giving you the chance to take him for a walk along the King's Road with its latest campaign. With the #wingstoadream contest, they are inviting you on a journey with your grandparent through the streets of London to create new memories. They are giving you a chance to live the good old times again with them.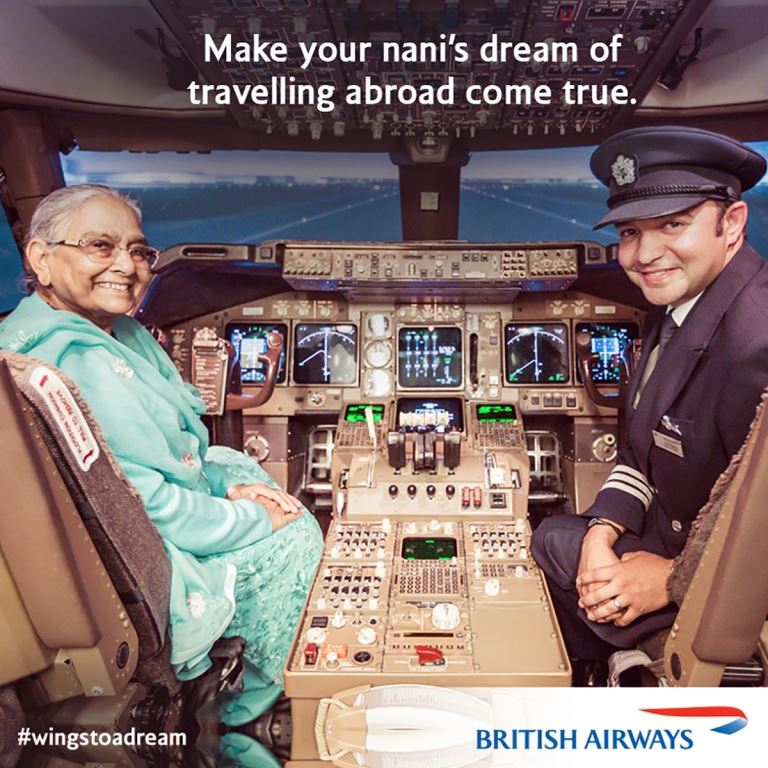 This Wednesday, British Airways announced the addition of a new Boeing 787-9 Dreamliner to its fleet. It will take off for Delhi on October 25, 2015 and Delhi will be the very first city to welcome the Dreamliner across British Airways' global network. The #wingstoadream contest is in order to celebrate this new addition to the British Airways family.
Through the #wingstoadream contest, British Airways will be giving away tickets to the winners and one of their grandparents for the first flight of the new Boeing from Delhi to London. The flight is scheduled for October 26, 2015.
The contest is pretty simple and to take part, the participants just have to share a picture of their grandparent on British Airways' Facebook or Twitter account. The contest went live near the end of last month and they are accepting entries till the end of day today (October 5, 2015). That is a short window as they started posting about it on the evening of Sept 29 only. But then the entry process is simple so it won't take long for you to submit your entry. One participant is allowed just one submission in the contest.
British Airways spokesperson Moran Birger, British Airways' regional commercial manager, South Asia said: "We have been flying to India for over 90 years and continue to seek opportunities to engage with our customers in unique ways. We urge everyone in India to actively participate in this contest and have the opportunity to create everlasting memories with their grandparent.

"Delhi is the first city globally for British Airways to welcome the brand new aircraft that is fitted with a brand First cabin. We, at British Airways, are constantly looking for opportunities to provide our Indian customers excellent value for money with an unparalleled service that they have come to expect from us."
The Boeing 787-9 is longer than the 787-8 variant thus more space inside the cabin. It also has longer flight range as compared to the 787-8. It entered commercial service last year only with All Nippon Airways followed by Air New Zealand.
You can find details of the #wingstoadream contest here. British Airways doesn't use multiple social media accounts to cater to different countries which might have limited the reach of the contest. You can share images to their Facebook or Twitter.