Founded by Jean-Baptiste Rudelle, Franck le Ouay and Romain Niccoli in 2005, Criteo is a personalized retargeting company with over 1500 employees worldwide. It involves itself with internet retailers and helps them in displaying personalized online ads to the targeted consumers.
Since last year, Criteo reviewed more than 1 billion bookings made by travel suppliers and online travel agencies that exist globally. Recently, they've published the travel flash report which highlights a few interesting facts. Here are some of them:
#1. Mobile is the biggest influencer in travel booking
It doesn't spring a surprise that mobile has been the biggest influencer in travel booking. The share of mobile booking has almost doubled, increasing from 12% to 23% globally. Mobile adoption has grown but is not consistent. Japan leads in the share of bookings coming from mobile devices. Western countries, Latin America and European markets lag behind.
#2. Is there a link between the booking preferences and devices used for it?
The travel flash report states that mobile users prefer to book their flight tickets through tablets. For hotel bookings smart phones are preferred. 14% of the bookings take place through smart-phones and 10% through tablets. It has also been mentioned that in case of urgency, people tend to book through smartphone for discounts and exclusive offers.
#3. Travellers have a preference of when and how they book the tickets
The share of smartphone bookings is higher during the weekends. During weekdays, smartphone bookings are more in the mornings but they decrease as the day progresses. For simple booking, smartphones are often preferred but when it comes to comparing prices, the same group of people chose desktops. This might be possible since desktops have a bigger screen. So, it's convenient to compare prices then.
#4. The longer the stay, the bigger the screen!
This might be a surprise for many! The travel flash report states that when bookings have to be made for shorter stays, travellers tend to use smartphones. 'Smartphones in particular account for just 10 percent of the bookings for stays of a week or more, but they account for 18 percent of one-night stays.' Tablets constitute 10% of the one-night stay bookings.
#5. Travel Season = Mobile Season
Most of the people travel to their favourite destinations during springs and summers. In these seasons, mobile adoption increases and their usage too. Especially, from January to June in most of the regions except in the Southern Hemisphere.
#6. Hotel OTAs v/s Hotel Suppliers
OTAs lead the bookings made via smartphones in comparison to hotel suppliers. The disparity b/w the two is quite wide and OTAs account for almost thrice the bookings made by hotel suppliers themselves.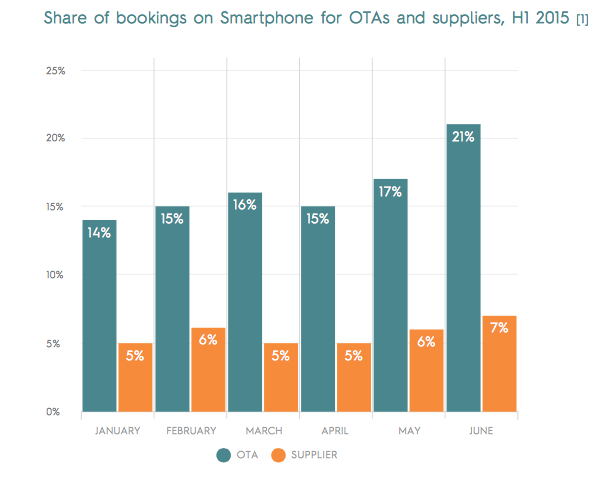 For the complete travel flash report, click here.