Postmii offers a tricycle based photo-printing service with which you can take photos and print-it on the location. As a traveller can we take photo with us immediately or do we have to wait for delivery?
Actually you can do both, either get the printed postcard with you as a souvenir without sending it or the tourist can send it directly from the Postmiibike.
How many tricycles do you have currently and in which all cities?
We currently have 3 Postmiibikes in Portugal (2 in Porto and 1 in Faro) as well as 2 Postmiibikes in Paris.
Moreover we have done test in south of France (Avignon for a month, Saint Tropez, Saint Raphael and so on…)
How many photos have been printed so far?
More than 5000 since beginning of june.
What are your marketing plans/expansion plans?
Our marketing plans is to be in every touristic related event or big event like Websummit, CES Vegas and so on to show our products and then to launch our crowdfunding campaign to allow everyone to buy our license.
Please share some background about yourself and your team.
Geoffrey Costilhes, 28, co-founder of Postmii, winner of "our neighborhoods have talent" (where it all began), incubated at Station F and passionate about travel and photography! I always liked sharing my travels with my loved ones, younger, it was my polaroids that I transformed into a postcard, simply sticking a stamp on it! I find that the paper and more precisely the postcard is a wonderful way to convey his emotions, to freeze for a moment, an atmosphere. It is this unique and intimate side that I like … In our time, I find that it makes more sense than sharing a photo on social networks.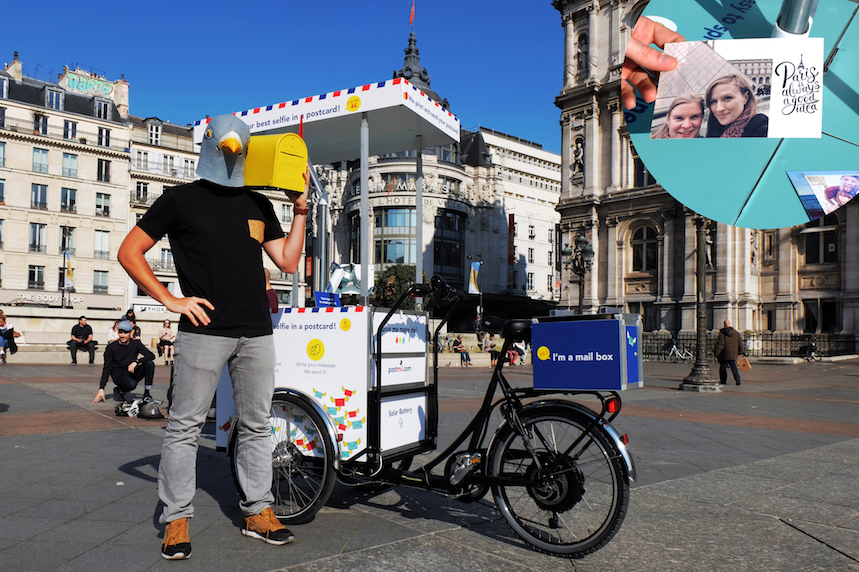 Postmii has a wonderful team. 4 partners who don't have the same background but the same spirit. All together we are complementary. This is what makes our strength!
Postmii is a travel-startup based out of France. To hear the story of Postmii, follow Travel Tech Con Russia 2017 conference coverage.