We are gearing up to be a part of the Travel Tech Conference Russia. By associating with this event, we are looking to support the travel startup communities in both the regions. This would help us in working together to create a bridge for travel companies in India & the SEA region and Russia to explore cross border synergies.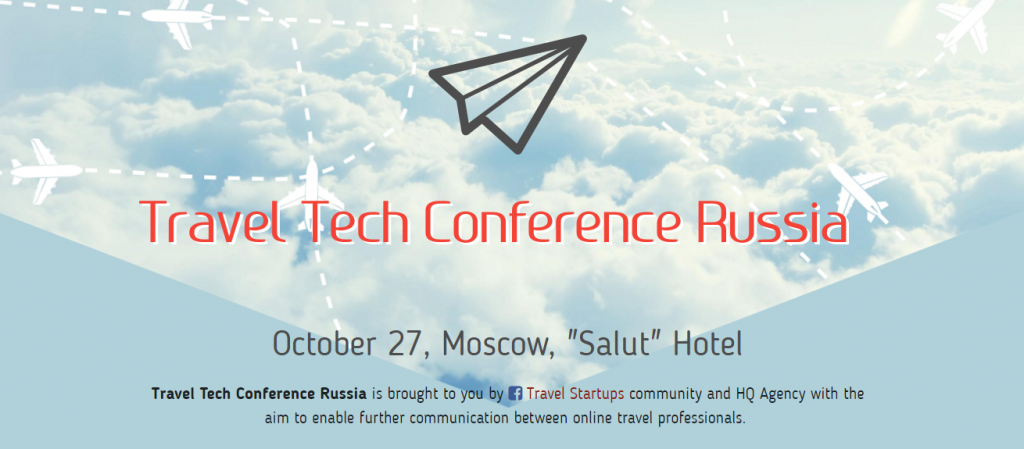 Due to the undulations in the Russian travel market, many companies from the region are looking at global market and the event could very well be their gateway to the outside world. On the other hand, many travel companies, especially the B2B travel tech providers in India and neighbouring countries have the potential to cater to global audience. The event will allow them to showcase what they have to offer to the right audience and also get insights on other markets giving them an opportunity to fine tune the product for a wider audience. You can also join online by signing up for live streaming.
Before we join in the event later this month, we had a chat with Valentin Dombrovsky from Travelabs. Valentin has been actively involved in multiple communities of travel industry innovators and is behind bringing us this event in association with Travel Startups community and HQ Agency. His company Travelabs helps entrepreneurs take their first step in the travel industry by working closely with them and contributing in different ways. He shed some light on the opportunities and challenges in Russia's travel market. Here is an edited excerpt from the conversation:
How has the travel startup ecosystem of Russia evolved when compared to the ecosystem in West?
Well, I'd say that travel startup ecosystem, and the startup ecosystem in general, had some hard times lately. It was booming since around 2010 and in 2013 we were pretty optimistic about its future. But then 2014 came and travel industry has suffered a few blows due to politically and economically unstable situation. One of the most negative outcomes was the rouble exchange rate drop (two times drop in exchange rate compared to dollar and euro). That made outbound travel too costly for most of the people (not many of them were doing it even before that honestly). Russian startups had a tendency to focus on Russian market a lot and travel was no different. However, after 2014 we saw many companies trying to build products for global markets as the opportunities on global markets have become even better than before. We'll see some of travel startups who want to do something for global travel industry at Travel Tech Conference Russia as well.
Have there been any government initiatives to support the upcoming entrepreneurs in the region? How has the community responded to that?
To be honest, I am not following government initiatives closely. However, if we speak about travel, then I can say that recently there have been lot of conversations about the need to boost domestic and inbound tourism in Russia, but I didn't see any specific activities targeting startups in this regards.
Also, there's government funded fund name Internet Initiatives Development Fund (or IIDF) that runs an accelerator which claims to be the most active accelerator in Europe. They've funded some travel startups, but it seems to me that these turned to be not really successful investments, so they have shifted focus from travel startups (at least there were none in their latest batch).
From what we understand, the sentiments haven't been very positive around the Russian travel market for a while. Has it caused any change in patterns for Russian travellers?
Right, as I've said, political and economic situation has influenced travel market a lot. First of all, there was a big shock when tours to Egypt and Turkey were banned for different reasons. These countries were most popular among Russian tourists who still prefer to buy package tours. This influenced tour operator market a lot and they started to look for opportunities in travel inside the country. No, beach destinations inside Russia (as well as Crimea which is considered to be part of Russia by our statistics bureaus) have become most popular travel destinations. The number of outbound travellers have dropped, the number of domestic travellers has increased, but not significantly. Many people who were trying to save money on travel before the crisis happened don't really have money to travel at the moment.
How would you differentiate the online travel market in Russia and India? What are some key traits brands looking to enter Russian market should have?
That's a great question. Honestly, I don't know a lot about Indian travel market, but I see that it's like Russian is still emerging in terms of online penetration. Of course, we might say about various travel customer patterns, but I think, that's a subject for additional research.
I can say a few things about opportunities for various companies looking to enter Russian market though. First of all, we need to see current situation as a moment of opportunity. Some global companies have entered Russian market in the middle of crisis, HotelTonight and BlaBlaCar for instance, so there are still some niches to be found in the market. There are online travel agencies, hotels and tour operators that look for more effective ways to sell their inventory, so there's some chance for B2B technology companies here.
If you're a B2C company, you might be able to work here if you provide some new cost-effective way to travel (like BlaBlaCar did). Advertising Russia as a destination for Indian travellers and India as a destination for Russians also might be an opportunity.
What are some of the travel segments that are gaining momentum in Russia?
Recently, we've seen the rise of online bus ticketing companies with some of them getting pretty good traction. And there are still some opportunities here in the areas like tours and activities that are still mostly offline. Startups can explore these segments as they offer headroom for growth.
You have been hosting various events to support the travel tech community, what are some of the key observations you would like to share here?
I think that it's quite important that back in 2012 we managed to launch Travel Startups community (and later its international version Travel Startups Intl). One of my foreign friends told that it allowed us to create sort of "intellectual atmosphere" on the market. Although it's obvious that after such long time of online existence community needed something more to remain active – that's why we decided to launch our events after supporting multiple industry events in the past. I believe that we're working on exciting market of making people happy and that's why we need to work together and exchange our experiences – that's what I am working for.
How are you looking to help the startup community with this event?
Let me be honest – this is the event which I am doing for myself. Actually, I feel that I needed some opportunities when I was working on my own startup and that's what I am trying to bring to startups and travel technology companies in the market. I also believe that Moscow is in great geographical position to become a "place to meet" for European and Asian travel entrepreneurs. I am trying to use the examples of best international events to do our own together with my partner Dina Salyukova and her company HQ Agency.
So, what we're doing is creating a platform for exchanging experience – both between travel tech entrepreneurs in Russia and internationally. We're doing 4 sessions one of which is travel startups competition with prizes from 33entrepreneurs, Travel Startups Incubator and iDealMachine. We'll be happy to see Alexander Trieb, head of Travel Audience among one of keynote speakers – this will help us gain some knowledge from European travel market as well.
One of the most interesting parts for Indian entrepreneurs will be the panel discussion held in collaboration with TravHQ. Together with Russian travel tech thought leaders we'll try to look at Russian and Indian travel technology markets and to understand opportunities on both of them. I hope that this will lead to building more connections between our countries – after all that's what travel is about.
Travel tech conference Russia will be hosted on October 27 at Salut Hotel in Moscow. More details and registration options can be found here. To allow for more industry professionals to benefit from the event, the event will also be broadcasted live. You can register to watch the live broadcast of the event.