Last week at SATTE we met various brands that are innovating in the B2B space. QuadLabs was one of them. The technology company focuses on providing solutions for travel industry and has recently launched a new product for travel agents in India. This new product is called Konnect.travel and we got a chance to have a conversation with QuadLabs CEO Gaurav Chiripal who shared more about it.
Travel agents use different supplier platforms to manage their customers and bookings. Most of them have to check multiple platforms while booking for a customer and manage separate accounts with different providers. Konnect.travel will bring together these travel agents and travel suppliers from all over and allow them to communicate in one place. Not only will they have access to the content but they can also complete transactions.
QuadLabs has been providing technologies for travel industry for many years but we have always focused on enterprise solutions. Now we have introduced a free technology in the Indian travel market which is an on demand technology. Anyone all over the world can come online and register on the platform. You can manage your bookings, your clients, enquiries and your own content. On top of that you can buy content from global suppliers so it is basically a marketplace for travel agents and suppliers.
The platform is free for travel agents to use and they can simply visit the website and sign up. It offers self-booking tool so that agents can find and book seamlessly. The agents can manage their enquiries and monitor the bookings that have been created. They can also get sales reports to analyse the profits made.
Major online booking engines from India and all over are now a part of the marketplace. They are pushing their content in the backend and on the front, the agent has access to their services. Another good thing is that the agent can load his own content. So they have multiple sources available through a single channel.
Along with these free features, they offer few other features for nominal costs. If the offline agents are looking to establish a web presence, they also offer them an easy to setup B2C website along with payment gateway that can be used to collect payments directly.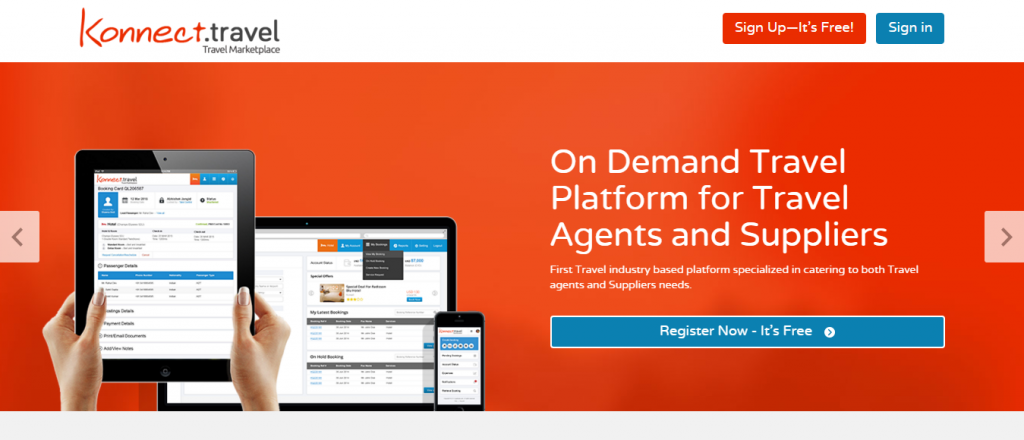 Konnect.travel will not only simply the processes for travel agents but will also bring more of them online. Lack of technical expertise and resources serve as a deterrent for many travel agents who want to build a presence online but this could be the push they need.
You can find more details about Konnect.travel here.