We are all set to be a part of the Travel Tech Conference Russia tomorrow, an event being organised by a community of travel industry professionals to provide value and enable further communication between everyone associated with the industry. Hosted by Travel Startup community (Russia and International) and HQ Agency, the attendees will have a chance to learn about vison on the future of travel tech from representatives of top Russian and foreign companies.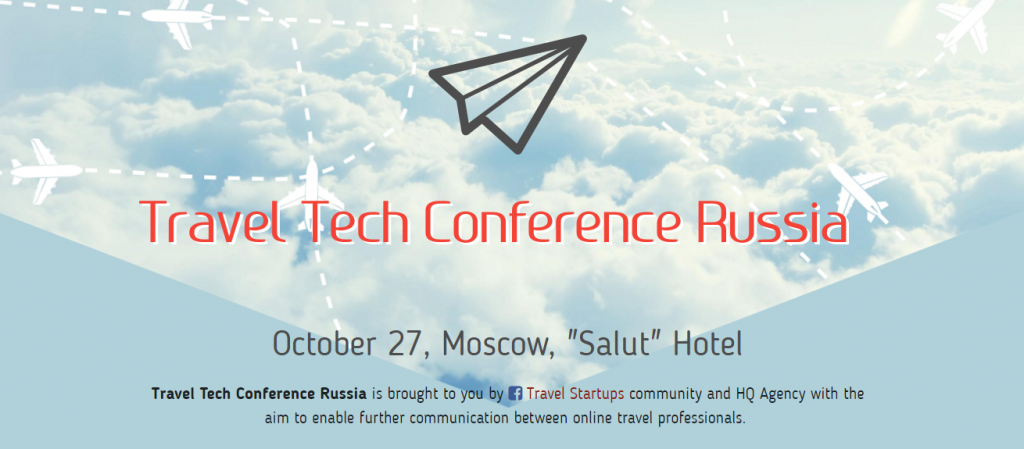 While we join our friends at Travelabs and HQ Agency to prepare for the event, here is a quick run through what you can expect at the event tomorrow:
Pitches from exciting startups
The event will lend its stage to five travel tech startups we talked about early. These startups are spread across different categories and each one of them carried the promise of bringing something fresh to the travel space. You can read about them in detail here. Apart from the opportunity to network with the bigger players in online travel space, they will receive awards from 33entrepreneurs, Travel Startups Incubator and iDealMachine.
Lessons from success stories
With every product that is received well in the market, there are lessons to learn and steps to follow (or not). Three entrepreneurs will share their learnings to help others out there building their businesses. Nikolay Kukushkin, CEO, Andgo.travel will share how to survive in a competitive market, Ilia Korguzalov, CEO, PiligrimXXI will speak about the potential of AR in tourism and Roman Gilmanov, CEO, Compensair will share the story of building the company in the early days.
Future of travel tech in emerging markets
Emerging markets are still getting acquainted to the online travel space. These markets offer a very different set of challenges and opportunities for brands. Alexander Sizintsev, CEO, Biletix, Fedor Egorov, project director, Rambler.Travel, Vladimir Gorovoy, head, Yandex.Travel and Dmitry Yakovlev, CEO at Ozon.travel will put light on these opportunities in this session moderated by Tanu Arora, brand lead, TravHQ and Valentin Dombrovsky, chief alchemist, Travelabs.
The next for travel marketing
To be visible with your brand at the right place on the right time, you have to stay ahead of the curve and efficiently leverage the resources available to market your brand. In this session sponsored by Travel Audience, Alexander Trieb, CEO, Travel Audience GmbH – an Amadeus Company, will share how data can play a crucial role in marketing a travel brand. Following this, Alexey Teplov, Digital Marketing Director, Onetwotrip will talk about how to promote a multiproduct travel brand.
Opportunities in Russian travel market
BlaBlaCar and Airbnb are very good examples of how global brands can be a right fit in the Russian travel market. There are many other examples of how global brands can write a success security by tailoring to the local market. Vasilisa Lebed, Market Development Manager, CarTrawler, Julia Tertychna, Business Development Manager, Kiwi.com and Grigory Filomafitsky, Market Manager-Russia, HotelsCombined will discuss about the opportunities and the right strategy for them.
Catering to corporate travellers
The right efforts in B2b technology space can have huge rewards for young travel brands. To put the corporate travel opportunities in a spotlight, Mila Sidorina, Head of Marketing, Carlson Wagonlit Travel Russia will take the stage. This will be followed by a session in which Pavel Osadchuk, CEO, Chatfirst will speak on how to work with big brands.
You can find more details about the event here. If you are not attending the event tomorrow, you can still be a part of all the action by joining the live stream. Register here.