Planning a trip is tough and planning an international trip is even tougher. From finding best ticket prices to putting together the itinerary with whatever is available, there is quite a lot to handle. And next comes forex and visa. There is no dearth of points where one can change their currency but they range from "Why is he giving me so little for my money" to "Is this guy even legally allowed to do this" and all this can get really overwhelming for someone taking his first international trip.
YuMiGo is trying to simplify ticking off some items from one's pre-trip checklist with an array of services for international travellers. They are offering forex, international SIM cards, travel insurance and assistance with the visa process, all in a single place with a very strong focus on keeping the process as simple as possible.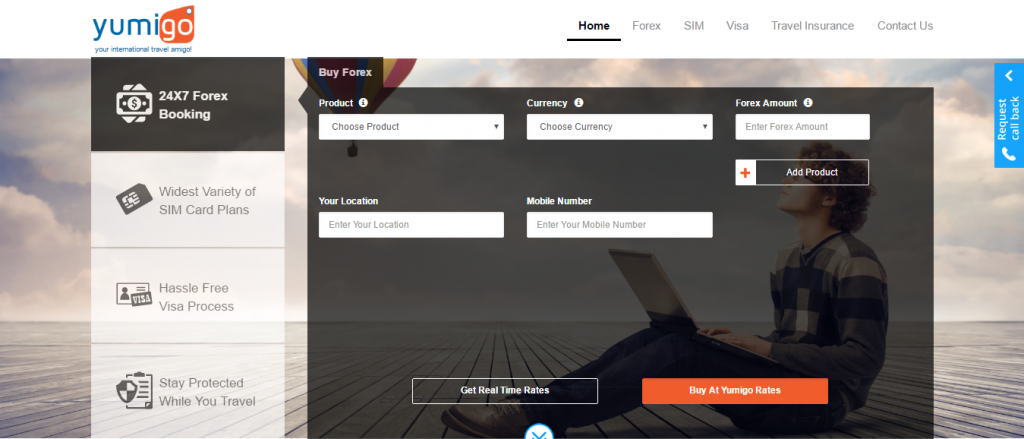 Over the past year or two, we have seen many startups entering the travel space with products to simplify the process of buying and selling forex. However, from my personal experience with two of them for helping a colleague, I can share that they either require one to fill too many forms or deal with multiple phone calls. They have certainly made it easier to trust the providers by verifying them and making more information available online, but the process is still not as smooth as it should be. At first look, the mobile interface of YuMiGo looks much simpler (and doesn't require phone calls). They also provide doorstep delivery on weekends, something the other platforms we are aware of don't offer. The ability to transact right there and anyday doorstep delivery certainly gives them an edge and would not only simplify the job for a first time traveller but also speed up the process for a frequent flier.
International SIM is another obvious requirement if one is travelling for more than a day or two. YuMiGo saves one from the hassle of looking up options or the risk of getting stuck with a costly postpaid international roaming plan and delivers prepaid SIM cards to travellers before they leave.
Rishabh Sood, co-founder at YuMiGo, says, "I realized how frustrating it gets to plan a trip abroad because a traveller has to engage with multiple service providers for getting a visa done, buying foreign currency or a calling card and figuring out the right travel insurance. We came up with the idea of not just helping out a traveller, but also creating a systematic honest search that will not leave a traveller swindled."
He also highlighted that travel insurance is an area where travellers lack information. According to him, the objective behind offering travel insurance on YuMiGo is not only to sell insurance to the travellers but also to educate them on why it is important. Offering travel insurance on the same platform with other services would allow them to achieve the same.
YuMiGo has been in beta for almost a year now during which the team has been generating data on usage patterns to fine tune the experience. The official launch was announced over the weekend during a dinner evening hosted in Delhi. Co-founded by Rishabh Sood and Pratyush Kukreja, it is their second venture together. The duo is joined by Anirudh Rastogi, a Harvard Law School graduate, to advise them on regulations in forex and other services; and Arun Arya, who has previously worked on mobile apps for large enterprises like IRCTC and several startups, as product lead.
YuMiGo has raised USD 300K in its first round of funding from Hemant Sahni, a seasoned businessman who saw potential in the venture. Going forward, YuMiGo plans to add more services for travel inspiration and in-destination engagement add value for the traveller.
While there are providers for some of these services in the market already, none of them is offering them in one place. This would simplify the discovery process for travellers while allowing for better engagement on the platform. To make it a more attractive proposition for frequent travellers, they have also introduced loyalty programs and will be offering tailor made plans for corporate customers.
You can find more details about YuMiGo at www.yumigo.com.