With so many travel providers, travellers now have multiple sources to buy their tour packages. They can go to the conventional agents and let them come back to them with a customised package or they can go to the many websites online and buy one of the many packages on offer. But each one of them comes with its own limitation. Offline providers will take longer to offer you a customised package and every revision will add more days to it while the packages you can buy online usually don't offer much freedom.
Tripovo offers travellers a platform to personalise and book tour packages online. Travellers are able to customise an itinerary from a list of suggested itineraries, curated by the Tripovo team. The platform allows travellers to change or add transfers, activities and hotels to create a personalised tour package. Flights are not currently offered. The items are taken from third-party APIs so the traveller is able to see live prices and availability with the ability to book their package online. Here is a short video of Tripovo co-founder Steven Wong explaining the product:
The two founders, Steven Wong and Hannah Pearson, began working full-time on the travel platform in September of this year. Tripovo's Beta version was launched on the 1st of November. So far, over 250 personalised itineraries has been created by potential travellers, with Tokyo, Osaka, and Seoul being the most popular cities.
"Tour packages, where the traveller has multiple components in one booking – transfers, hotels and tours – are growing in popularity amongst Asian travellers," said Steven Wong, co-founder of Tripovo. "From working in a travel agency, we saw the travellers' desire to personalise their travel experience but the manual process took a long time."
Using their experience from working in a traditional travel agency, the two founders saw a need from the market to improve the tour package booking experience.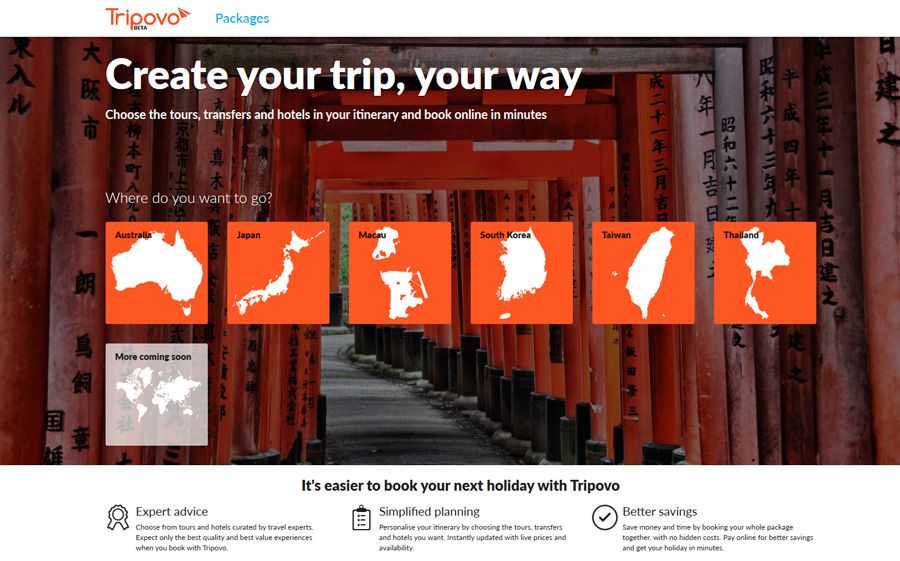 Tripovo aims to bridge the gap between a traditional and online travel agent. They offer the high customer touch point and curated experience that traditional travel agents excel at, but with the convenience of showing live prices to satisfy the instant gratification generation.
Currently Tripovo offers packages to 6 countries in Asia Pacific, with plans to offer more packages in more cities in those countries by the end of the year. European and American tours will be offered next year. You can view the packages on offer and personalise them on their beta platform at http://www.tripovo.com.