The travel and tourism industry now accounts for one-tenth of the world's GDP, and is one of the world's fastest-growing sectors, with bookings hitting close to $1.6 trillion in 2017. Despite this vast market, the industry is dominated by a handful, especially in the travel booking space. Major players like Booking.com, Expedia, and Airbnb have become the only options for finding hotels and rooms, who charge fees for vendors, while their payment processing systems charge a fee from the customer.
Vietnam-based Concierge.io is aiming to change all that with its decentralized travel booking marketplace that utilizes the NEO blockchain, reducing third party interaction, whilst pledging a transparent operational process. The platform connects consumers directly with vendors to discuss their deals with no fee or commission associated.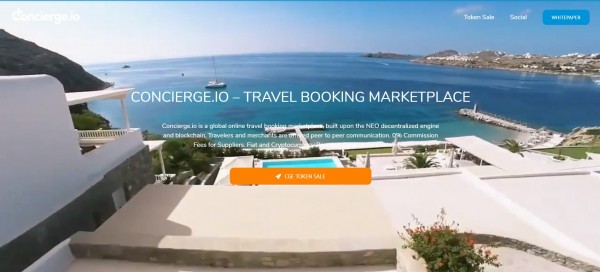 According to Concierge, the current centralized market leaders take 15-45% booking fees from vendors, the prices of which are passed onto consumers more often than not. Added to this fee, are ones from payment merchants charging around 2-3% on each transaction.
The Concierge.io marketplace UI (User-Interface) and UE (User-Experience) have been designed to give as much accessibility to both the vendor and consumers. The platform utilizes specific API's to enable speed of transferring listings from other platforms providing maximum efficiency. Traditional payment methods like Visa/Master Card will be an option with top cryptocurrencies also added in due course. (Read more about how 2018 is going to be all about blockchain.)
The company's goal of cutting out middlemen comes amid an intensifying battle between hotels and third-party booking websites. A recent report stated that accommodation providers are aggressively offering incentives to guests who don't go through intermediaries.
This peer-to-peer platform will serve as a booking hub for hotels, resorts, and tours with payments carried out all within the platform. The marketplace will be powered by Concierge's dedicated token dubbed the CGE Token, which will be used for bookings and minimising fees. The focus towards the community will be to increase substantial worth of the CGE token. The company plans to generate revenues through advertising, while the low transaction costs for travellers will lead to an overall reduction in prices.
Travel and tour providers and property owners will be able to build and develop their own apps and services directly on the Concierge platform. Concierge.io also says that its system will offer safety through an AI-based dispute system, which means that any discrepancies in booking or issues with poor customer service can be resolved without leaving the marketplace.
Concierge currently has 16,000 tours, resorts, and hotels in Southeast Asia and Australia ready for listing once it launches.