Activities are challenging to distribute and despite the huge opportunity the segment offers, we haven't seen many strong players emerging on our side of the globe in this space. There are some players slowly making their presence felt but not many of them focussed on adventure activities. The Southeast Asian market represents a huge opportunity offering plenty of headroom for growth and Mojhi, an adventure travel startup is going guns blazing in this segment.
Started by a bunch of adventure junkies, Mojhi is trying to be the go to marketplace for anyone looking for adventure travel. Greesh, the CEO, comes with over a decade of experience in building and selling software and has worked in engineering, product management & management roles in companies of different scale. Viswanath has managed digital marketing for some of the largest internet companies across different countries and he handles the marketing for Mojhi. Greesh and Viswanath were also batch mates at IIM Indore. Handling operations is Naveen who has been in the adventure business for 14 years. The entire product technology has been developed in-house by Bhavpreet and Navtej.
Together, the team carries over 50 years of experience in adventure activities. They are certified mountaineers, white water kayaking instructors, certified scuba divers and with all the experience and training, they very well understand the challenges on both consumer and provider sides in this space.
The platform has its niche carved out and focusses only on people looking to travel for adventure activities. Talking about the recent entry of Cleartrip with Activities, Greesh shared that the OTA isn't really a direct competitor. The difference comes with the nature of activities listed. According to him, the activities that you would find on Cleartrip or Viator are primarily the kind of things you would add to your plan for a day when you are travelling to a new destination. They are usually short duration activities having a span of only few hours. On the other hand, Mojhi offers the kind of adventure activities around which the entire trips to a destination are planned and they often have a span of more than a day. He terms the platform as the Airbnb for adventure activities.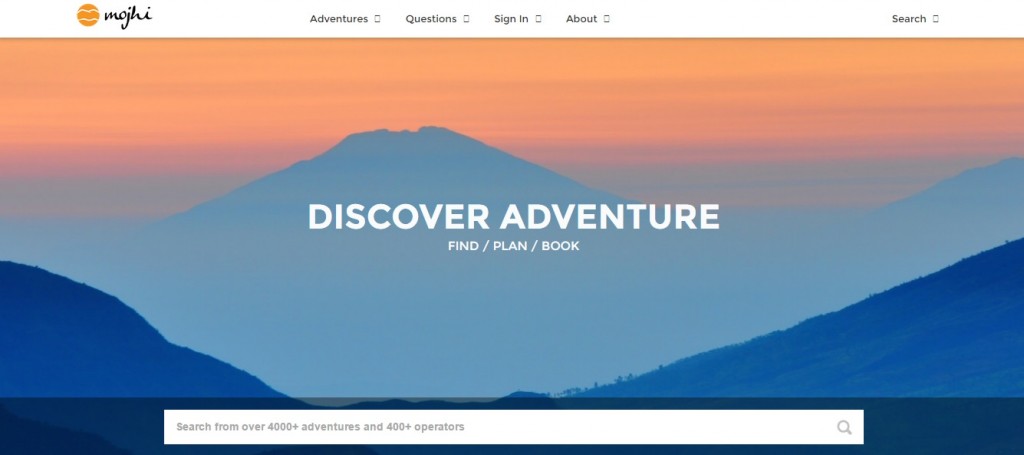 Currently Mojhi has over 4000 adventures listed across 5 countries and they are planning to add new geographies quickly, including some popular trekking destinations. Apart from giving the option to book these activities, they are also trying to educate travellers about the activities that the travellers can explore. Most travellers don't really know what to expect when booking such an activity for the first time and Mojhi is trying to change that. It also brings together multiple providers on the same platform to offer the best quality and value to the customer. This way, the providers get visibility for their brand and as there are many of them competing to offer the best deals, the consumer is more likely to get better value for what he will be paying.
However, it hasn't been all easy sailing for them. As with many other startups in the travel space, customer acquisition was a challenge in the early days and the costs were high. As they continue to offer more experiences and build customer trust over time, these challenges will continue to fade. At this point, they are doing more than USD 30,000 of bookings every month which is pretty impressive considering it is a very young startup. Certain aspects of what some companies like Thrillophilia offer overlap with what Mojhi is doing but the clear differentiation between a curator and a marketplace remains. It will be interesting to see how Mojhi takes the journey forward in this niche. You can find more details at www.mojhi.com.
Are you solving a major problem in travel space like Mojhi? Let the world know. Sign up for Startup Knockdown+.