Travel and tourism industry is witnessing a rise in the female solo travellers who are exploring major tourist destinations like Paris, San Franciso and Thailand. Many such trippers feel more comfortable travelling with female buddies. Tourlina is a unique mobile app that assists women to search female travel companions with its secure and trusted network. It is a women-only app through which only verified users can interact with each other.
By using Tourlina app, female travellers can connect before or while they travel. They can make friendships easily with other women as Tourlina's connections are based on similar interests in travelling and socialising. We spoke with Michael Klumpp, the co-founder of the company. Here is an excerpt from the conversation:
Can you tell us about your unique app Tourlina?
It is the first female only travel app (as far as we know). With the Tourlina app, women can find interesting and entertaining female travel companions within a secure and trusted network.
How did you come up with the idea of developing it?
As we are already for 17 years within the travel business, we often got in contact with women, who like to travel, but don´t know how to find an interesting female travel buddy. They don´t like to use Tinder or other platforms for this as these platforms are all dating. Tourlina was born and raised in Frankfurt/Main, Germany. The Tourlina management team is Michael Klumpp, Founder and Sandra Preuss, Co-Founder. In total, we are a team of eight.
Who are the users of Tourlina?
Female travellers in the age of 20 to 50, who want to travel with a female travel buddy. Tourlina empowers women around the world to create new connections with other women that otherwise might never have been possible.
Why is it only for women?
Because the feedback from women around the world as well market research shows, that women like to travel and prefer a female travel partner as having a male travel companion often leads to dating.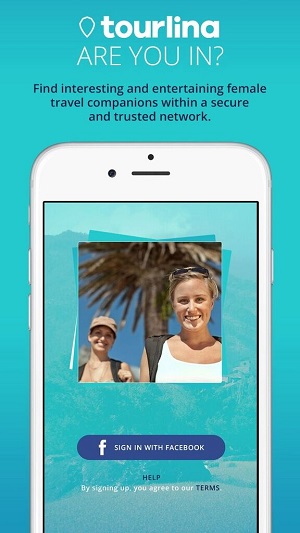 How has been the user response for your app?
Tourlina just went live on November 26th, 2015. Great start with hundreds of registrations today from all around the world – Sydney, Jakarta, NY, Toronto, Munich, Oslo, Paris, Madrid! A lot of women are highly motivated to collaborate with Tourlina and asked us for ways to do so. Our fast-growing Instagram account has now more than 14,000 quality followers, 95% of them are women.
In the last weeks and months, we got hundreds of comments like these on Instagram, Twitter, Tumblr and Pinterest:
britapplesnaps: Great idea! Tell us more
sixmonthstolive: Awesome!! Been waiting for an app like this!!
nicky.around.the.world: I'm so excited! Great idea!!!!
annaknowshouston: What an amazing idea.. I'm so in!!!
timetravelblonde: This is awesome! Doing a solo trip in SE Asia in three months and can't wait to check this out!
How is Tourlina different from other travel apps?
High-quality user profiles as we manually check every new user (female/ not fake). No dating. High-quality app which is very easy to use and somewhat comparable with Tinder functions, but no dating and only for women.
What are your future plans?
Have the app available for Android in 2016. Our passion is to help make travelling more secure and more fun for women. Our aim is to become the world's leading travel app for women. Become the most loved travel brand for women.
If you like the idea of travelling with a female companion, do try Tourlina here.