The greatest adventure stories ever told never started with someone taking a budget flight or an overnight train. They started on the road. 'Fear and Loathing in Las Vegas', 'On the road', 'Travels with Charley', 'The Motorcycle Diaries' are some of the best reads about travel and they all have roads as the common denominator.
Step out of the stories and planning a roadtrip in India often starts with Google Maps. We check the route on Google Maps squinting at the screen to figure out if the route goes through some city or not. This is followed by calls to friends and family who may be familiar with the region. If that fails, we turn to Google to see if we can find pieces of information and random travelogues that can be placed together to give a vague idea of what we are getting into. And when you are the one responsible for planning for a bunch of people, it soon turns into a task that can make even superheroes shudder.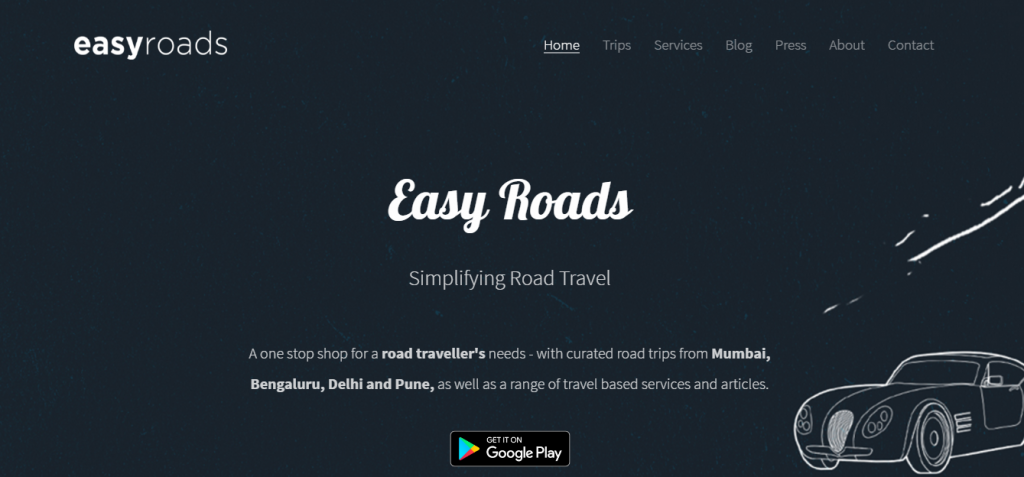 We witnessed the entry of many trip planning startups over the past two years and yet, almost all of them are built around the destinations, not the route. They will do a very good job if you are taking a flight or train to your destination and then looking to explore the region but won't help much if you plan to drive. Certainly the domestic air fares are lower than ever and connectivity improved but it can't match the freedom of travelling via road, can it? With an increasing aversion to tourist traps and vehicles being more accessible, a large number of travellers are lured towards the roads and new players are entering the landscape to cater to them. Easy Roads is one planning startup trying to cater to these traveller and instead of focussing on what you can or should do at your destination, it is built around the journey.
Sachin, the man behind Easy Roads has worked with leading management consulting and IT companies and was always the kind of person who would hop behind the wheel if you mention the word travel. He would often come up with quirky ideas and activities to keep co-travellers entertained and engaged. In fact, he tells a very interesting narrative of when he got married six year back. The venue selected for the cocktail party was a bit far from the city centre and most of the guests were driving there. To add some flavour to their drive and make it a memorable one, he cooked up a series of challenges the guests had to fulfil on their way by deciphering the hints given to them. This sent them exploring the city from bus stops to food joints to post offices and everything in between, before they arrived at the venue.
Fast forward to today and he is trying to do the same for a much larger set of people. With his army of travel junkies, he has built a platform to make roadtrips more fun. It hasn't been long since Easy Roads was officially launched and yet, it has been quick to grab the attention of its target audience.
For the right user, it helps overcome multiple barriers. Being built around road travellers, Easy Roads helps travellers discover places to explore along the route. For any route you choose, you will be able to know how good or bad the road is, what are the times to avoid, what are the local conditions like and these little things make a world of difference while on the road. The trips featured on the app can be tweaked to one's taste and also include approximate travel costs, food and stay recommendations and direct booking options.
Easy Roads is also working with Maharashtra Tourism Board to help the tourism ecosystem in the region. Almost all the state tourism boards are trying to promote the less known destinations they have to offer. While using social channels allows them educate a large set of audience, a platform like Easy Roads has the potential to actually drive people, who have the intent and medium to travel, to these destinations. With associations like these, Easy Roads will be able to offer better value to its users while the tourism boards will be able to add a new channel to attract travellers to these destinations and thus support local communities and businesses who can benefit from the increased tourist inflow.
The Easy Roads team has been hard at work and has constantly been adding new features to the app. Currently the regions are limited but they are constantly adding new geographies with original content from a road traveller's perspective. In a bid to be the only resource you will need for roadtrips, they have added an array of services. You can choose to get your car checked before a trip, call for support in event of breakdown, rent a car if you are in a new city and even hire a driver if you want to relax in the passenger seat sometime.
Apart from adding new geographies, Easy Roads is also in the process of forging partnerships with some major events, a recent one being India Bike Week, India's largest motorcycle festival that sees people riding to Goa from all parts of the country. They have also partnered with Nariyal Paani, a popular music festival scheduled for later this month. With these associations, they are looking to start engaging the attendees and enabling them to multiply the fun of journey even before they have reached the venue.
Easy Roads is accessible through its Android app which you can download here. Recently they also announced a new mobile website that replicates the app experience. You can find it at www.easyroads.in.