The Indian Travel and Tourism industry has already recognized the benefits of using technology to attract people from across the globe. According to a report, the Travel and Tourism sector will contribute 8.22 trillion or 7% of India's gross domestic product (GDP) this year. Technology is playing a big role in this rapid growth.
While DMOs in India are formulating digital strategy to tap the mobile travellers, many Indian destinations and pilgrim centers are creating awareness among devotees through smartphone apps. With holy cities such as Varanasi, Haridwar, Rishikesh etc. India attracts tourists from across the globe who believe in spirituality.
Here are some recent examples of how pilgrimage destinations are tapping on the smartphone friendly spiritual traveller:
'Shubh Badrinath Yatra' App
Badrinath is a holy town located in the Chamoli district of Uttarakhand. It's one of the most popular Char Dham pilgrimage centres with at least 1 million people visiting this place annually. This year the government has introduced a  Badrinath Yatra smart phone app which has a user friendly interface.
Launched by Uttarakhand Chief Minister – Harish Rawat, this app provides all the necessary and relevant information about the pilgrimage between Joshimath and Badrinath. It has been developed to make the visits of travellers safe, pleasant and comfortable. The app has a unique feature to familiarize the travellers with the Pahari cuisine. Since this app is linked to Google Maps, the pilgrims can find information about the nearby ATM's, petrol pumps, restaurants, washrooms, repair-shops etc. As landslides occur frequently in hilly areas, the application will suggest alternate routes that can be taken in case of a natural calamity. While this initiative is a great idea, what remains to be seen is how many users will eventually download the app considering the challenging seamless data connectivity in hilly terrains.
If the application does garner successful downloads, the Uttarakhand government might end-up extending it to Gangotri, Yamunotri and Kedarnath shrines.
The Android version of the app is available here.
'Nabakalebara of Puri Jagannath' App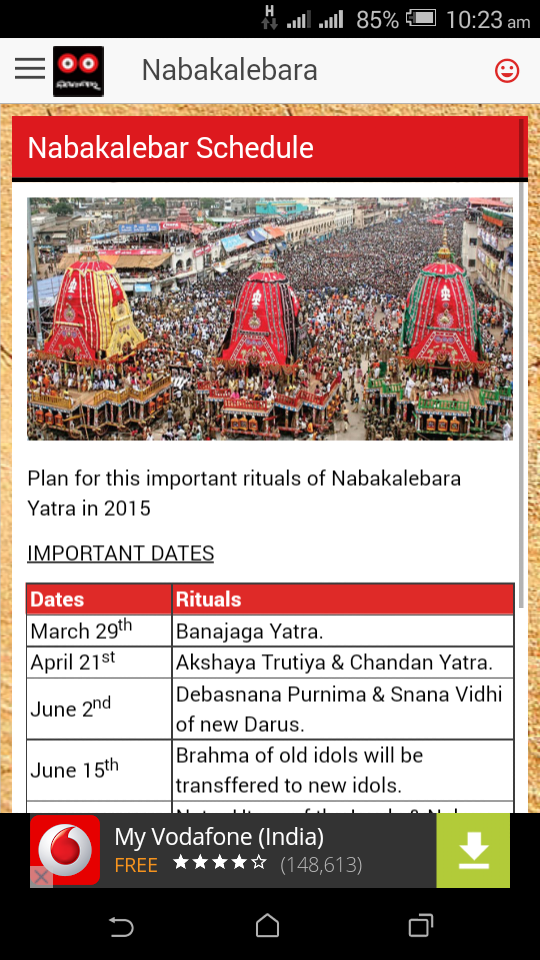 For people who are not aware about this festival, it is an ancient ritual where the images of Lord Jagannath, Balabhadra, Subhadra and Sudarshan are replaced by a new set of images. This occasion usually takes place every 12th or 19th year of the previous Nabakalebara. Quite interestingly, this year's celebration was the first Nabakalebara of the 21st century. Also, this time the Rath Yatra of Puri was named as 'Nabakalebar Rath Yatra'.
'Nabakalebara of Puri Jagannath App' has been developed to share awareness and knowledge about this festival. Through it, the users can obtain all relevant information, updates and ritualistic instructions pertaining to Nabakalebara. The instructions of the following can be found in detail: Nabakalebara Ritual, Collection of Daru, Cutting of Daru, Carving of new deities, Burial of new deities, About Jagannath Temple etc.
The Android version of this app is available here.
'Navratri Dhamal' App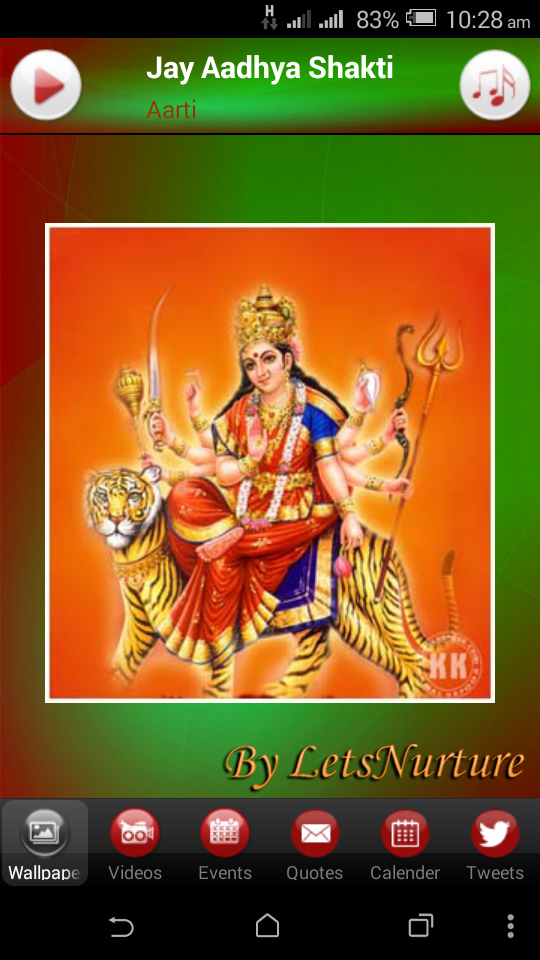 The festival of 'Navratri' is dedicated to the worship of Goddess Durga. Navratri indicates the celebration of the nine forms of this Goddess. They are: Shailputri, Brahmacharini, Chandraghanta, Kushmanda, Skandamata, Katyayani, Kalratri, Mahagauri and Siddhidatri. States in India celebrate this festival in different ways. In Punjab for the first seven days people do fasts, in Gujarat people perform Garbha, in Tamil Nadu, people set up steps and place idols on them etc.
Realising its importance and its active celebration in parts of India and Nepal, an all-required app has been developed for this purpose. It has essential information about the festival, Navratri Aarti with lyrics and different wallpapers of Hindu Goddesses. If devotees wish to learn the traditional dance form of this festival, the embedded videos in the app can act as a guide. With the help of synchronized Google Maps, users can know the Navratri Dandiya events happening around them- both in India and abroad.
The Android version of this app is available here.
Do you know of some other heritage destinations that are targeting the smartphone savvy spiritual travellers? We would love to hear your views.