There has been a significant rise in the demand of experiential travel. Today's millennials don't just plan to travel anywhere but wish to explore areas that can give them unique experiences. They are adventure freaks and love to involve themselves in activities like scuba-diving, skydiving, rock climbing, para-gliding etc. There are a bunch of exciting travel startups in the experience/activity planning segment that are catering exclusively to this category of off-beat and adventurous travellers with their line-up of activities:
If you are a travel junkie and love to adventure and involve yourself in activities native to different countries, we have listed a few stunning experiences you can include in your travel plans:
#1. An escape in the modern villa by a pristine lake (Spoty.com)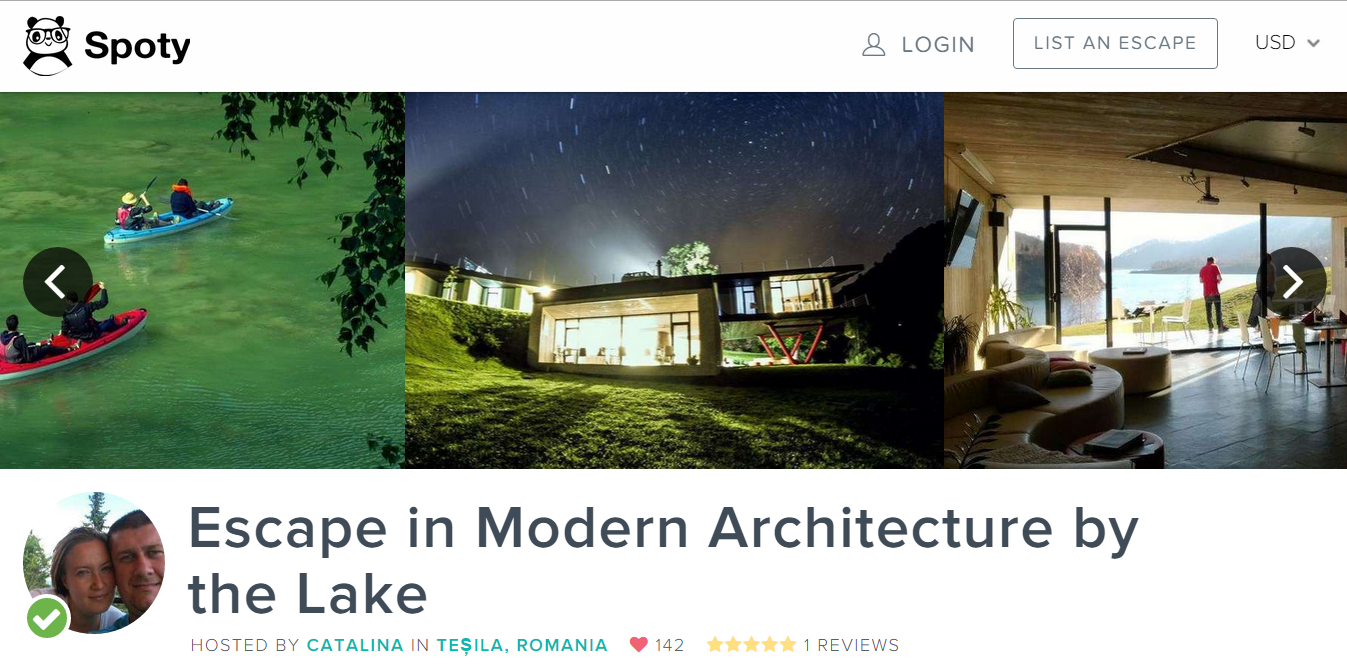 Founded by Pavel and Vali, Spoty has an experience that you will cherish for a longtime. Hosted by Catalina in Tesila, Romania, an exquisite villa with an admirable contemporary architecture and a comfortable environment awaits your arrival. This boutique hotel can accommodate up to 28 guests. It is surrounded by green hills, a dense forest and a clear lake which will give the travellers an opportunity to disconnect from the city life and embrace the beautiful nature. Adventure-seekers can get an adrenaline rush by activities such as kayaking, horse-riding and boating.
Amenities offered: Food, Free Parking, Sauna, Gym, WiFi, Garden, TV, Air Conditioner, Dryer, Free bikes to enjoy the nearby landscapes, Fishing etc.
Price: US$104 (1 Guest for 2 Days)
For more details, you can visit the Spoty.com webpage.
#2. Have a 3-hour off-road adventure in the Nevada Desert (Peek.com)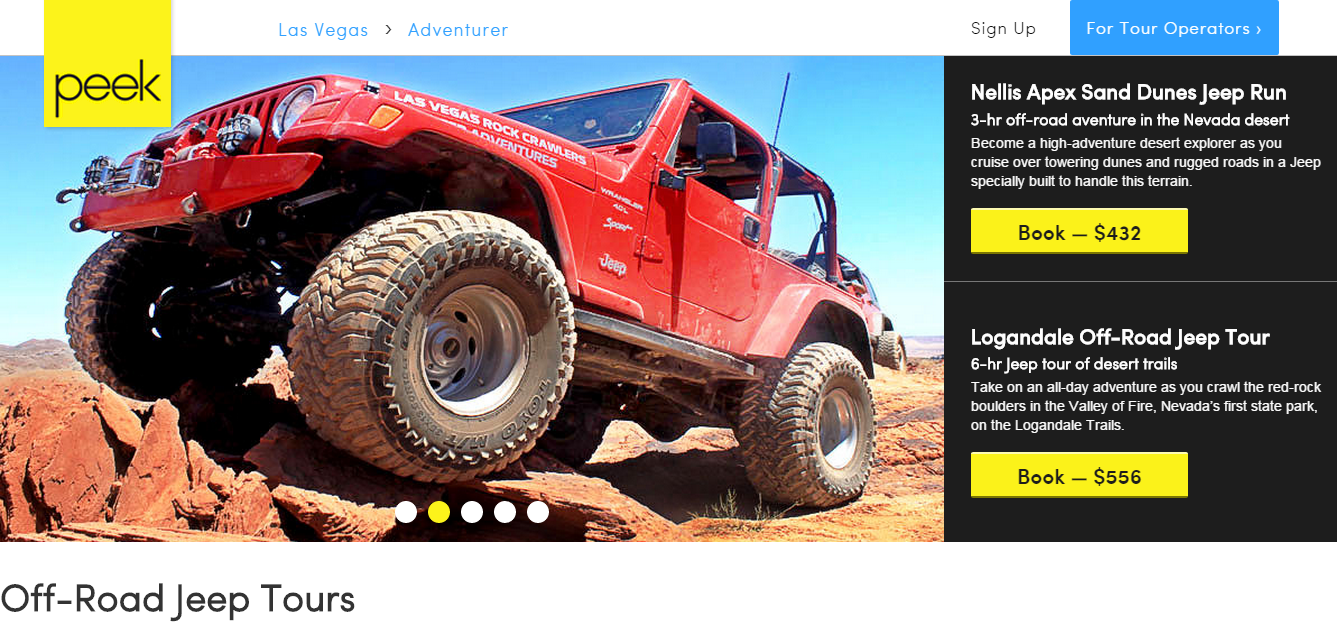 Wish to drive a fully equipped jeep in the deserts all by yourself and not just be a passenger? Peek, an exciting startup providing high-quality activities with best vendors across the globe, gives such an offer to its customers. The destination – Nelux Apex – is located 20 miles away from Las Vegas. The travellers can navigate on the sand dunes and rugged roads of this region with experienced guides who will give directions and inform the people with him about the scenic routes. The travellers will get a chance to closely observe the native desert wildlife.
Price: US$432 (Per Person)
For more details, kindly visit the webpage here.
#3. You might have had plenty of wine but do you know its history and how it's made? Get to Nandi Hills for all your answers. (Thrillophilia.com)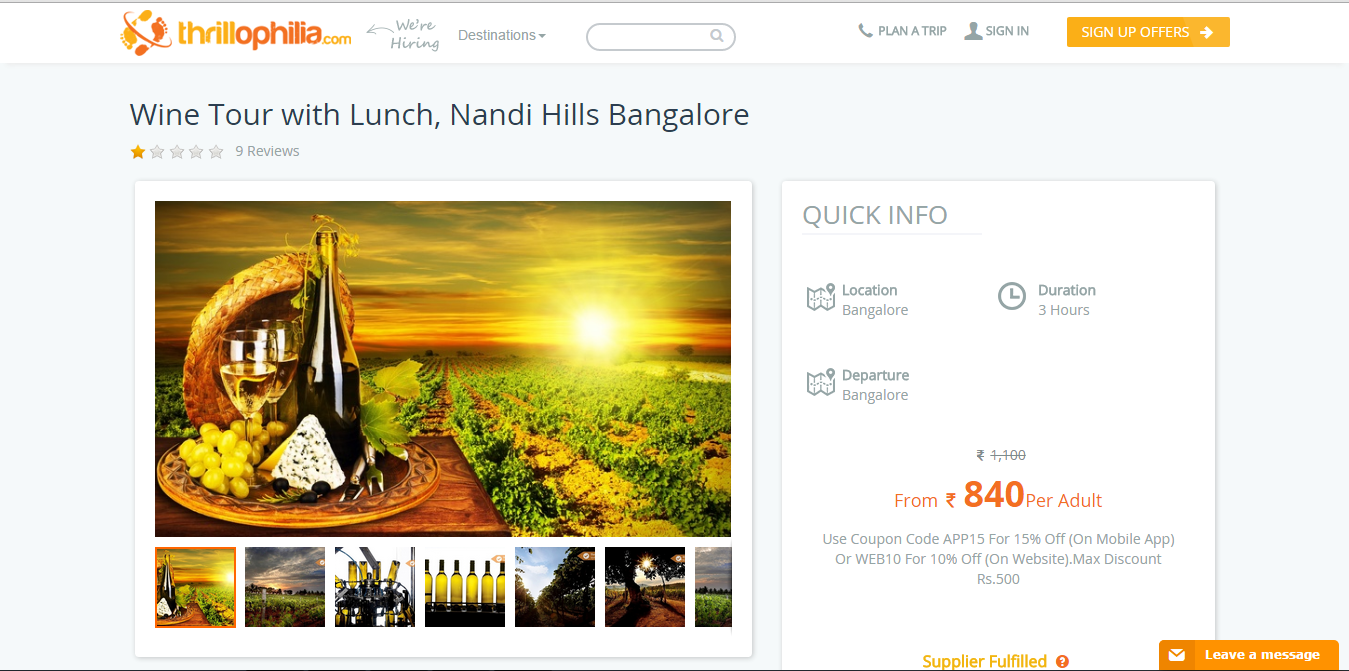 Thrillophilia, an online website that hand-picks the best activities at every destination from local suppliers, offers to its customers wine tour in Nandi Hills, near Bengaluru. It's one of the rare places in India where travellers can learn the art of wine-making and get the real idea of understanding a good quality of wine.The vineyard is spread over 400 acres in the sloping green hills surrounded by beautiful scenery. This will be a 3 hours activity comprising of video presentations and a tour with the complete practical explanation and demonstration of processes carried out for manufacturing wine. The travellers will be allowed to sample five different forms of wine amidst pleasant music. Lunch overlooking the vineyard will be provided to them.
Price: 840 INR (Per Person)
For more details and booking this tour, click on this webpage.
#4. Bibap Show in Seoul (Klook.com)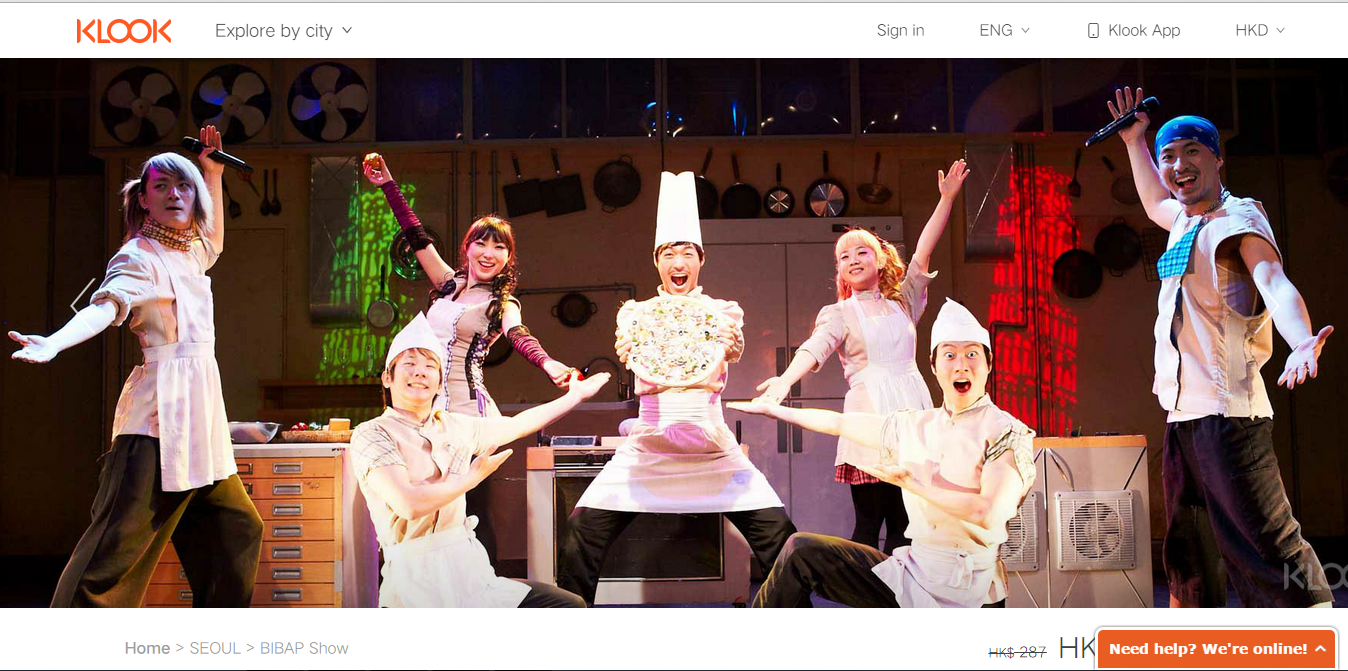 Hong Kong based Klook, founded in 2014, was established with an aim to provide travel-related service to English-speaking and travel enthusiasts.It offers fun and thrilling activities in 21 countries.
Do you know what's unique about 'Bibap Show'? Hosted in Seoul, Bibap Show quite distinctively combines cooking, break dancing, martial arts and singing. This new concept has been named by the cast as 'Eatertainment'. It is a theatrical performance based on Korean dish performed by talented actors who display their skills in the kitchen area while interacting with the audience all the time. 'Bibap Show' has gained international audience very quickly. Since it is a non-verbal show with the use of memes language is not a barrier. The show has elements of both humour and surprise in it.
Price:  US$24- US$34 (Per Person)
For more details and booking tickets, click here.
#5. Walk 13-feet underwater on the ocean bed to enjoy the aquatic life (Triposo.com)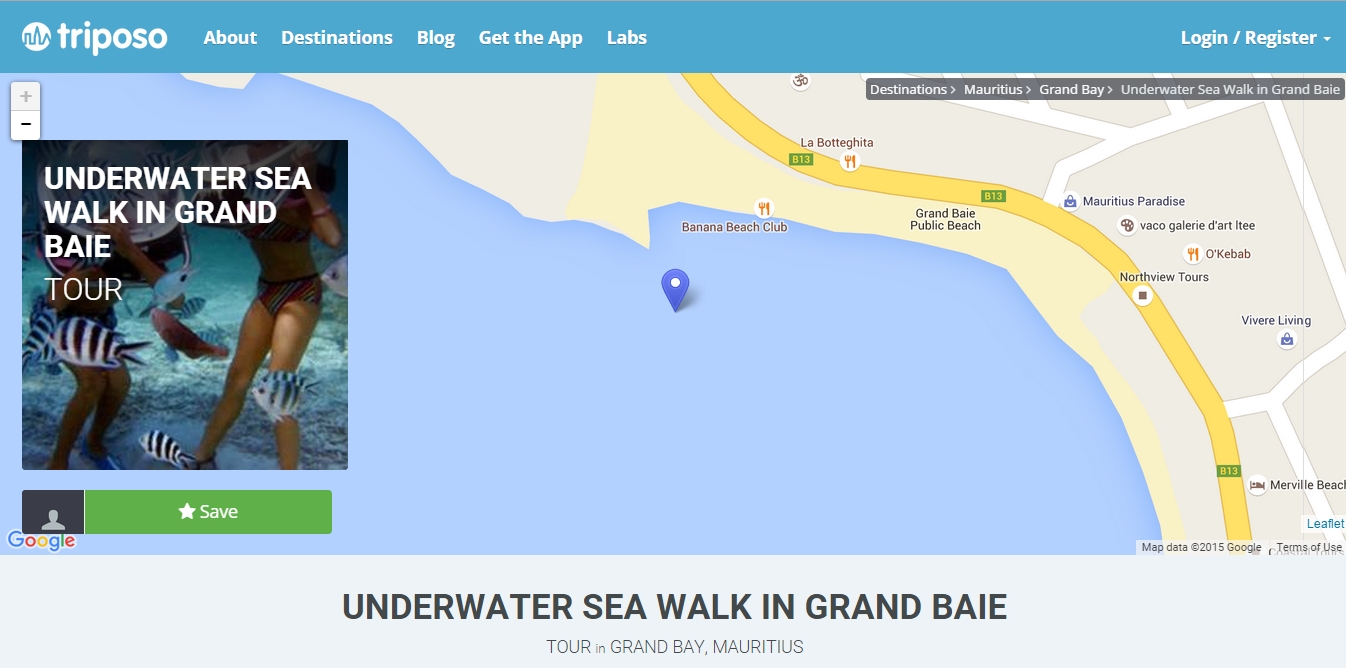 Last on the list is Triposo: a travel guide that has listed more than 15000 destinations in 200 countries. A unique experience that this website offers to its customers is 'Underwater Sea Walking'. The travellers will get to enjoy the safe and fascinating 20-minute walk on the ocean bed (10-13 feet deep) underwater. They will get an opportunity to witness underwater plant life, corals and beautiful schools of fishes around them. These travellers don't need to know/learn swimming. A simple training of a few minutes will allow you to be a part of this interesting activity.
Price: US$47.85 (Per Person)
For more details and booking tickets, click on this webpage.
How many of these experiential activities would you like to add to your bucket list?