Founded in 2003 in London, Technavio is one of the leading technology research and advisory firms with intercontinental audience. It has 200 analysts around the world who closely observe the ever-changing market conditions on a day to day basis. Simultaneously, Technavio interacts with the chief players of different industries to be a step ahead of its competitors.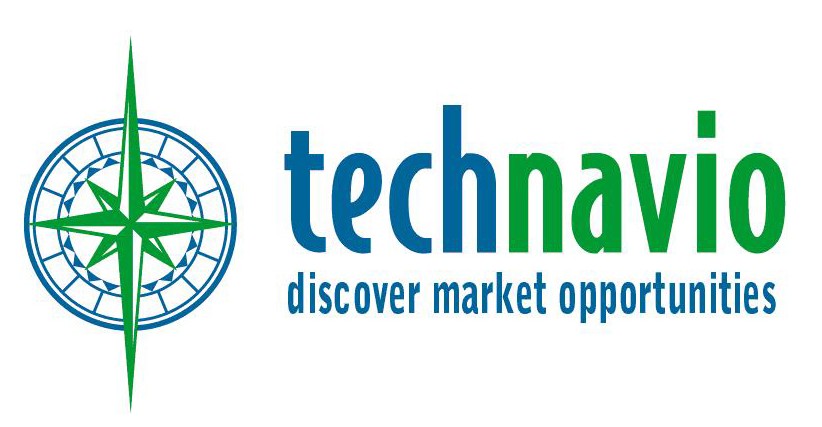 Recently the firm has brought out a periodical research report on 'Retail Travel Services'. Here are some interesting facts that have come to the spotlight:
1. Offline bookings dominate the Indian market while the online travel services market grows exponentially
There are six types of services that are prevalent in the Indian market. They are domestic flight booking, hotel accommodation, rail ticket booking, domestic bus ticket booking, rental cab booking and holiday packages. As one would expect, all bookings happen through an offline medium or online medium.
Currently, online bookings in the Indian travel services market account for 46% share. However, the online market is growing at an exponential rate in India. It was valued at $7.66 billion last year, and is expected to reach $22.37 billion in the next 4 years (by 2019) with an estimate CAGR of 23.9%.
2. Online portals shift from being a standalone entity to a one-stop-shop for catering to the travel needs of clients
Many online travel agencies are associating themselves with brands like IRCTC, the online booking arm of Indian Railways. They have partnered with bus ticketing websites and car rental companies to offer single-stop results for customers.
The top 5 players in this sector are: Cox and Kings, MakeMyTrip, SOTC, Thomas Cook and Yatra. Other prominent vendors are: Busindia, Cleartrip, Akbar Travels, Expedia, Easy Cabs, Ola and Uber. With the help of these services the travellers can indirectly book hotels, flights, cabs, trains and holiday packages.
3. The Indian travel services market size in the past and near future
The Indian travel services market was valued at $16.9 billion in 2014. It is expected to reach $33.84 billion by 2019 growing at a CAGR of 14.9%. The rising inflation will not adversely affect the Indian market as many other factors like an increase in disposable incomes by individuals and expected rise in brand-to-brand mergers will take place. This will accelerate the Indian travel services market growth.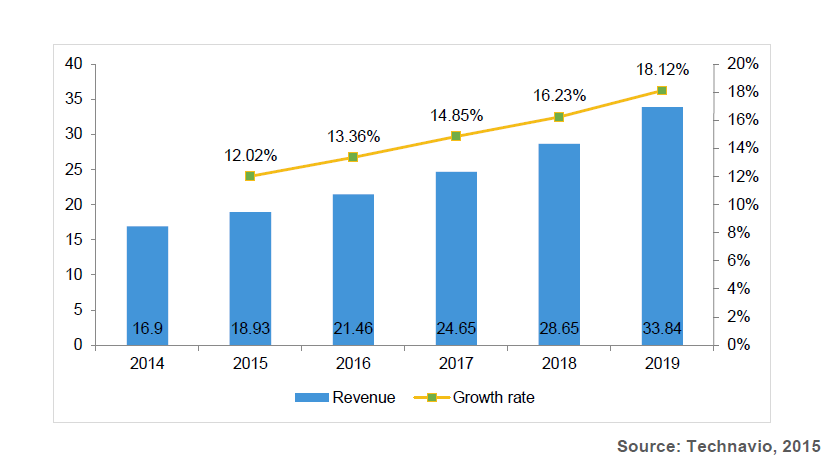 4. The merits of the present Indian travel services market
The first key market driver for the growth of Indian travel services can be the increase in online ticket booking. With the increase in internet penetration across India, online bookings through computers, tablets and mobile phones have become more common than ever. Today there are more job holders with higher disposable incomes. They are willing to travel around the world to enjoy unique travel experiences. It's been observed that youngsters travel – domestic and international – more than ever nowadays.
Additionally, many travel firms offer incentives in the form of discounts and gift vouchers for customers who use their mobile apps for booking. Technavio expects this interest in m-commerce to grow over the forecast period. In 2014, the total number of online users through mobile was 120 million, higher in comparison to desktop online users. Currently, 60% of the orders are generated through mobile internet & the number is expected to reach 70% by the end of this year.
5. The challenges that are faced by the Indian travel services market
A few challenges this sector faces are:
High tax rates: High tax rates translate to more expenses for the travellers. This is viewed by the masses as a potential roadblock.
Lack of trust in online payment modes: Despite rapid advancements, there are many customers who are still hesitant to carry out online payments and transactions. They are more likely to adopt the offline mode. This does affect the market to a certain extent.
Strict Monetary Policies: The report states that strict monetary policies followed by Reserve Bank of India (RBI), retail policy-related concerns and the growing uncertainty in the global economy have hampered industrial growth in the country in the past few years. To this day, this issue persists.
To learn more about the report, you can visit Techanvio's website.