The upcoming B2B travel trade show, OTM Mumbai will not only offer great opportunities for exhibitors but also allow the travel trade visitors to be a part of interesting discussions at TechForum@OTM. Contributing to that, TravHQ will be hosting two panel discussions that will offer insights for travel marketers.
The first panel will feature Lata Subramanian, Ex-CMO of Sterling, Sesh Seshadri from Lonely Planet India, Prashanth Rao Aroor from IntelliStay Hotels and Hanisha Lalwani from Marriott International. The topic of discussion will be "Leveraging Content to Inspire Travellers". The panel will discuss about the right content strategies for tourism brands, utilising different forms of content for promotion and some successful content marketing campaigns in travel. The session will start at 1300 hours on Feb 18, 2016 at the event venue Bombay Exhibition Centre.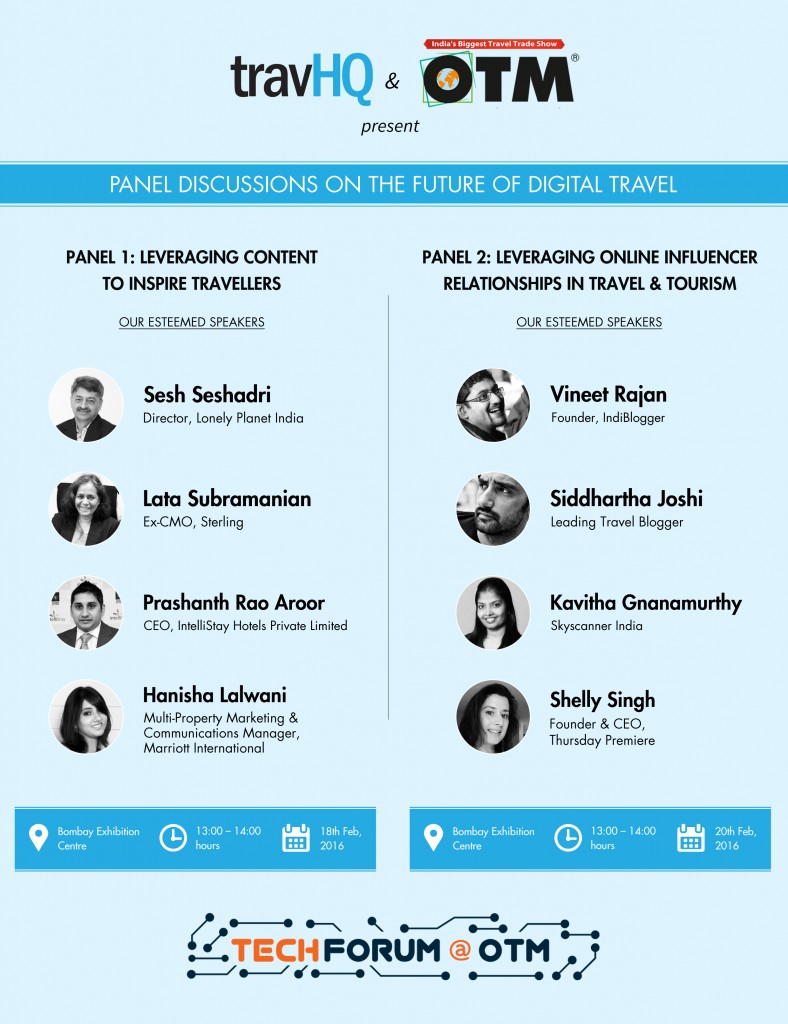 The topic of second panel discussion will be "Leveraging Online Influencer Relationships in Travel & Tourism". The panel will feature Siddharth Joshi, leading travel blogger, Vineet Rajan from Indiblogger, Kavitha Gnanamurthy from Skyscanner India and Shelly Singh from Thursday Premiere. They will discuss about how brands should work with travel influencers, how to measure success while working with influencers and whether blogger fam trips are fruitful for the brands. The session will start at 13:00 hours on Feb 20, 2016 at the event venue.
Along with these sessions, the finalists of Travel Startup Knockdown will also pitch in front of the judges on Feb 19, 2016. The entries are open till Feb 7, 2016 so you still have a chance to take the stage to present your idea. You can find the full details here.
Keep watching this space for more updates on the event.