Ever since Instagram came into existence, it allowed its users and brands to engage using the power of visuals. It has been continuously experiencing impressive growth and with its simple approach, one of the most engaging as well. Even before Instagram decided to include ads on the platform, many brands have been using the platform to spread the word.
We recently dicussed about why Indian OTAs shouldn't miss out on Instagram. Not just the Online Travel Agencies but many other B2C travel businesses can benefit from this platform. So we have compiled a list of dos and don'ts for using this platform for brand promotion.
Dos
Use the power of Hashtags
Hashtags help your visuals get noticed among the millions of photos that are being shared on Instagram everyday. Most of the brands use three or four hashtags but it won't hurt to use few more if they are relevant to the post. Some hashtags related to travel commonly used on Instagram are #ttot, #igtravel, #instatravel and #travelgram. You can include such tags in the mix to gain instant visibility.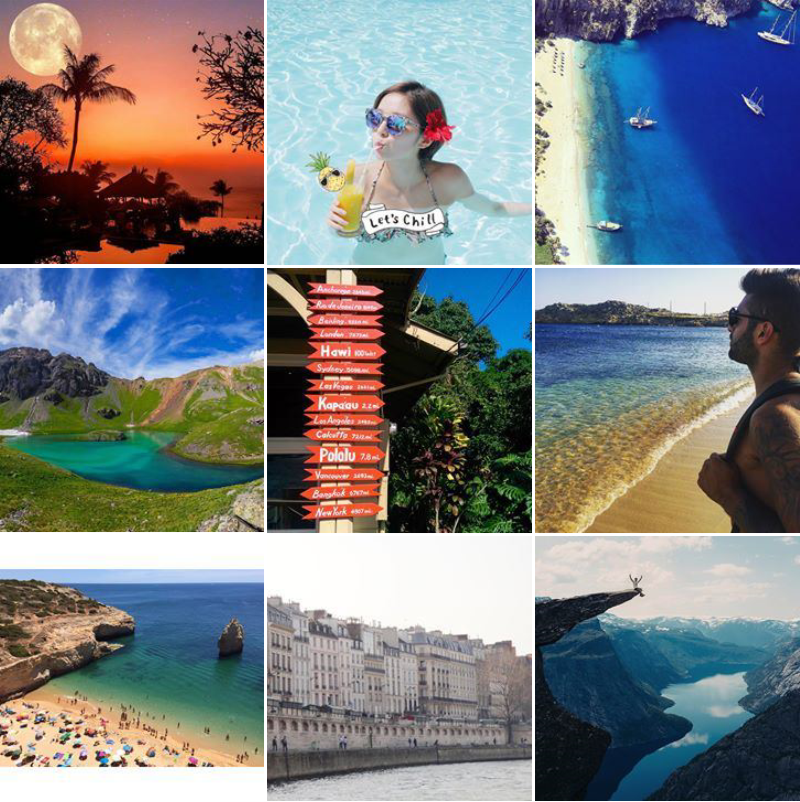 It is also very important to promote a branded hashtag that will be used on all the posts. Even when you are using a specific hashtag for the duration of a contest, use it with the brand hashtag. This would encourage your followers to use the hashtag as well. Not only will it help you crowdsource content but would also help you keep track of the content being shared around your brand.
Crowdsource
Once you have started engaging your audience, you can use Instagram to crowdsource images. People love interacting with the brands they like and reposting fan photos will motivate even more of them to follow and share the pictures with you. Skyscanner, the global travel search engine asks people to use the hashtag #letsgoeverywhere to share their adventures and a large number of their posts are stunning photos shared by people all over the world. This reduces the effort of generating content and brings in a variety of content which won't be possible otherwise.
Contests and Insta-Takeovers
Instagram is a good platform for hosting contests similar to Twitter. Tourism Malaysia recently launched the #BeautifulMalaysia campaign which is attracting a large number of entries. NatGeo India organises photowalks through contests on Instagram and these are just few examples.
Brands can rope in influencers to take over their Instagram account and manage it for a few days. This works in favour of both the brand and influencers as both of them are able to connect with each other's audience while adding a new flavour to the brand account.
Include real people
Sure the beach photos and sand dunes look great on a brand Instagram profile but they can be even better if you include people. Of course this can be achieved easily if you are taking care of the first two points i.e. hashtags and crowdsourcing. A photo of kids beating the heat at a splash pool might just work a little better than the photo of just the pool.
Don'ts
Lack strategy
It is very important to have a character, whether it is your personal account or the brand account. Which means you need to define your niche and plan accordingly. It is okay to move away for a few posts but on the whole, your brand account should have a character & reflect what you are doing and should be built around it.
Compromise on quality
Instagram is an endless stream of photos on a single page. Most people keep scrolling down until they spot something that stands out. Usually you have a fraction of a second to grab the attention and send your message. Even when exploring through hashtags, there are eight other photos along the same theme.
Overdo or Use wrong hashtags
Although this one goes without saying, we are going to mention it anyway. Never use irrelevant hashtags on your posts as this will bring down your credibility and paint a negative picture of your brand. Another thing to keep in mind is that while Instagram allows upto 30 hashtags, avoid putting them all in the caption. Instead put them in the comments after you have posted the picture with a caption.
If you are just starting out on Instagram, you can take a look at accounts like Lonely Planet India or Nat Geo Traveller India. Destination marketers can look at Goa Tourism among domestic and Tourism Australia among international destinations for some inspiration.
Join the discussions on travel marketing and get inputs from the topic experts here.