In a bid to attract travellers to God's Own Country during the famed monsoon season, the Kerala Tourism Board has rolled out a quirky campaign, 'Come Out and Play'. With a focus on tapping tourists from potential domestic markets, including Tamil Nadu, Karnataka, Andhra Pradesh, Maharashtra, Delhi & NCR, Madhya Pradesh, Uttar Pradesh, Gujarat, Punjab, Rajasthan and West Bengal, Kerala Tourism is leaving no stone unturned to woo travellers.
The objective of the campaign is to divest vacationers of their 'career selves', their 'formal adultness' and their preoccupation with devices, careers and the routine of everyday life. The campaign idea mainly focuses on 'play' in the context of families, and in-turn it reconnects them. Based on this idea, a television, and print campaign has also been conceptualized.
In order to promote the campaign and bring more travellers to its shore during summer holidays, Kerala Tourism has been utilizing various promotional tools in the best possible way. Besides TV and print campaign in the national markets, the campaign has been running in cinemas across the target markets along with radio and digital campaign.
A social media contest is also running simultaneously across their platforms, where willing participants are being asked to engage in any outdoor activity like hopping on one leg, slow cycling and crossing a log bridge, and posting the same on social media with the hashtag – #ComeOutandPlay. Lucky winners are being rewarded with campaign merchandise as well.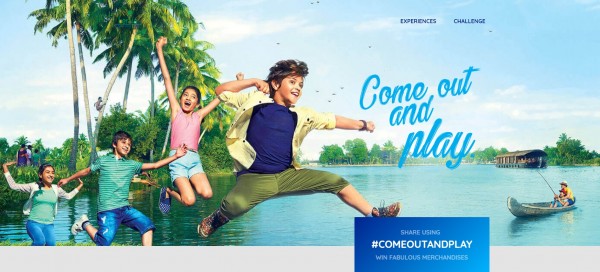 Kerala Tourism has also expanded the promotion activities by way of mall branding and taxi branding in West Asian countries. In countries like Singapore and Malaysia, promotional activities including out-of-home and airport mall branding have been carried out. A report, which talks about the culture, heritage and traditional cuisine of Kerala, also mentions the authentic Ayurvedic treatments available in the state, which becomes an add-on to the state's existing tourism promotions.
Kerala had garnered Rs 8,392.11 crore as revenue from close to 11 lakh foreign tourists who visited last year. The state had also hosted approximately 61 lakh tourists during monsoon season in 2017, which was an increase of 5 lakh travellers over the monsoon season of 2016.
Over the years, the state has managed to trump most others in the country through its plethora of unique and inspirational campaigns. Kerala's performance across social media channels has also remained impressive, with it adding another feather in its cap by bagging first place in a ranking done by Facebook based on total engagement with tourists that included reactions, shares and comments on the page. Kerala Tourism's activity has been focused and proactive, and it has been able to keep travellers from India and abroad engaged with interesting and innovative posts on various projects and activities undertaken by the department.