Insta360 has launched the ONE, a versatile 4K 360 camera that represents a breakthrough for both immersive storytelling and for the way that we capture and share traditional framed video.
"We set out to make the easiest-to-use, most versatile 360 camera in the world, and the ONE is the result of those efforts," said JK Liu, CEO and founder of Insta360. "The ONE isn't just a step forward for 360 videography. With its unique FreeCapture technology, it stands to change the way we think about cameras in general."
The Insta360 ONE shoots 360 video and photos at resolutions of 4K (3840*1920@30fps, 2560*1280@60fps) and 24 MP (6912 x 3456), respectively. It significantly advances Insta360's signature adaptability and convenience, offering three modes of operation: standalone use, remote control via Bluetooth, and control via a direct connection to a smartphone's charging port.
The iPhone-compatible version is available now, with an Android version on the way.
Shoot First, Point Later with FreeCapture
The Insta360 ONE introduces groundbreaking FreeCapture technology. Using FreeCapture, users can effortlessly hone in on the key moments of a spherical video, translating the original 360 footage into a standard 1080p fixed-frame video that's ready to share anywhere – all from their smartphone.
The process to create a FreeCapture video on the ONE is as innovative as it is intuitive. First, users hit record and effortlessly lock in every detail of an experience, as though they had a multi-cam setup covering every angle of the scene.
Then, when they're done filming, they simply connect the ONE to their phone and offload the experience. This is where FreeCapture works its magic.
Leveraging a phone's onboard gyroscope, FreeCapture lets users simply peer into the original 360 scene using their phone display as a viewfinder. Whatever they see as they point their phone into the original experience is what they'll capture in a fixed-frame video. In other words, users can stand in the present moment while they film a past experience – using exactly the same hand motions they would always use to capture a video on their phone.
Never before has this editing technique been achievable on a phone, and it opens the door on a new era in videography, allowing anybody – from a journalist to an outdoor adventurer – to effectively act as their own camera crew.
FreeCapture also allows users to seamlessly shift from standard perspectives to the unique shots that are only possible with 360 cameras, such as "tiny planet" and "rabbit hole" effects.
Everything Epic in ONE
While maintaining the mobile-friendliness of all of Insta360's products, the ONE adds a range of new features that makes it the premiere standalone 360 camera for consumers.
The ONE achieves six-axis image stabilization with an onboard gyroscope, ensuring that it records smooth video without sacrificing quality – even in rough-and-tumble situations.
Advanced stabilization is also what makes possible the all-new bullet time mode, which has to be seen to be fully appreciated. Using only a selfie stick or a string attachment, creators can capture up to 240 FPS slow-motion shots where the ONE circles them dramatically, always keeping them center-frame—while the accessory used to spin the camera is flawlessly concealed. (The ONE shoots at a maximum of 120 FPS, while 240 FPS video is achieved algorithmically with the companion app.) Epic shots such as those innovated by the Wachowskis and Swiss skier Nicolas Vuignier can for the first time be captured by anyone, with no hassle.
The new SmartTrack feature lets users automatically capture a 1080p fixed-frame video where the subject of their choice is always centered. It means users can first capture everything, and then let the ONE give them a ready-to-share, classic-sized video that keeps the spotlight on their key subject.
Meet the Invisible Selfie Stick
After attaching the ONE to a selfie stick, the stick will be automatically erased from the footage. Once the stick's out of the picture, the ONE works like a flying camera – capturing stunning 360 views from an overhead angle.
With its compact form and a built-in socket for standard 1/4"-20 screws, the ONE is Insta360's most versatile camera ever. It can be instantly mounted on helmets, drones, cars, tripods and a wide range of other tools and accessories.
The ONE's IP68 waterproof housing (sold separately) is effective at up to 30-meter (98.4 feet) depths and makes it ideal for filming watersports and underwater scenes.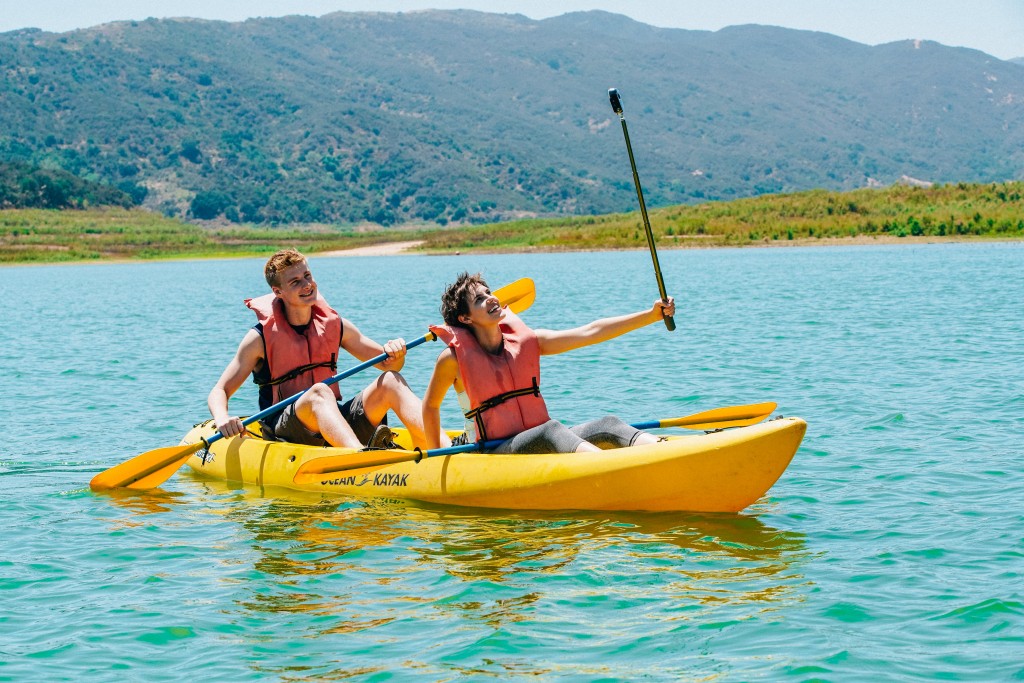 A purpose-built selfie stick and Bluetooth remote control will also be available for purchase to let users easily achieve the bullet-time effect and other "flying camera" shots, while an included string attachment will make the effect achievable straight out of the box.
Total Creative Control
The ONE offers an HDR (high dynamic range) shooting mode and supports taking pictures in RAW format and videos in Log format, allowing for convenient, precise post production. It also shoots time-lapse 360 video, and its full-featured camera settings offer manual control of exposure value, ISO, shutter speed, white balance and more.
To find out more, please visit: https://www.insta360.com/product/insta360-one/.
Availability
The Insta360 ONE is available now at https://mall.insta360.com/ and via authorized dealers such as Amazon and B&H. Shipments will start September 5.
The US retail price of an Insta360 ONE – including a camera, a two-in-one case and camera stand, a MicroSD card, a Micro-USB cable, a lens cloth, and a string attachment to achieve the bullet-time effect – is USD $299.90.