Google recently launched its new feature, 'Destinations', which claims to help users search and plan their vacation more easily. As you enter the destination or a region, you can see cards of suggested locations in the region, suggested itineraries and can even choose your interest and get relevant results. With this feature, Google has promised all the mobile users a smooth experience of travel planning. So, even if you enter a tentative period of your travel, it will return itinerary ideas and the best time to visit when fares are low. It will do the searching and scanning through billions of flights and hotels and return results according to your needs and budget.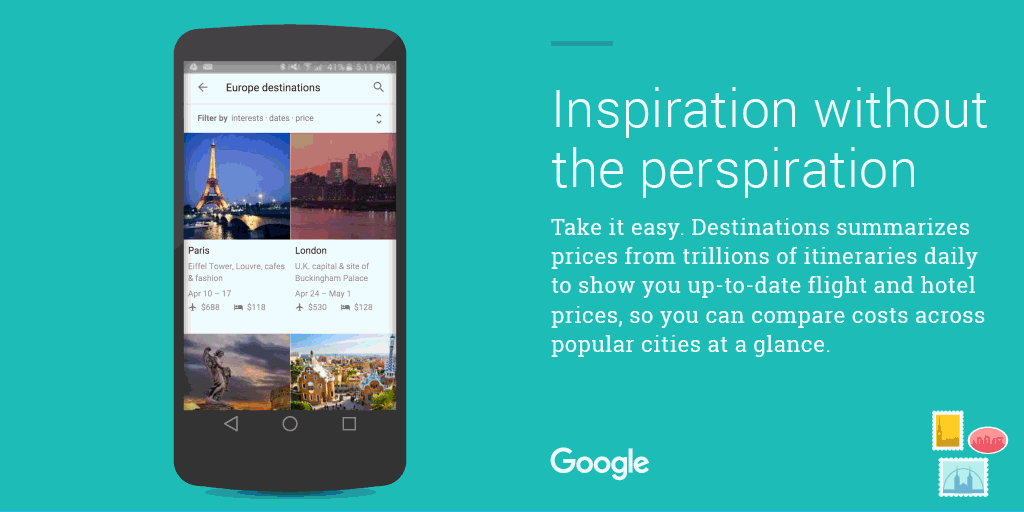 Image: Google Blog
There are numerous travel planning apps that are well known and have been around for a while now. Let's take a look at some of the features of Destinations as compared to other trip planning apps:
To use Destinations you don't need to download any app on your phone to plan your trip. Simply go to Google search bar and type 'XYZ destinations' and you'll get cards that will return places of your interest. But you can also do all the searching and planning on websites of numerous other planning apps as well without downloading the app.
There are suggested itineraries by Google but it does not provide any feature to save your itinerary or even create one. Whereas on apps like TripHobo you can get suggested itineraries or create your personalised itinerary and even save and share it with others in the form of a user generated itinerary.
Destinations provides filters which help you narrow your search on the basis of your tentative dates, budget or interests. This seems to be quite an appealing feature but as of now it isn't fully functional.
Many travel apps provide booking solutions as well whereas Destinations return sites where you can go and book your flights.
Impact on trip planning startups?
So how can Google's new Destination finder impact apps that provide similar features? By providing the convenience to simply Google any search for travel planning without going to any website or app, the company says it wants people to do all the searching and planning on their smartphones. But this leads us to think, why anybody would spend time to check Destinations on Google if they have to hop on to other websites to create their personalised itineraries and save them which they cannot do on Google!
With its search capabilities and ability of its algorithms to provide results based on consumer habits and preferences, suppliers like airlines, hotels and destination marketers are still looking forward to collaborate with Google but for now, the search giant is not providing any booking solutions and it returns booking portals as search results to make the final bookings because neither does Google wants to forsake ad revenue coming from these OTAs, nor do the OTAs want to snap ties with Google because it generates and brings huge traffic for their businesses. Also, there are snags in Destinations that need to be fixed, so it's not a be all and end all for all the travel planning needs as compared to other players providing similar solutions to travellers.
Author: TravelCarma is an experienced Travel Technology brand with expertise in equipping Travel businesses worldwide with state-of-the-art, mobile enabled Online Reservation Systems, Back-Office and Mid-Office Systems, Corporate Booking Tools and Access to Global Inventory via XML API Integrations. TravelCarma caters to over 200 Travel and Hospitality companies worldwide, including OTAs, Tour Operators, DMCs, Hotels, Wholesalers, Rental Car Companies and Bus Operators. You can know more about them at www.travelcarma.com and reach them at sales@TravelCarma.com.