Periscope, the live streaming app by Twitter is causing bit of a stir all over the globe. It has acquired an impressive number of users already and is receiving love from brands & celebrities alike. Skyscanner recently chose this platform to do a campaign which was received well by the masses. We downloaded the app, broadcasted some weird streams from around our office and discussed on what this platform holds for the travel industry.
My day started with a beautiful view from someone's balcony in turkey, then I watched U2 perform live in California, some supercars on the streets of Dubai, travelled in a subway to some place I don't remember the name of and then finally watched a British guy play 'Sweet child of mine' on his guitar. I would have explored more but then I ran out of battery on my phone.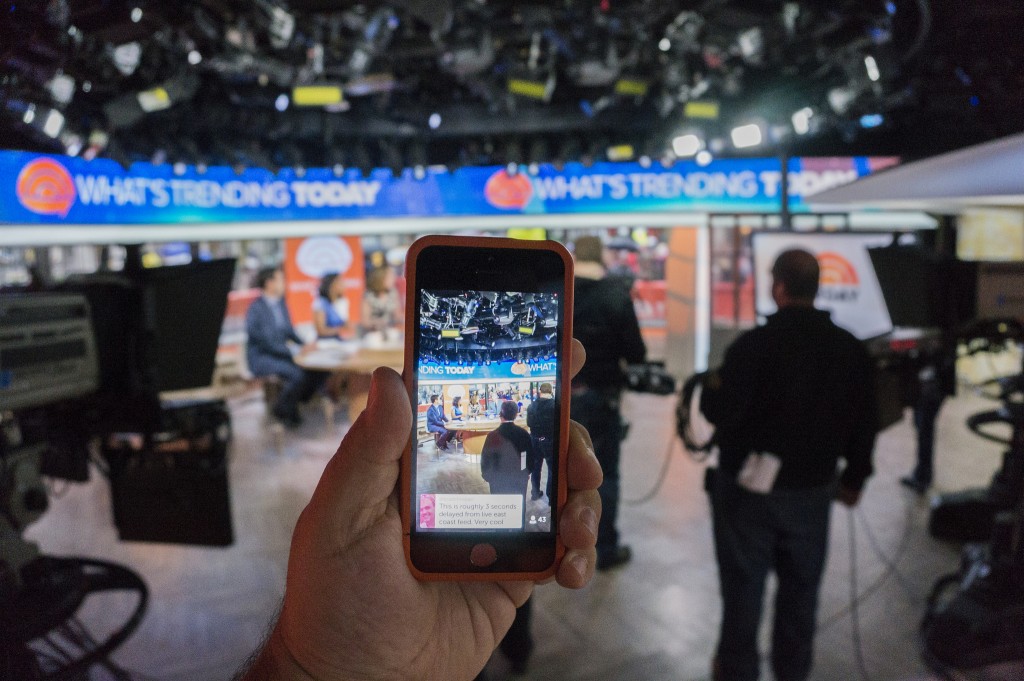 (Image: Twitter's Periscope App by quintanomedia/ CC BY 2.0)
There has been lot of buzz around this new app called Periscope. Five days after its launch, Skyscanner got around two dozen travel bloggers from around the world on-board for the #24hPeriscope campaign showcasing the best their respective cities have to offer. Not only were they taking the viewers for a tour around the cities but were also receiving (and following) suggestions from viewers.
Down in Taiwan, tech blogger Sascha Pallenberg has been using the Periscope app to create awareness about Taiwan as a travel destination. His periscope streams have been fairly popular with viewers expressing great interest in knowing more about the destination.
So what is this app anyway?
Periscope allows the user to live broadcast a video stream to his or her followers (and non followers too if they choose to). The viewers can interact with the broadcaster by typing in comments or tapping on the screen to like the stream.
Any platform that depends on high volume of visuals can be a great tool for travel industry. Instagram, Pinterest, Vine and YouTube accounts of travel brands like Lonely Planet, Disney World Resorts and Travel Channel are good example of the potential these platforms hold. With Periscope entering the picture, brands might have to consider the option of reallocating their resources on social media because this platform is growing really fast. It managed to attract 1 million in the first 10 days (Source: Mashable) and those were the initial days when Android users were left out.
We have seen many video streaming services in the past like Twitch and Ustream among others, some of them caught up well, some even failed to get noticed. The reason apps like Snapchat, Meerkat and Periscope are suddenly getting everyone's attention is because these services rely on mobile phones. Sitting back in a chair while talking live to your audience is a different thing and taking them around for a walk in your local street market is an entirely different experience. The possibilities are endless and as the content is shared live, there is no post processing to deter people who aren't good with it.
What is in it for the brands?
Obviously after playing around with the app, we got back to business. What could be the possible use cases of this new platform, and more importantly, what the travel industry can get out of it? Skyscanner has already demonstrated that the platform holds potential and with the use of good content and some spontaneity, can yield good results.
At this moment the Periscope app has minor issues. It is hard to discover streams, there are no filters for language and you either get notifications for all people you follow or for none of them. But these are minor issues that they will iron out going forward.
Periscope in more of an 'in the moment' platform. People can comment during the stream and send out hearts. Brands have been hosting Twitter chats and Google Hangout sessions. Now they can invite people to join them on Periscope and send out questions via comments.
Destination marketers can join hands with travellers or video bloggers to give their audience Periscope tours of the attractions. Of course we haven't seen many examples of brands doing the same yet but someone surely will. #24hPeriscope was something of this sort and earned Skyscanner many well deserved hearts.
Browsing through the streams, I found someone providing cooking lessons over Periscope. This is something restaurants and hotels can do. Take people for a tour into their kitchen, showcase the preparation of cuisines or maybe show off the skills of their bartender.
Forget its use by brands. Hotels are a safer bet compared to vacations rentals and many people are sceptical about booking with Airbnb and similar platforms and many of them complain that what you see in pictures is very different from what you get in reality. Airbnb hosts can use Periscope to showcase their property to boost travellers' confidence to book.
The platform is still at nascent stage and we are yet to see how far it can go. It does have limitations for instance, you can't embed a periscope stream on a website and the video is only available for limited number of hours. The creative brains of travel marketers will surely come up with innovative uses of Periscope. We are keeping an eye out for them for some inspiration. If your brand is doing a campaign on Periscope, do let us know. We would love to tell our readers about it.