Earlier this month, Chinese OTA Ctrip acquired US startup Trip.com, a travel planning app and website. According to Trip.com, the metasearch site Skyscanner (also owned by Ctrip) will launch personalized travel recommendations powered by the former's recommendations and reviews. Ctrip also ported the travel recommendation service it acquired to a new domain, www.trip.skyscanner.com, and turned Trip.com into an English-language version of Ctrip's online travel agency content.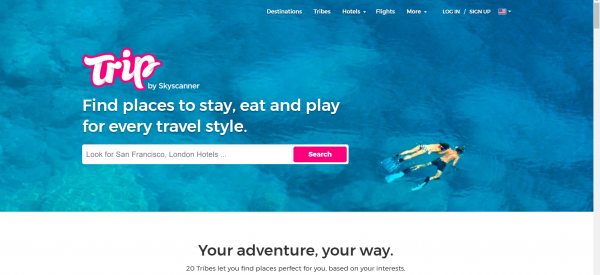 So, what drove Ctrip to bet on using the Trip.com domain to expand its online travel agency business? Travellers have different ways of shopping for the best travel deals. The key to monetize this traffic to your website is adding a layer of intelligence that can ascertain how they would like to travel, which is basically Trip.com's specialization – algorithm-driven curation of travel recommendations. This was simply complementary to Ctrip's brand outside of China, which is Skyscanner.
Trip.com uses its Tribes feature to offer results to each traveller to suit their style. The team has extensively worked on contextual recommendations, so when a user opens the Trip.com app, there is information about who the user is, their tribe, their location and other contextual details. This helps the app adapt the content in the form of recommendations, accordingly.
The race to reach and own the customer as early as possible in the booking funnel is one area that sees intense battles in the travel ecosystem. With the help of contextualisation, like in the case of Tribes, companies can easily target even anonymous visitors with content or recommendations. If it resonates with a traveller, it can also result in a conversion.
The deal also means that Trip.com's expertise would reach out at a global level via Skyscanner. This will lead to more refinement in algorithms, as people everywhere travel differently. This will help Ctrip gear up for personalisation for different markets across the world, thus capturing more consumers.
As the company goes deeper into its algorithms, it would soon be about strengthening the association across the booking funnel, and winning more customers, faster than competition.