Despite recent economic challenges, China's population continues to travel and passengers are demanding more from airlines and airports. China's airports and airlines are responding with higher levels of investment in innovation than found globally. The "Smart Airport" is coming to China. As the aspirations of Chinese consumers increase, so does their expectation for a better travel experience. The willingness of passengers to use self-service gives the industry the opportunity to rethink the airport layout and how it manages passengers. Nearly three-quarters of airports in mainland China (72%) are investing in new technology compared to 58% globally. While airlines in China are spending 38% of their IT budget on innovation compared to a global average of 32%.
An analysis published by SITA, the global provider of IT to the air transport industry, shows that passengers desire to use their own technology will lead to a major shift to "off-airport" check-in. In addition, passengers want to use their smartphones for identification purposes and access, including boarding the aircraft and entering airport lounges.
May Zhou, SITA Vice President and General Manager, China, said: 
"Our global IT surveys cover trends from the perspective of passengers, airlines and airports. We combine this with SITA's on-the-ground industry experience to provide a unique 360-degree view of technology investment and usage within air travel. We work with airlines and airports across China to identify opportunities, work together and invest in innovative technology that can meet and exceed the expectations of travellers. This is particularly challenging and rewarding during these times of fast-rising passenger numbers."
Key findings of the analysis-
#1. Self – service gives the opportunity to the industry to rethink the airport layout in China.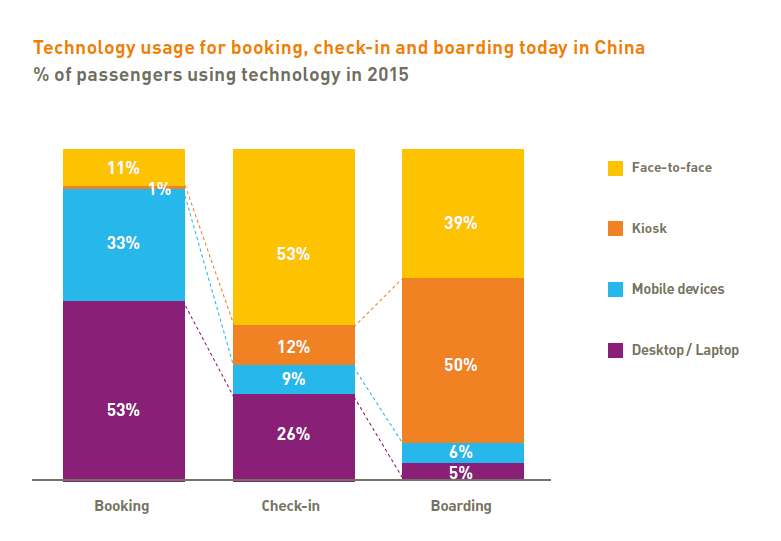 Source: SITA Analysis
Passengers in China are vouching for a more convenient way to travel. People are expressing a strong inclination to move to self-servicing functionalities, especially on their personal device. Check-in at the airports is declining seriously as passengers prefer using their personal devices. Self-servicing kiosks will turn up the as the next big trend, however, the usage of such technology could be less adaptive given the rise in off-airport check-ins. The use of sensor technologies, such as Near Field Communications(NFC) would automatically transfer the boarding pass as the passenger passes through the gate. Although trends of off- airport check-ins are picking up, the baggage remains a challenge in the self-servicing sector. The move was rather not welcomed as the passengers preferred face-to-face processing at airport counters.
#2. M for Mobile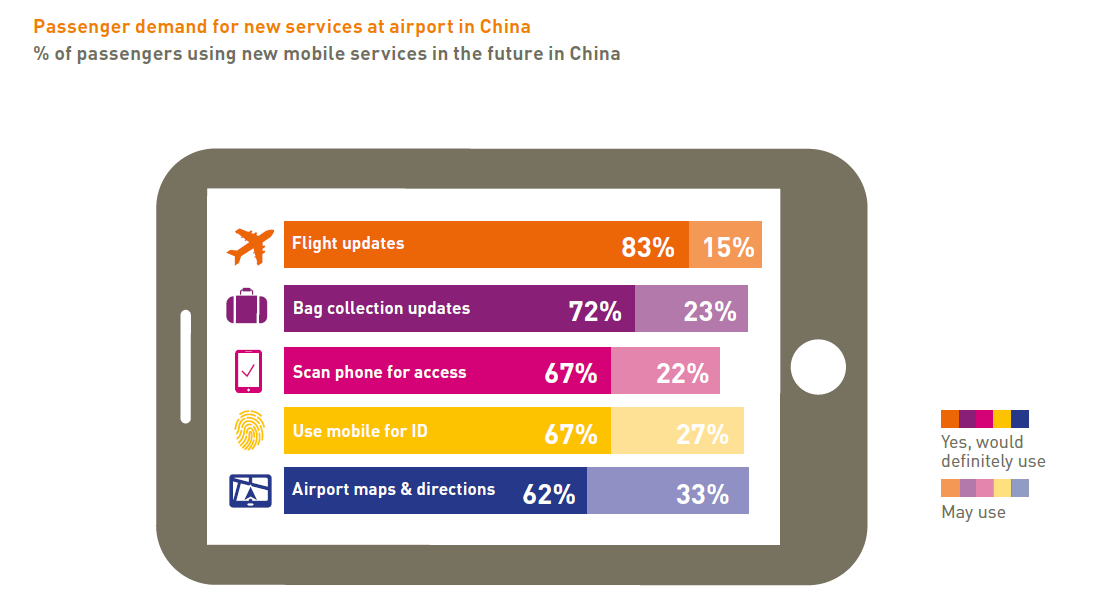 Source:SITA Analysis
The industry is acting on the high passenger aspiration to use mobile. Smartphones are fast becoming a unifying technology that will allow seamless interaction between passengers and travel providers. 67% want to use their smartphones both for access, including both the aircraft and the airport lounges and for identification purposes. Mobile boarding passes are key enablers for mobile optimized journey and airlines are keen to migrate people to mobile boarding passes. Airlines are coming up with baggage tracking notification and baggage collection information on mobiles in a couple of years down the line.
#3. Investment in technology for rapid growth pan-sector.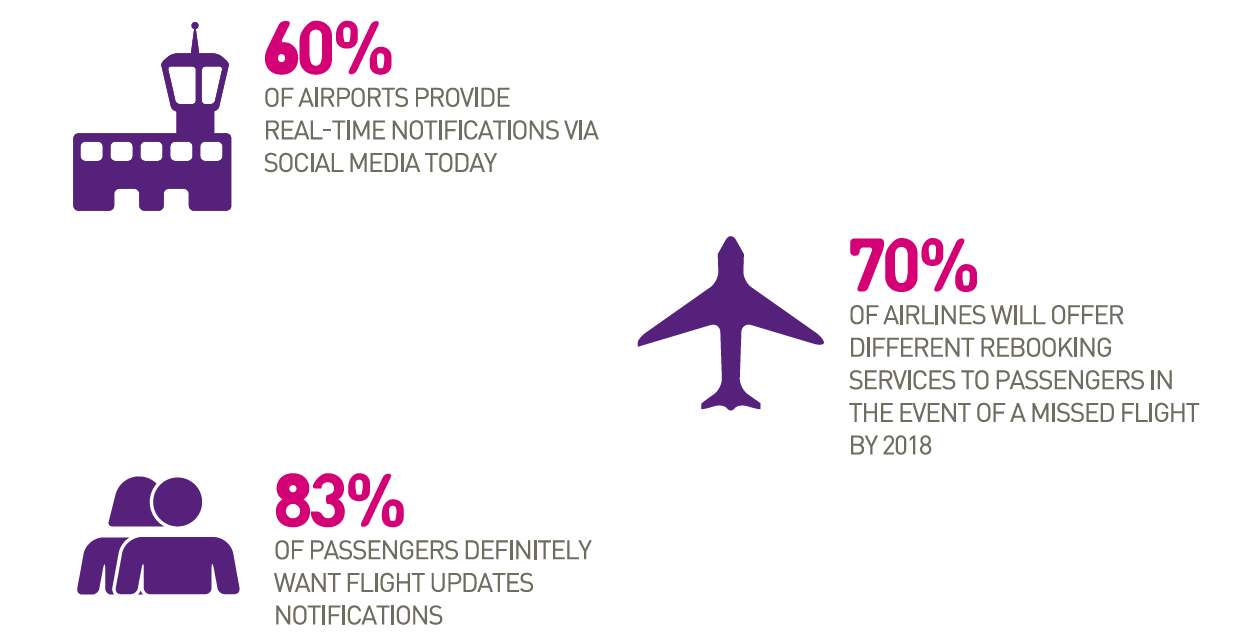 Source: SITA Analysis
Greater investment is required to make better usage of capacity and infrastructure. Airports can be made smarter by enabling the exchange of real-time information, cross collaboration and airport- wide process integration. New technologies are underway as they would reduce wasting time in queues, provide flight information or help turnaround. Emerging concepts like business intelligence initiatives will monitor passenger flow and airport operations.
To get more details, you can find the full report on SITA website.