Ever since the launch of Snapchat, every social media platform has been scrambling to come up with a similar tool that lets users broadcast their pictures or videos in real time. Of all those attempts, Instagram Stories has probably managed to garner the most attention. The photo-sharing platform has always remained a favourite for F&B brands looking to leverage the tool to market their business.
Why should you use it?
Because it offers an addictive and authentic way for people and brands to share with others. Instagram has an extremely active user-base, reported to be at 250 million daily active users. That gives your brand a much wider audience than any other traditional channel. It is also very easy to create content on Instagram story; nobody has to wrack their brains over a post for an hour. Get the picture right and you are good to go. It also gives a great base to experiment with different ideas. Put up an Instagram story and measure its response. Even if it isn't good, the story will anyway disappear within 24 hours, giving you a clean slate to start off again. Additionally, much like Snapchat, Instagram also has a great armour of tools and filters to make your stories more engaging, creative and fun.
Here are some of the top ways you can leverage this new-age marketing platform for your hospitality brand –
#1. Use it to unveil new menu items – There's nothing better than looking at great pictures of delicious food items on Instagram. Take beautiful shots of new menu items, or even the menu itself, and caption them with words from the chef or list down some of the ingredients for the dish. If you create an Instagram Story about your hotel or restaurant, makes sure to add a location sticker. This helps to share your stories to people who don't follow you yet, as Instagram collates all stories around particular locations to show it to people in areas nearby.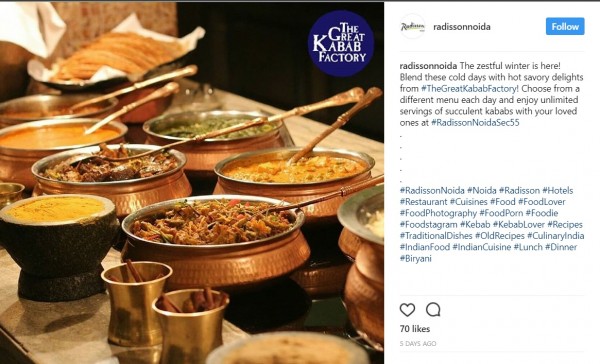 Radisson in Noida has been happily experimenting with the platform for a while now.
Ramendra Pratap Singh, General Manager at Radisson Noida, says, "With the growth of mobile users, we strongly believe that Instagram is a critical guest engagement platform for the hospitality industry as we step into 2018. We have been leveraging Instagram Stories to promote the variety of F&B offerings and experience in various restaurant at Radisson Noida through visuals. This new format helps us staying current in feeds and creates a stronger recall for the brand."
#2. Let influencers takeover your account for a day – Working with influencers on social media platforms is one of the best ways to connect with the young generation of consumers. Nowadays, a lot of brands let influencers take over their account and post content that speaks to their target audience through cross-promotion techniques. This way, brands can easily double their audience count. Additionally, takeovers are a great way to get in front of a new audience via someone who has already built up a following in that same domain and understands what users are looking for.
#3. Take the audience backstage – Giving your fans a glimpse into what goes on behind-the-scenes at your hotel or restaurant is a great way to make them feel like they're part of the experience. Your brand could post a great picture on the feed, and then use Instagram story to showcase what went into making that shot perfect. Another great way is to post an Instagram story of the process of cooking a crowd-favourite dish, or even giving them a tour of the entire place. This lends more credibility to your brand as it depicts authenticity, and that is something that people love.
#4. Announce your event, send out its teaser – Is your hotel prepping for a big event? Do you have a band performing live in the evening? Then there is absolutely no better way to let people know about it than Instagram stories. By giving them tiny bits about how you are ramping up for the event, your brand can keep the buzz strong, and make sure more and more people turn up for the actual event later.
#5. Redirect users to longer pieces of content or even to your website – If your brand has an active blog, or if the face of your brand speaks about something relevant to the industry in general, make sure to entice your Instagram followers to check it out. Tell the audience what the content is about, give them a reason to read the entire piece, and then add the call-to-action to invite viewers to 'click on the link in bio' or 'swipe up to read more'. You can also use this feature to display any particular offering or product and then redirect users to that content on your website as well. This not just gives you viewers on this platform, but also increases clicks to your main website.
Want more tips to navigate through Instagram stories? Read this.