The year might be coming to a close, but social media isn't stopping the wheel of trends anytime soon. The latest trend trend sweeping photo-sharing site Instagram is the 'best nine of 2017′. What happens is that in a few minutes, the site will create a collage of the top nine photos you've posted throughout the year. Additionally, it also tells you how many pictures you've posted on Instagram and the total amount of likes you've received this year.
Want to check the best nine of some of your favourite travel brands? Read on.
#1. MakeMyTrip
MakeMyTrip's 2017 was dominated by the launch of its new TV campaign with its brand ambassadors Ranveer Singh and Alia Bhatt. The campaign was on across high-impact platforms, including TV, cinema, and the usual Facebook, YouTube and others to create engagement, along with impact. Moreover, with Ranveer and Alia at the helm, the quirky films managed to make quite a mark. The brand's likes to post ratio stood at 2597 to 40 giving it an average like rate of 65.
#2. Lonely Planet India
Lonely Planet India, is and will always remain all about the various destinations of India. From sunset at the Golden Temple in Amritsar, to the famous Hawa Mahal of Jaipur, and from lush tea estates to ornate temples – the breathtaking images helped the brand garner close to 650K likes on 358 posts through the year averaging 1810 likes per post.
#3. Vistara
Air Vistara began its year with network expansion, announcing services to new cities and launching a new avatar with its brand ambassador Deepika Padukone, as evidenced by its top images on Instagram focusing on its aircraft and the actress. From announcing additional flights during the festive season, to taking a quirky dig at competitors on social media platforms, Vistara's focus of the year was on its customers and providing them better services, both online and offline. Vistara grabbed 193k likes on 234 posts this year with an average of 824 likes per post.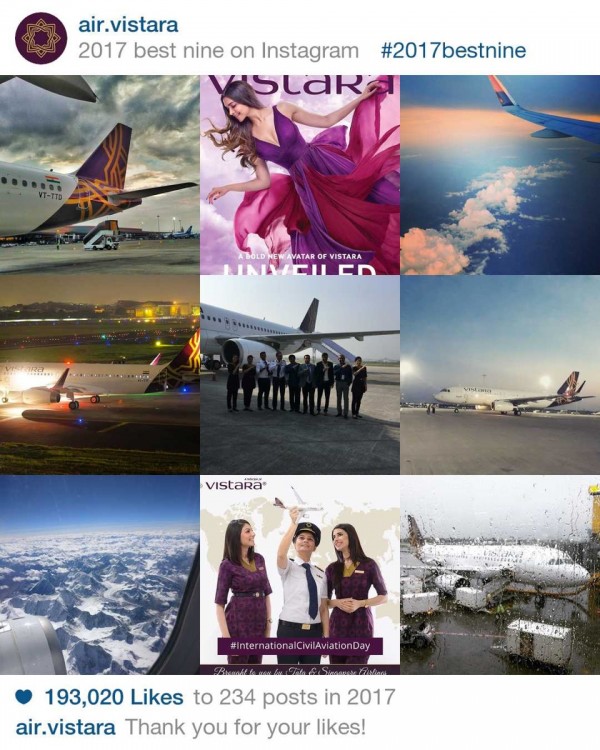 #4. Condé Nast Traveller India
Much like its competitor Lonely Planet, Condé Nast Traveler was also about fabulous destinations. The brand managed to garner more than a million likes on 1,262 posts in 2017, signalling its growing popularity on social media at an average of 870 likes per post.
#5. National Geo Traveller India
NatGeo is one of the most famed travel brands, not just globally, but also in India, and it proved that this year with more than 2 million likes on just 545 photos on Instagram. The best part – some of its most popular pictures this year were user photographs featuring different gems of states across India. The brand's average like per post ratio stands at an astounding count of 3945.
Amidst a heavy round of funding, travel search engine ixigo focused big on marketing this year. The brand unveiled a series of videos acquainting its audience with the different languages of India, placing the focus on booking a holiday for those destinations via its app. Apart from that, the company also kicked off its first ever integrated marketing campaign, in line with the brand essence of "know & go", aimed to position ixigo as the 'go to' destination for travel information and planning. Read more about ixigo's travel assistant, here. The company's likes to post count stood at 7046 for 63 with an average of 111 likes per post.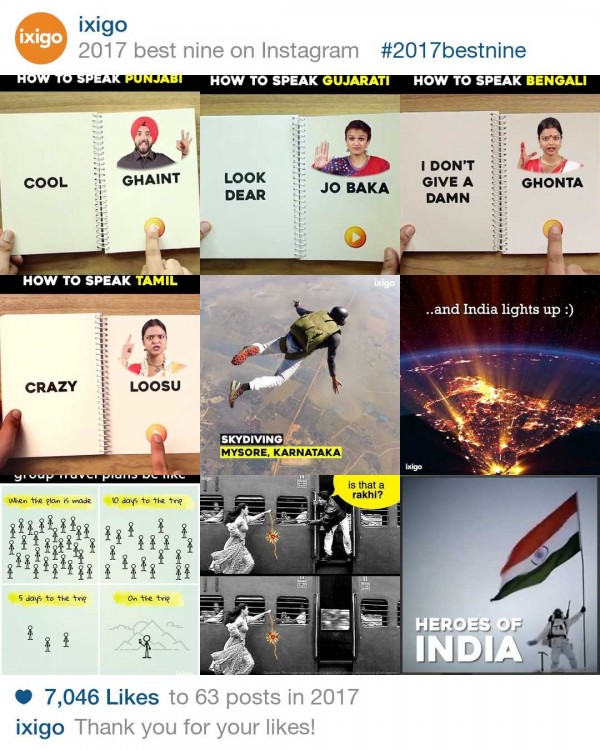 #7. Jet Airways
The airline's Instagram account, like Vistara's, focused on its yellow crew and fleet of aircraft. However, Jet Airways did manage almost 480k likes, compared with Vistara's 193k, on 200-300 photos for each account. This gives Jet Airways an average engagement ratio of 1845 likes.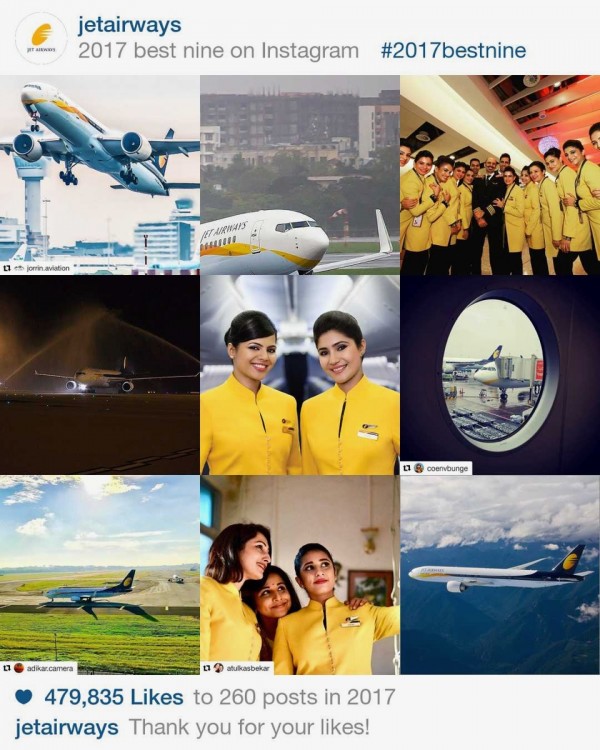 #8. Incredible India
With 545k likes on 483 posts at an average per post like ratio of 1235 through 2017, the Indian government's Incredible India account on Instagram was not far behind in promoting popular destinations of the country – whether it's the Qutab Minar or the Taj Mahal.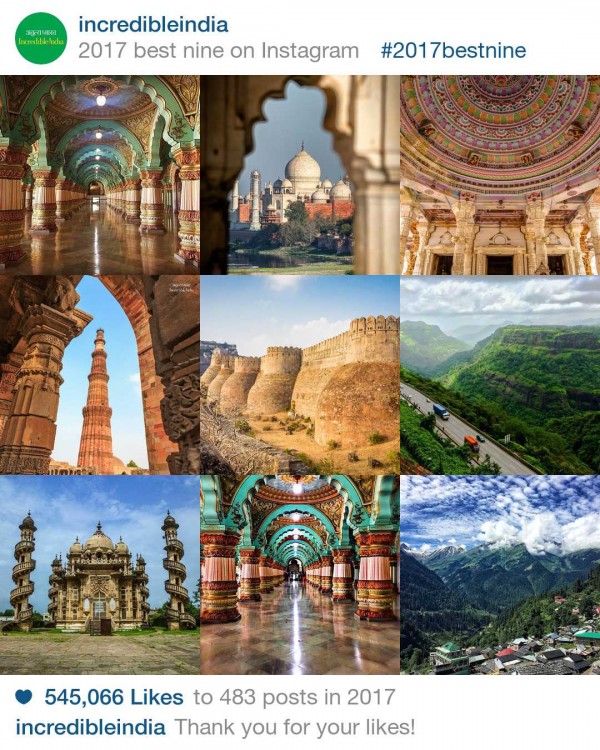 #9. Kerala Tourism
The Kerala Tourism department has been aggressively promoting the state's lush locales and scenic pastures on social media, right from Facebook and YouTube, to even Whatsapp, and now Instagram. with more than 731k likes on 529 posts, the tourism board sailed ahead of many popular travel brands on social media this year. Their average engagement ratio is 1382.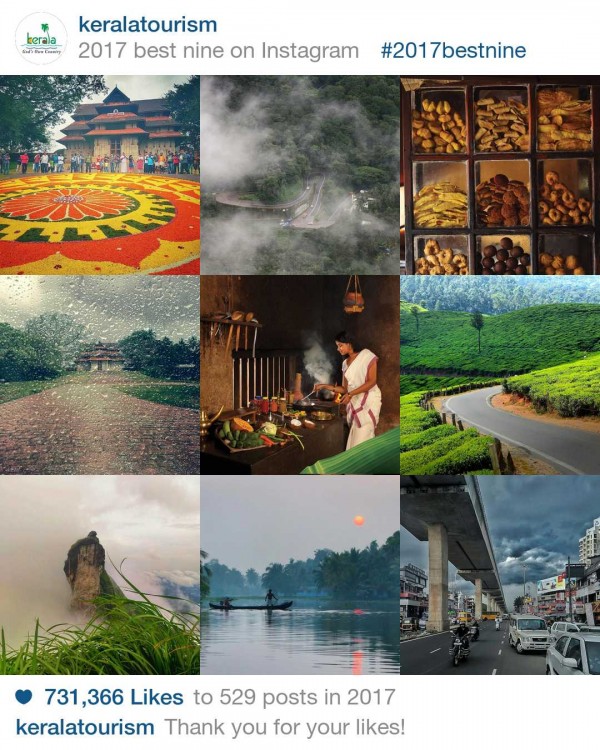 If one looks at the gross likes and per post engagement, Nat Geo Traveller India stands out with a cumulate count of 2150173 likes and per post engagement count of 3945 likes. However, most of the mentioned brands in this list have a high Instagram engagement ratio.
What's not factored?
Organic v/s Paid promotions on Instagram
These calculations are done till 24th December 2017 – There may be some impact on these numbers till 31st December 2017.
To find out your best nine for the year, head to 2017bestnine.com on your phone and enter your Instagram user handle. Your profile must be public and not locked for the app to work.