Budget hotel aggregator Vista Rooms has built a strong presence in the Indian market in a very short duration. Starting with a handful of properties less than a year ago, now they have got north of 800 properties across 80 cities in India. Unlike other budget hotel aggregators in India, they have primarily focused on Tier 2 and Tier 3 as the accommodation problem is more serious in those cities. Now the start-up is crossing international borders and setting foot in the Sri Lankan market.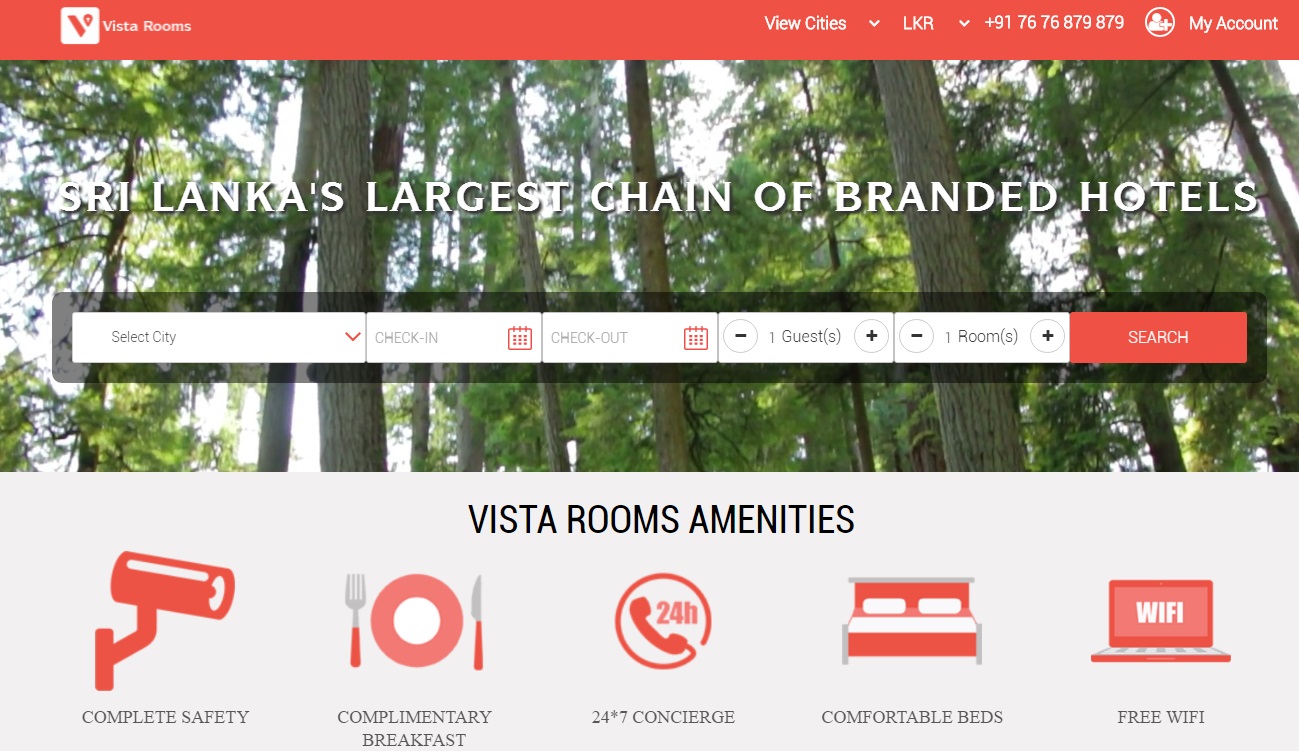 With the plan to build the largest branded accommodation in Sri Lanka, they announced the launch yesterday with 200+ properties spread across more than 25 cities. Adhering to the 'luxury at low budget' model, the hotel properties in Sri Lanka will also offer similar amenities like complimentary breakfast, free Wi-Fi and concierge services. The properties in Sri Lanka include boutique hotels, guesthouses, service apartments, villas and homestays.
Commenting on the development, Amit Damani, Co-Founder & Head of Growth at Vista Rooms said that "We are happy that Sri Lanka has warmly received Vista Rooms and the response we have received from hotel owners and customers has been very positive. Our expansion plans have been driven by our customer needs who have reached out to us expressing interest in certain international destinations. The past long weekend itself we received over 25 bookings through an emailer we sent to a select group of prior customers."
Sri Lanka being similar to India in a number of ways was a logical first choice for the brand and they plan to expand to 5 more countries by the end of this year. They haven't revealed any specific plans yet but expect them to look at the South-East Asia next. It is worth a mention that earlier this year OYO Rooms, the largest player in budget hotel space, announced its entry into Malaysia and might consider expanding into more markets in future.
Ankita Sheth, Co –Founder and Head of Alliances & Partnerships said "We are working with our hand-picked hotels to change the perception of budget hotels. We want travelers, coming to Sri Lanka, from all across the world to no longer worry whether their bathroom will be hygienic or whether the AC will be working when they stay at a budget hotel."
While Indian budget hotel aggregators are looking at the possibilities outside India, similar brands from South-East Asian countries are considering an entry into the highly competitive Indian market. It will be interesting to see how things turn out as more players with strong presence in their domestic markets step into other markets to grow.
The Vista Rooms properties in Sri Lanka can be viewed on www.vistarooms.lk