TripAdvisor, the American travel brand that provides reviews of travel-related content, launched a new feature called 'Travel Timeline' in its app for travellers to log and share their experiences from the trips.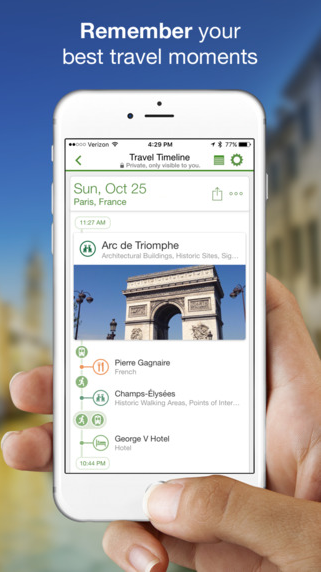 For the convenience of the travellers, the travel timeline feature of TripAdvisor automatically keeps a track of the places visited and the photos taken on the trips. This allows travellers to recall and review sites and share their travel timeline with friends. The travel timeline feature can run without an internet connection, helping travellers avoid data and roaming charges.
How does it work?
To use travel timeline, the interested travellers should log on to the TripAdvisor mobile app and opt-in to the feature. When the feature gets activated, it will record the points of interest that the user has visited in a running timeline. The travellers can give their feedback for the hotels, restaurants or tourist attractions. The travel timeline feature uses the phone's GPS and motion sensors to predict when the travellers are visiting the places or if they are just passing by those spots.
Features of Travel Timeline:
Offline: The travel timeline feature allows travellers to log their experiences without an internet connection. The travellers can avoid data and roaming charges.
Customizable: By using this app, the travellers can modify their timelines and photos as per their requirements.
Shareable: Sometimes, travellers want to share their memorable experiences with family and friends. The travel timeline feature allows that too.
Private: Each traveller's timeline and photos remains private by default. Only when the user shares it, it will be viewable to others.
Adam Medros, Senior Vice-President, Global Product, TripAdvisor, quoted:
"Travel Timeline is a useful and valuable tool for chronicling travel experiences and conveniently capturing moments to remember. TripAdvisor not only helps travellers plan and book their trips, but with Travel Timeline we help our community document and share them too.''
TripAdvisor makes up the largest travel community in the world with approximately 350 million unique monthly visitors. It has 290 million reviews and opinions covering 5.3 million accommodations, restaurants and attractions. The sites are accessible in 47 countries world-wide.
The travel timeline feature of TripAdvisor will be available only on iOS in 28 languages globally.